U.S. job growth picks up in May; unemployment rate falls to 5.8%
Economy1 hour ago (Jun 04, 2021 11:01AM ET)
2/2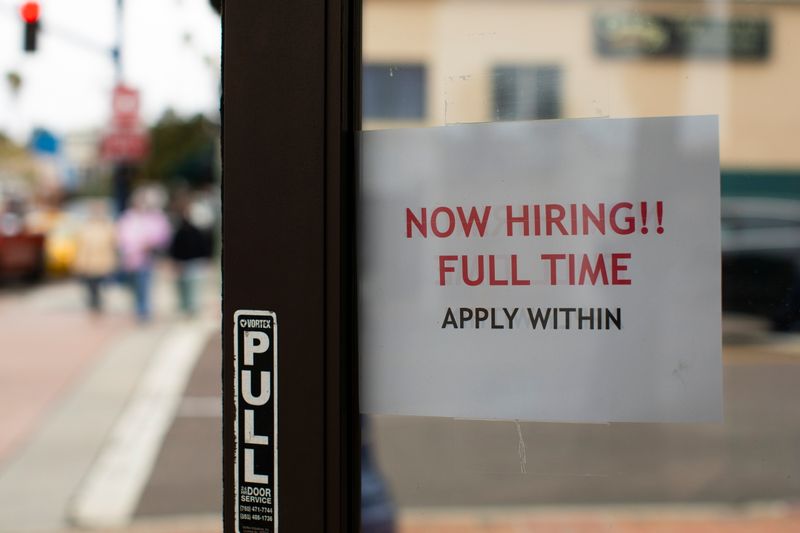 © Reuters. FILE PHOTO: A retail store advertising a full time job on its open door in Oceanside, California, U.S., May 10, 2021. REUTERS/Mike Blake

By Lucia Mutikani
WASHINGTON (Reuters) – U.S. employers boosted hiring in May and raised wages as they competed for workers, with millions of unemployed Americans at home likely because of childcare issues and generous unemployment checks.
The Labor Department's closely watched employment report on Friday offered some assurance that the economic recovery from the pandemic recession was on track after worker shortages also blamed on lingering fears over COVID-19 sharply restrained employment growth in April.
There has been handwringing among some economists and investors that growth was stagnating at a time when inflation was rising. The economy is being underpinned by an improving public health situation and massive fiscal stimulus.
"There are still a lot of people unemployed, but there does not seem to be a lot of eagerness to work," said Chris Low, chief economist at FHN Financial in New York. "There would have been many more hires if employers could find more people."
Nonfarm payrolls increased by 559,000 jobs last month. Data for April was revised slightly up to show payrolls rising by 278,000 jobs instead of 266,000 as previously reported.
That left employment about 7.6 million jobs below its peak in February 2020. Economists polled by Reuters had forecast 650,000 jobs created in May. About 9.3 million people were classified as officially unemployed last month.
At least half of the American population has been fully