The Expert Style Service That Helps This Top Trainer Crush His Weekly Routine
Around 10 years ago, Gideon Akande took a huge risk by leaving his desk job in sales to pursue his real passion: Fitness. After a decade of hustling, the career move paid off. Today, Akande is a popular personal trainer who juggles a schedule packed with one-on-one clients, coaching on-demand workouts for top fitness brands, doling out advice to his Instagram fam, and serving as a Top Trainer for Men's Health (hey, that's us!).
Needless to say, his life is busy. And Akande doesn't take care of his physique just to fumble the outfit. "We all want to look good," he says. "We want to have the confidence that comes with looking good. Part of my profession is having that confidence. The look and how you present yourself are very much a part of the confidence, of what makes you, you. Of owning your moment."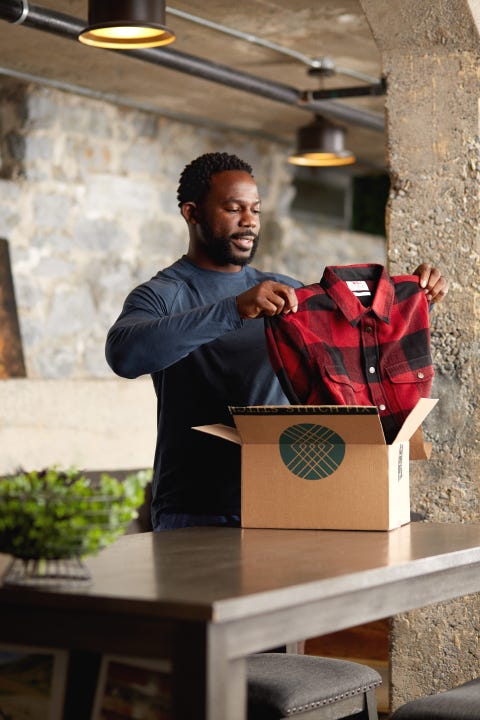 Gideon Akande
A busy man needs a wardrobe that can go the distance with him. Something that's no-fuss and versatile, not to mention stylish. "So much transition happens throughout the course of your day as a personal trainer," Akande says. "You're going from your workout to a training session and then you have dinner right after. I rely on items that are able to split the bill for both, but can also function independently."

Which is why a service like Stitch Fix is crucial for a guy who's always on the go.
Fill out a quick style quiz and they do all the work to get you a "Fix" with hand-selected wardrobe items sent directly to your home, chosen specifically for your needs. You can get a Fix whenever you want and there is no subscription required. You give feedback on every item, making the experience better and better over time. Once you've had a Fix, you're able to shop directly from Stitch Fix. Through your own personalized shop, you can stock up on additional colors/patterns of the items you love or buy complete new outfits based on your style, fit, and price preferences. From casual everyday items to activewear, Stitch Fix has a vast array of brands and sizes to fit anyone's needs, including guys who work and play hard, but like to chill out, too.
With the help of the expert style service, Akande shows us four go-to outfits that get him through his routine.
Indoor Workout Session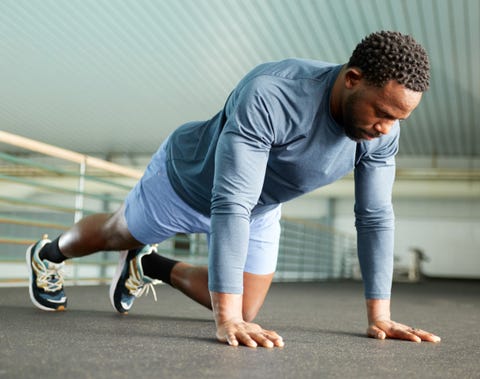 Top by 01 Algo, $34; Shorts by Fourlaps, $68; Sneakers by Karhu, $145. Available through Stitch Fix.
Gideon Akande
"I appreciate a clean look," Akande says. Which means you won't be seeing him covered in logos. But when it comes to gym time, performance matters just as much as style. For indoor workouts, that means a lightweight long-sleeve, athletic shorts, low-top sneakers, and a no-show sock.
"[Fit is important.] I like a fit that isn't too baggy but not too tight either," he says. "Something that accentuates the body, my shoulders, and waistline. Not tight, allows me to move with my day but supports me where I need it." Stitch Fix has over 800+ fit and size combinations and offers a breadth of sizes (XS-3X, waist 28-48, and inseam 38-36) to give you those perfect fitting pieces.
Indoor Leisure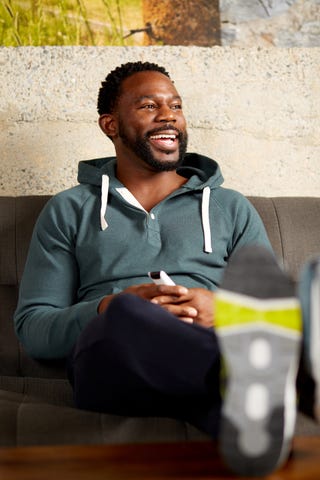 Hoodie by The Normal Brand, $78; Pants by Scotch & Soda, $135; Sneakers by Karhu, $135. Available through Stitch Fix.
Gideon Akande
Even when he's relaxing at home, Akande prioritizes clothes that are versatile, sporty, and stylish. "I like casual jogging pants, something that looks like dress pants—those 'commuter pants.'" he says. "Something where if I put an exercise top on, I am ready for a workout, but if I put on a button-up shirt or nicer pullover I am ready for anything from running errands to a conference call." Fortunately for him, the pieces sent by Stitch Fix give off a seamless put-together look, but are also really soft and comfortable—which is everything we need these days.
Outdoor Workout Session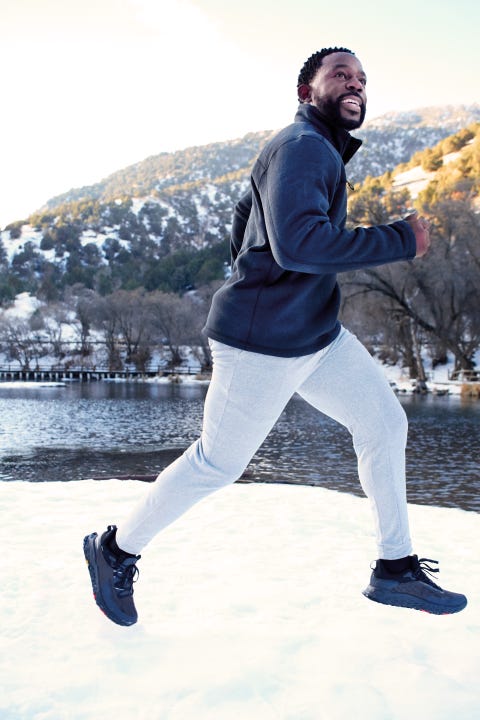 Fleece by The North Face, $89; Long-sleeve by