The 51 Best Toys of 2020 Your Kids Will Love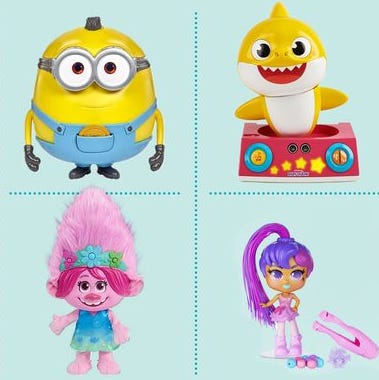 Courtesy of Brands
If there's one thing we know for sure, it's that kids today are extremely lucky when it comes to toys. The toys that came out this year are incredibly innovative, designed to spark their imaginations, allow them to become their favorite characters and teach them everything from STEM concepts to social-emotional learning. Did we mention they are also just incredibly fun to play with? From toddlers to teens, everyone will find a new toy this year that can become their very favorite.
So, what trends can we identify from the hottest toys of 2020? Kids still love to be surprised: mystery unboxing, blind bags and collectible surprises are still big this year. Water is also a hot new ingredient in toys, and you can find lots of items that transform or change colors when dipped in liquid. And kids still love getting their hands dirty, messing around with compounds that you can squish, squeeze or stretch.
Parents will be happy to know that environmental sustainability is becoming a big buzzword, too: Plant-based plastics are on the rise, as are toys where the packaging is either recyclable or re-used as part of a playset. That way, you don't have that extra layer of guilt if you come home with one too many toys in your cart — and who can blame you when they're all so much fun!
These are the popular toys and gifts for kids we've spotted through the year as embodying some or all of these trends and more.
1 of 51
Coolest RC for Big Kids
Zero Gravity Laser
Air Hogs
amazon.com
$34.99
This lightweight race car can drive on any smooth surface at high speeds, including the wall and ceiling. If that's not cool enough, it's controlled by an LED laser. Just point it anywhere and the car will follow. Ages 8+
2 of 51
Pinkfong Baby Shark Dancing DJ
WowWee
walmart.com
$33.88
Baby Shark is going to drop the beat! As if the song wasn't already stuck in your head permanently, this little guy comes programmed with seven different "Baby Shark" songs and remixes. And it can tell when you're dancing, so it boogies down when you do! The fins flap, and the body rocks back in forth for the cutest sharky dance moves ever. You can also play games like freeze dance with your undersea friend. (Parents: Get some earplugs.) Ages: 2+
3 of 51
New Sensory Toy
Play-Doh Compounds
Play-Doh
amazon.com
$19.00
The slime trend is not going way, and we can see why — there's just something so oddly satisfying about taking something in your hand that squishes, stretches, or crunches under your fingers. OG Play-Doh fits that bill, but Play-Doh is also coming out with a series of new compounds to keep those hands happy. Look for Play-Doh Slime, Super Stretch, Hydroglitz, Krackle, Elastix, Super Cloud, and Foam, all of which feel just a little bit different to the touch. Ages 3+
RELATED: The Best Sensory Toys for Exploring Different Textures, Sights, and Sounds

4 of 51
CurliGirls
CurliGirls
walmart.com
$9.99
Not only are these dolls collectible and cute, they come with a fun twist: You can style their hair without any additional equipment. Simply pull on a strand of hair, and it'll coil up into a tight curl. (The harder you pull, the tighter the curl.) If you want to set it straight again, all you have to do is dip the doll in warm water. Age 3+
5 of 51
Innovative Toddler Toy
Mega Bloks Peek-a-Block Animals
You wouldn't think it'd be possible to combine peekaboo with construction blocks, but Mega Bloks found a way. Taken by themselves, these animals' faces are hidden behind their hands, and they're curled up into a ball that you can roll or toss. But, once you stack 'em up on a peg, the arms fly open and you can see their faces. Buy them individually to incorporate into your existing Mega Blok collection, or get a set like the amusement park that comes with slides for the balls to roll down. Ages 1+
RELATED: Amazon Says These Are Going to Be the Hottest Toys of 2020

6 of 51
Secret Agent Mystery Mission Case
RYAN'S WORLD
amazon.com
$59.99
Ryan fans can play detective starting with figuring out the code to unlock this "top secret" briefcase, then revealing the mystery messages to discover exclusive figurines, spy gear and "wrist communicators" (a.k.a. walkie talkies). Ages 3+
7 of 51
Easy-Clean Finger Paint
Parents will owe Crayola a huge debt of thanks for this one: You place the paper and paint inside a plastic case with a clear, flexible top, then hand it to your toddler to go to town. Your little artist can still make a beautiful masterpiece, but the paint stays off his hands, so you don't have to worry about him adding some "artistic" touches to your couch or clothes. Ages: 1+ 
RELATED: 20 Best Toys for 1-Year-Olds Growing Out of Their Baby Gifts
8 of 51
Crayola Paper Flower Science Kit
Toys with a STEM/STEAM focus are hot, and Crayola's Paper Flower Science Kit is the perfect blend of science and DIY craft. Little scientists mix up colors and dye, then plant a paper flower in the mixture. Afterwards, they can see as the colors wick their way up the stem and create a pattern on the petals (which can then decorate a cool, artsy bedroom). Age: 7+ 
9 of 51
Care Bears Unlock the Magic Interactive Figures
Care Bears
walmart.com
$14.99
The Care Bears are back, and brighter and more expressive than ever! But these aren't just mere figures: Press on their paws, and they can talk, tell jokes, and sing. Collect more than one, and the bears will interact with each other (and, yes, combine to do a Care Bear Stare). Ages 4+
10 of 51
LeapFrog Pick up and Count Vacuum
LeapFrog
walmart.com
$27.88
Little kids love to pretend clean. (Why oh why they can't keep that love of cleaning into their teen years?) This cheery vacuum will really pick up the colorful "dust bunny" discs if your child rolls the vacuum over them. Not only that, it'll count how many bunnies your kids have cleaned and issue little challenges, like telling them to pick up the blue ones, so they can practice numbers and colors, too. Ages 2+
RELATED: A List of All the Best Toys You Can Get For Toddlers in 2020

11 of 51
Singing Elsa Doll
Some things never change, like your kid's obsession with Frozen and Disney's endless lineup of Frozen merch. Press a button, and this Elsa doll lights up and sings "Into the Unknown" from Frozen 2. And don't forget the matching Anna doll, which sings "Some Things Never Change," natch.  
12 of 51
Minions Babble Otto
Minions
walmart.com
$29.84
There have been other talking Minions toys before, but this one is just a little bit more magical: His mouth is an LED projection (not a mechanical animatronic), so it looks especially lifelike. And what does that mouth do? It talks, sings, laughs, and makes other silly sounds. It also responds to motion: If you rock it, it'll fall asleep and start snoring. Ages 4+
13 of 51
Playmobil 'Back to the Future' DeLorean Time Machine
Marty McFly, Doc Brown, and even Einstein the dog can play and re-play the events of Back to the Future with this DeLorean playset (which also comes with a case of plutonium for them to keep safe). The DeLorean lights up, makes sounds, and definitely won't rip a hole in the space-time continuum. The set comes out in time to celebrate the 35th anniversary of Back to the Future. Ages 6+
14 of 51
Good Housekeeping 2020 Toy Award Winner
See My Feelings Mirror
Hand2Mind
hand2mind.com
$9.59
Everyone wants to develop kids' social-emotional learning, but it's hard to work that into a toy that's actually fun to use. Hand 2 Mind's See My Feelings mirror makes a game out of labeling their feelings — kids get to copy the facial expressions from different snap-in emotion slides. (Bonus: The mirror is shatter-proof.) Ages 4+

16 of 51
Wreck Royale Cars
MGA Entertainment
bestbuy.com
$7.99
Every kid knows the best part of having a toy car is crashing it. The Wreck Royale cars guarantee a good smash-up each time; each one has spring-loaded bumpers that flip the car and send the pieces flying in different directions. Each car has a different flair and comes with special, decorative pieces to go with its theme, but kids can mix and match all the parts of all the cars to make their own creations (and then crash them all over again). Ages 5+
17 of 51
Hasbro Gaming Operation Game: Star Wars The Mandalorian Edition Board Game for Kids
Hasbro Gaming
amazon.com
$28.43
Don't worry, you won't be operating on Baby Yoda, but rather, you'll be using the tweezers to find his cup of broth, mudhorn egg and more.  Ages 6+
18 of 51
LEGO DUPLO My First Alphabet Truck
This Duplo set will become your go-to gift for toddler birthdays. It comes with all the letters of the alphabet, plus some additional pieces and figures, so little ones can build to their hearts' content. Then, as they get older, they can spell out words and drive them around on the back of the truck. Ages 18 months+
19 of 51
Rattlesnake Jake
Goliath
amazon.com
$26.54
This is a game of nerves: Rattlesnake Jake comes curled around a pile of gold pieces, and players have to steal them from him. But watch out, because his rattle gets more intense, and then he strikes! Snatching the gold before the bite helps kids work on their fine-motor coordination. Ages 4+
20 of 51
Baby Grows Up
Baby Alive
macys.com
$59.99
The newest Baby Alive! doll starts off as a four-inch-tall baby and grows into a full-size "big girl" doll as your child takes care of and feed