The 50 Best Golf Gifts for Golfers Who Have Everything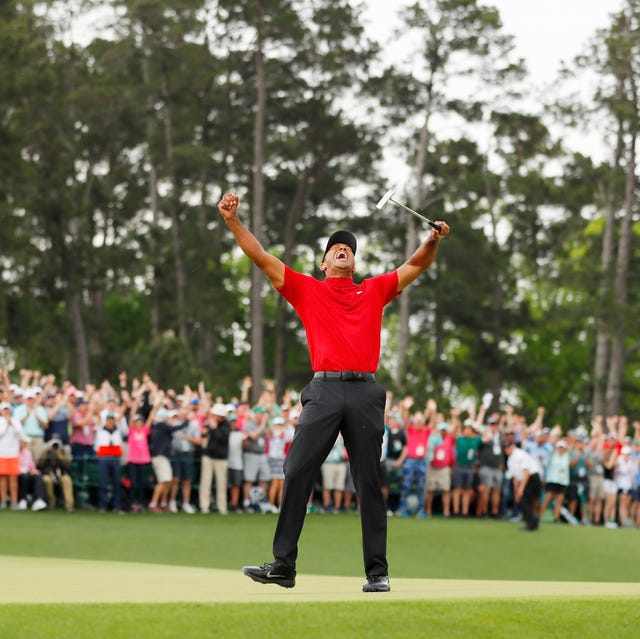 Kevin C. Cox / StaffGetty Images
My dad has a long list of golf jokes. "You know why they call it golf? Because all the other good four-letter words were already taken." "'Golf' means 'long walk ruined' in old Gaelic." "Golf balls are like eggs. They're white, sold by the dozen, and a week later you have to buy some more." Each time he tells a golf joke, he delivers it as if it's the first time he's ever told it. And as he rattles off the punch line, I respond with an eye-roll and a dutiful chuckle. Going golfing with my dad as much about this banter as it is about playing the game itself.
Over the years, my go-to gifts for my dad have revolved around golf: golf shirts, golf club covers, golf gadgets. But what do you get for the golfer who has everything? I parsed through the wide variety of unique golf tech, fun golf gear, golf apparel, personalized golf items, and even unusual golf gifts to produce this handy compendium of the absolute best golf gifts. Whether it's something simple like golf tees or a pair of fresh golf shoes, hopefully these thoughtful ideas can help you and whoever your golfing buddy is make even more memories out on the golf course.
1 of 50
Zero Friction Victory 5-Prong Golf Tees
Sick and tired of going through bags and bags of wooden golf tees, snapping them in half every time you step up to the tee box? Of course you are. These tees made from bio-composite materials are top-rated on Amazon, not only for their durability, but for their technology that they claim will add yardage to any tee shot.
2 of 50
Putt-A-Bout Grassroots Par Three Putting Green
Practice makes perfect, so it figures that any lover of golf would have their own personal putting green. Not only will this help your game, but it's a great zen time-waster, too.
3 of 50
PuttOut Pressure Putt Trainer – Perfect Your Golf Putting (Green)
amazon.com
This gadget is the perfect tool to improve his putt, while taking up very little space. He can take it to the basement, the garage, or even the living room, so when it's too cold to play outside he won't lose his touch.
4 of 50
EZ Drinker Toilet Golf
Tired: reading while you're on the toilet. Wired: playing golf while you're on the toilet.
5 of 50
Golf Ball Whiskey Chillers (Set of 2)
A smart man once said that golf is a great excuse to walk around outside for hours and drink. And while these whiskey chillers aren't exactly course-ready, they're perfect to drop in your favorite stiff one at the end of a long round.
6 of 50
Samsung Galaxy Watch Active2 44mm
samsung.com
It's staggering how many gadgets you can invest in to attempt to upgrade your golf game. But what if you could combine all of those gizmos into one sporty smartwatch? Our favorite feature is the the pre-loaded Smart Caddie app, which gives you real-time data and satellite-based maps on over 40,000 courses worldwide.
7 of 50
Tee Toss Game
Part of the fun of golf is that it takes so much focus and is so damn frustrating—but when you succeed, you feel amazing. The same can be said for this tee toss game, which is perfect for any rec room or backyard (preferably with an ice-cold cruiser in your free hand).
8 of 50
Paskho Merino Silk Polo
This golf polo is one he will want to live in. It's made from a blend of merino wool and silk, making it performance-friendly, lightweight, and the most comfortable fabric to have touched your skin. Say goodbye to a stuffy old golf uniform and invest in something a bit cooler (literally), like this polo from Paskho.
9 of 50
Golf's Holy War: The Battle for the Soul of a Game in an Age of Science
This book is being touted as Moneyball for golf, and that's enough of a sales pitch for me.  
10 of 50
Personalized Leather Golf Glove
This is a golf gift the gift receiver will actually use. And everyone time he glances down at his hand during a round (this happens with much frequency during golf), he will think of you and what an incredible child you have been to him.
11 of 50
Stabo Personalised Scorecard Holder
As soon as golfing season hits, you know that every session will make or break his mood for the day. A personalized scorecard holder will keep a record of his best days on the golf course, so he can feel good about looking back on his progress, or find more ways to improve. It has a personal touch that will make him feel like a true professional every time he records his winnings.
12 of 50
Creative Covers for Golf Bass Golf Club Head Cover
Dads love to fish. Dads love to golf. Combine these two loves into one hilarious, simple gift that he will love.
13 of 50
Mizuno Men's Alpha Half Zip
There are like 12 billion half-zips you can buy online, but this Mizuno model is the right one. It's comfortable, subtle, and form-fitting (but forgiving if your dad has a tiny pooch belly). When you hit the links in the cooler months, whoever you give this gift to will thank you for this thoughtful purchase.
14 of 50
Fling Golf The Launch
If you know someone who sucks at golf, but loves wearing polos and khaki shorts outside, he might be a fan of Fling Golf. You can play on any course with any golf ball alongside real golfers—and it's markedly less curse-word-inducing than the real thing.
15 of 50
Man Crates The Golfer's Crate
If you don't want to go all-in on one big gift, opt for this crate of goodies. It's a basic starter pack when it comes to golf accessories, plus it includes the greatest golf movie ever made, Caddyshack.
16 of 50
Oakley OO9188 Flak 2.0 XL
A great golf game is hard to come by if the sun is in your eyes, and this pair of Oakleys takes care of that, no sweat. 
17 of 50
S'well Hole In One Bottle
Rule No. 1 of golf? Stay hydrated! S'well keeps your liquids super-cold for super-long, and they don't really condensate, which is g