The 46 Best Gifts for Whiskey Lovers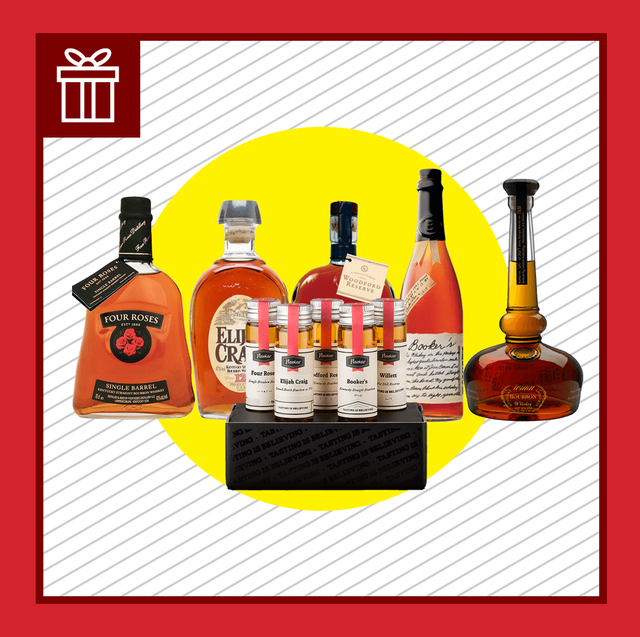 Assorted retailers
Mark Twain once wrote, "Too much of anything is bad, but too much good whiskey is barely enough." It's a sentiment that will resonate with any true aficionado of the distilled alcoholic beverage made from fermented grain mash.
To the whiskey superfan, it's not just a drink, but a whole world to explore filled with rich history, a wide variety of styles and expressions, and a seemingly endless array of gadgets and tchotchkes to elevate each sip. It's a phenomenon that's truly international, transporting your palate to Scotland, Ireland, Kentucky, Japan, and beyond. Much like any great hobby, whiskey appreciation is much more about the journey than the destination and the proper accoutrement helps you get there. The spirit's revered status amongst both amateur and experienced imbibers means whiskey—and its accompanying glassware, books, decor, and even board games—often makes for a memorable gift.
However, it can also be overwhelming to find the perfect gift for the whiskey lover in your life, which means it's easy to panic and pick out a lame flask or a mediocre scotch.
Don't fret—We've sifted through the many, many options to bring you this definitive guide of the best whiskey gifts you can give your friends, family, or even yourself. Whether you're looking for unusual whiskey gifts, versatile whiskey gift sets, or quality single malts, bourbons, and other great bottles, you've come to the right place.
Sláinte! Let's get gifting.
1 of 46
Flaviar Club Membership
FLAVIAR.COM
Whiskey subscriptions are the gifts that keep on giving. Flaviar members get a quarterly tasting box and quarterly full bottle of hand-picked whiskey, with an emphasis on discovery and spirits appreciation.
2 of 46
Oak & Bond Coffee Co. Bourbon Barrel Aged Coffee
Combine rich chocolate, caramel, and Mandarin orange coffee notes with the sweet oak of aged bourbon barrels and you end up a robust, satisfying cup of coffee. The premium packaging makes this coffee exquisite for gifting purposes.
3 of 46
Bulleit Bourbon Yeti Outdoor Pack
There's something about the great outdoors that elevates the whiskey-drinking experience. This fun gift set collaboration from Bulleit and Yeti pairs some of our favorite whiskeys with a handsomely designed custom Yeti Rambler. Whether you're sipping Bulleit beside a raging bonfire on a camping trip or simply sitting on your back porch watching the night sky, this is a fun, thoughtful gift.
4 of 46
Williams-Sonoma Whiskey Lovers Set
williams-sonoma.com
$99.95
Properly chilling whiskey without diluting its flavor or character is an art form. This attractive, sleek whiskey gift set is great for any whiskey drinker looking to level up their rocks game.
5 of 46
Jack Daniel's Holiday Countdown Calendar Gift
'Tis the season for sampling delicious whiskeys. This quirky spin on an Advent calendar is packed with a variety of 50ml bottles of classic JD flavors, as well as a host of other fun yuletide goodies. Make the holiday last a little longer with this whiskey calendar from Jack Daniel's.
6 of 46
Decanter Set With Whiskey Stones Gift Set
Decanter sets can get a little intense in both the price and size departments, so I'm drawn to this affordable, unpretentious whiskey stone gift set that gives you all the basics for starting a home whiskey bar.  
7 of 46
Rabbit Freezable Whiskey Glasses
You don't necessarily need ice cubes to make a cool, crisp whiskey cocktail. Toss these glasses in the freezer for a few hours, take them out, and pour in your dram of choice for icy refreshment sans ice.
8 of 46
Ancient Rocks Prehistoric Whiskey Stones
The best bourbons and scotches are monuments to patience, aged for years and sometimes decades until they're ready to be consumed. So it only figures that you should use whiskey stones that are 940 million years old. Yup, these nonporous, metamorphic rocks were formed during the genesis of the American continent, and now they serve a specific, noble purpose: chilling your whiskey drink.
9 of 46
Black-Owned Whiskey Discovery Collection
This bundle, which was created in partnership with LaShana Daniels, Creator of Do It For The Cocktail Culture, features five highly coveted bottles of whiskey. It'll give your palate an exquisite tour of some of the most innovative and exciting distilleries currently operating across the United States.
10 of 46
Aroma Academy Bourbon Aroma Training Kit
When people say whiskey is an acquired taste, what they mean to say is there's a lot of nuance that inexperienced drinkers won't be able to fully understand on their first swig. You may not be able to pick up on notes of clove, caramel, or cinnamon, but nosing kits can help amplify those aromas and train you to appreciate the finer points of sipping whiskey. And while many nosing kits go for hundreds of dollars, this one comes with a ton of rave reviews at a fraction of the typical price.
11 of 46
NOS'R Insulated Nosing Glass
You have no shortage of options when it comes to insulated glasses for outdoor, portable drinking. But this model from BruMate is engineered specifically with scotch, bourbon, or whiskey in mind, giving it the edge over other more generalized (and—let's be honest—expensive) on-the-go drinkware.
12 of 46
Whiskey Appreciation Crate Gift Set
It's easy to fall into overthinking when you're trying to track down the perfect gift. Nip that in bud by picking up a Man Crate, which offers a veritable smorgasbord of fun, personalizable things for the whiskey lover, conveniently packed together in a box.
13 of 46
Personalized Oak Whiskey Barrel
While you can certainly pick up a bottle in the whiskey section of your local liquor store and crack it open that night, whiskey fans have a lot of experience with delayed gratification. If you're looking to properly age your booze, an authentic oak barrel is ideal—and this one in particular gets rave reviews online. Also, you can personalize it with your drinking buddy's name, which adds an extra special touch to an already super-cool gift.
14 of 46
Best Whiskey Gift Under $50
UNCORKED! Games Whiskey Business!
There are drinking games and then there are UNCORKED! Games drinking games. In this strategic dice game, you compete against other distillers to produce the most Irish Whiskey, Scotch, Bourbon, and Rye before Last Call. And while you're not required to drink whiskey while you play, imbibing is more than encouraged.
15 of 46
Woodford Reserve® Bourbon with Sugarfina Bourbon Cold Brew Bears
Woodford Reserve has firmly established itself as the whiskey of choice for many serious bourbon lovers. If you want to give the gift of a classic, accessible favorite, this is an excellent option (and this gift set comes with caffeinated bourbon cold brew gummy bears—yum).