The 26 Best Couple's Games for At-Home Date Night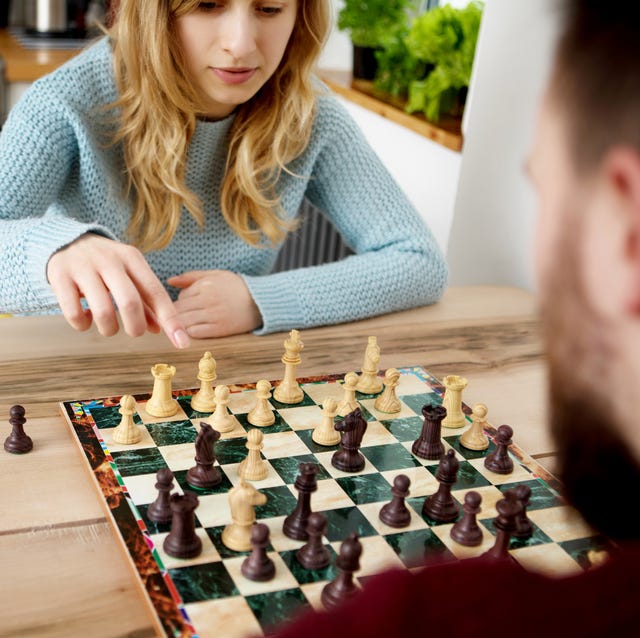 Agnieszka Marcinska / EyeEmGetty Images
What's dating without a little fun? Or lots of fun, if you're so inclined. But instead of passively watching someone else have a good time on-screen (sorry, but Netflix and chill gets old after a while), try an experience that's a little more active for your next date. We're talking about two-person games you can play as a couple.
Because, look, as we navigate everyday life (hello, bills and busy days), playing games—be they board games, card games, or conversation-based games—can be a great way to stay connected, show off your skills, and bring a little levity to a date. Games also can be a good way to learn more about your partner—and not in a probing, science experiment kind of way. Playing around lets you see different sides of your date or partner, says Christan Marashio, a certified online dating coach based in New York. For instance, is your date supportive, competitive, or patient? Are they a sore loser, or do they just want to have a good time? You'll definitely find out when the two of you have to navigate a virtual escape room! "It shows you aspects of their personality that are really important for a healthy relationship," she explains.
Whether you're dating around or in a long-term relationship, try one (or more!) of these couple's games the next time you're in charge of planning date night. Here's to making magic from home…or close to it.
1
Name That Tune
Choose from the songs in your music library or favorite playlist and take turns playing 3- to 5-second snippets. (Make it harder by not playing the hooks!) Then let your partner guess the songs. Award one point each for the correct song title and artist. You'll learn more about each other's musical tastes and party just a little.
2
The Ultimate Game for Couples
Decide if this game lives up to its name as you start conversations and see just how well you know your partner. With 200 cards, also expect challenges like having to close your eyes and guess what your partner puts in your mouth (we'll leave the details to you both), and guessing things like which dog breed best embodies your partner. (Maybe be careful with that one.) 
3
Heads-Up Poker
Challenge your partner in this two-player poker game, where you take turns being the dealer. Then see if you can tell when your partner is bluffing and place your bets of choice.
4
Virtual Escape Room
A benefit to a virtual escape room is that you get to play as a team, and not against each other, says Marashio. It can be a great activity for a second or third date so you can get the scoop on your date's temperament, she says, noting that she likes The Panic Room for online games.
5
Monopoly
You'll see how you both handle conflict when you negotiate in this game. If you have a fair amount of time, settle in, roll the dice, and see how much property you can accumulate. To spice things up, try bargaining with favors along with monopoly money. Mmm.
6
CASHFLOW Classic
In this game from Rich Dad Poor Dad author Robert Kiyosaki, you can learn the basics of investing together—or flex with the knowledge you have. Do your best to "get out of the rat race" as you navigate scenarios like buying property, paying for school loans, and more. Bonus: Get a sense of how your partner would handle finances—and see if your styles match up. Try the board game or play online.
7
Truth or Dare
How risqué do you wanna be? It's up to you both in this classic game. Feel free to ask random questions. And when it comes to dares, be silly or sensual…just stay safe. (If you need some inspiration, here are 100 dirty truth or dare questions to ask!)
8
Mystery Taste Test
Choose your favorite alcoholic or non-alcoholic beverages—for alcohol, try buying a few mini samples—and have your partner taste and guess each one while being blindfolded. To avoid problems with mixing liquors, your partner can guess types of rum, for instance, or whisky (if you've got a big collection)—or see if they can tell the difference between juices.
9
Checkers
Will you king your partner, or will you be kinged? The better you know your date, you may be able to predict their moves as you defend your territory and try to take theirs. Wanna make a statement? Consider buying a custom checker set, just for you two, from sites like Etsy.
10
Wooden Chess Set
Take your Queens Gambit obsession to the next level. If you need a refresher on the rules—or want to learn together—check out beginner lessons on chess.com. 
11
Twister
This is a classic for a reason. Wear comfy clothes and dash on some cologne if you're so inclined, because you're about to get super close. Get a little steamy—or not—as you match maneuvers on the mat. 
12
Taco vs. Burrito
If Taco Tuesday is your thing, you might like this strategic card game. The goal: "to build the weirdest, wildest meal" while being cautious of the Trash Panda and Tummy Aches. (Because who likes those?) If you try it, follow the game with a taco delivery for a real-life win.
13
Sushi Go! – The Pick and Pass Card Game
In this fun (and highly adorable) card game, players compete to collect sushi, sashimi, and other foods worth varying amounts of points. ("Do not underestimate playing the wasabi card," says Men's Health Food & Nutrition Editor Paul Kita.) With over 7,200 reviews and an average rating of 4.8/5, it's basically a guaranteed winner. Especially if you order in Japanese food to munch whil