The 23 Best Ski Jackets for Men to Stay Warm on the Slopes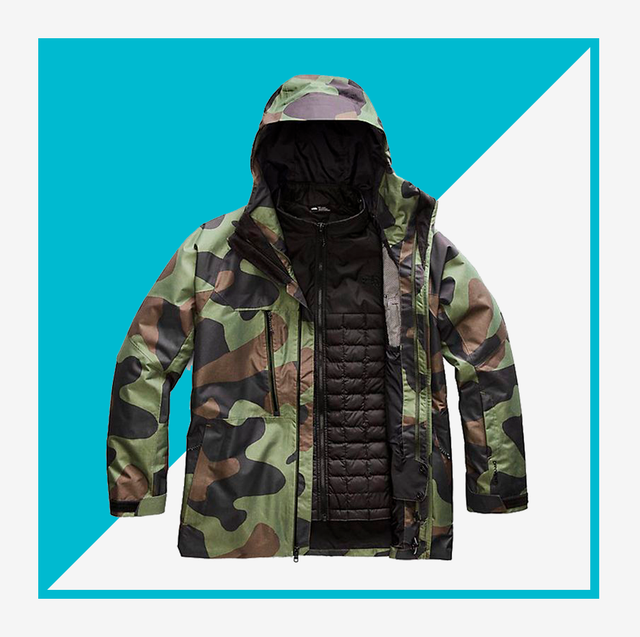 Assorted Retailers
If you plan to hit the slopes this winter, you need more than steady skis for a killer performance. A comfortable and functional men's ski jacket is a must-have for even the most casual skiers. But don't jump the gun yet—there's a lot to consider when looking at the best ski jackets of 2020. The best brands in the world have created outerwear picks that will become your winter go-tos. Depending on your specific preferences, the right jacket for you is out there with waterproof or water-resistant protection and insulating layers to warm your body, yet breathable enough to not overheat you on ski day.
There are countless types of ski jackets for every avid skier, including backcountry skiers. Whether you prefer hardshell jackets or softshell ski outerwear, there are options that will fit your needs, even options with an adjustable hood. Just remember to skip the down jacket when skiing. Puffer jackets are likely to keep you too warm while active and retain moisture, making them not ideal for your time on the slopes.
Instead of taking your down jacket on your ski day, try one of the best ski jackets for men that mix performance, insulation, and cool style.
Columbia Whirlibird IV Insulated Interchange Jacket
The Columbia Whirlibird IV Insulated Interchange Jacket may be a mouthful, but its name says everything you need to know. With countless pockets and seven colorways, this affordable 3-in-1 jacket has a waterproof shell, a warming liner, and an adjustable hood, not sacrificing performance regardless of its affordable price.
Montec Dune Ski Jacket
Montec's Dune Ski Jacket means serious business to with a dizzying array of features, including a waterproof chest pouch, two handwarmer pockets, underarm vents to help air move, and even a lift pass pocket on the sleeve. And it's all protected by hearty Shield-Tec outer shell fabric.
The North Face ThermoBall Eco Snow Triclimate Jacket
The North Face is royalty among the best ski jacket brands, and this one was designed especially for skiing and snowboarding, coming in seven distinct colorways for statement-making ski style. With a removable hood and a protected media pocket, The North Face Thermoball Eco Triclimate is also made of recycled material, keeping "your body warm and your conscience clean." The insulated ski jacket is waterproof, wind-resistant, and provides a conservative amount of warmth for an active day on the slopes.

Arc'teryx Sabre AR Jacket Men's
The Arc'teryx Sabre AR Jacket was designed for freeride touring, keeping performance flexibility and breathability in mind. The jacket's unique material helps moisture escape, regulating temperature, and providing waterproof comfortability. The hood of the coat is helmet compatible, prioritizing safety along with durability.
Patagonia Men's SnowDrifter Jacket
As Powder Magazine's 2020 Skier's Choice jacket, the Patagonia SnowDrifter is lightweight, flexible, and waterproof. Containing 70% recycled fabric, the ski jacket has a helmet compatible hood complete with a visor for superior visibility. This hardshell jacket acts as yet another insulating layer and can also can hook to snow pants—complete with reflectors for extra visibility.
L.L. Bean Carrabassett Ski Jacket
With a longer cut and ski pant compatibility, L.L. Bean's Carrabassett Ski Jacket is a slightly fitted option for any avid skier. The jacket is made of waterproof for solid weather protection, insulated material with zipper venting, and ample pockets for all your gear.
Arc'teryx Zeta SL Jacket
Arc'teryx's lightest option is perfect for a day of hiking and skiing with a super-light, water-resistant outer shell and waterproof, windproof, and breathable Gore-Tex textiles that give your more protection than almost any other similarly lightweight jacket.
Marmot Men's Refuge Jacket
This leak-proof ski jacket is designed to be waterproof and windproof along with the best of them, making this an ideal jacket for backcountry skiers. With flexible elbows for enhanced mobility and safety reflectors, the Marmot Refuge Jacket has all you need for performance and protection. Internal and external pockets keep your gear secure and accessible, with protective zippers guaranteed to keep moisture out.
Patagonia Snowshot 3-in-1 Jacket
The Patagonia Showshot 3-in-1 jacket is as advertised: it's good for any occasion, whether you're going down the slope in the dead of winter or traipsing the trail in the spring. It has a waterproof shell to protect you from the elements and insulation to keep you warm; if you get too toasty, simply zip out the insulated liner and just take the waterproof protection. It's truly on of the best ski jackets for men.
Topo Designs Mountain Jacket
Created for cold alpine environments, the