The 16 Best Winter Sweaters for Men to Wear Now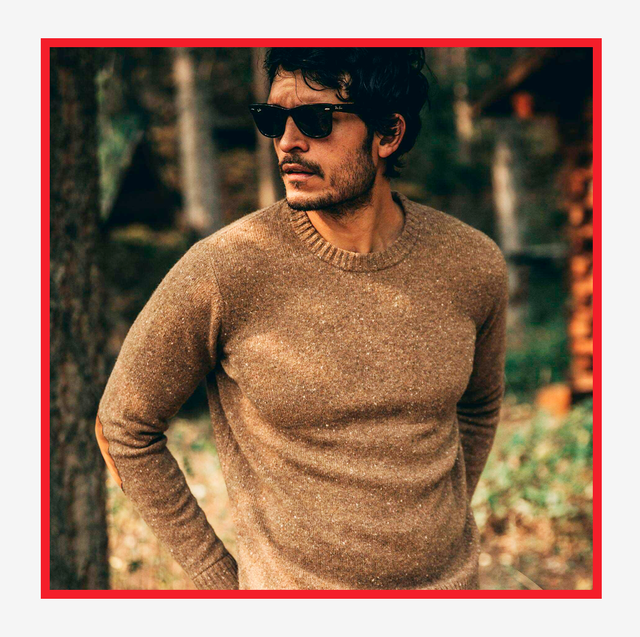 Taylor Stitch
It's that time of year again to brave the winter chill with a next-level layering game. Though your days of fun in the sun are over, you still have time to enjoy the outdoors, just make sure you have the right sweaters to keep you warm. Whether it's a sleek and sophisticated turtleneck to channel your inner James Bond, or the softest cashmere sweater that feels like you're being gently hugged by a fluffy cloud, there's a wide range of cozy winter sweaters on the market that actually look cool and will flatter your physique.
You'll need a stellar starting lineup of winter sweaters—both heavyweight and lightweight— to tackle the season with winning style. To make sure you're getting the best bang for your buck with versatile knits to sport from day-to-night, check out the 16 best winter sweaters that are essential for men to look stylish and staying comfortable this cold weather season.

1 of 16
Taylor Stitch The Hardtack Sweater
Looking for cozy winter gear that's both eco-friendly and high-quality? That's what Taylor Stitch is all about. Classic silhouettes and smart, thoughtful fabric selections make their wardrobe essentials a must-have for men who look to spend their hard-earned money wisely. This sweater, for example, is made of soft baby yak fibers, an ethical and sustainable alternative to cashmere that offers better heat retention and breathability. 
2 of 16
Wellen Seawool Fisherman Sweater
Fisherman sweaters are both rugged and sexy (even Chris Evans knows that), making them completely necessary for your winter wardrobe. This Wellen option features SeaWool, a sustainable fabric made from recycled plastic bottles and oyster shells that has quick-drying and antimicrobial properties. 
3 of 16
Allbirds Wool Jumper
Did you know Allbirds branched out into apparel this year? Just in time for the harshest winter temperatures ahead, score this incredibly cozy wool sweater made from ZQ Merino wool, a natural and ethical wool fiber. But what we love most of all about this winter sweater is its thicker gauge yarn, which prevents the sweater from stretching out over time. 
4 of 16
Bonobos Washable Cotton Cashmere Half-Zip Sweater
This half-zip sweater is the perfect top layer to your workwear button downs. To help you feel cozy and comfy throughout your busy day, Bonobos added a touch of cashmere to make it extra luxe.
5 of 16
Patagonia Better Sweater Fleece Jacket
Patagonia's fleece sweater jacket is a timeless classic that needs no introduction. Available now for a discounted price, the midweight layer will keep you warm through the fall and be your go-to sweater this winter under your puffer vest. 
6 of 16
Buck Mason Vintage Cashmere Herdsman Sweater
Buck Mason isn't just a top brand for winter sweaters, it's a one-stop-shop for classic, reasonably-priced, well-made wardrobe essentials that feel and fit how you like them. With a slim-fit for a flattering look and a touch of cashmere for added softness and heat retention, this timeless crew is a solid investment for your winter wardrobe. 
7 of 16
The Tie Bar Perfect Tipped Merino Wool Navy Polo
 The knit polo has been embraced by the most stylish men of Hollywood (both on and off the red carpet), and with a long-sleeve polo, you can sport the dapper trend through the winter season. Finally, a comfortable alternative to the button-down shirt. 
8 of 16
Todd Snyder Italian Merino Waffle Crew Sweater
A waffle-knit sweater is the best option for swole bros to show off their gym gains this winter. The body-skimming, lightweight layer will keep you warm, but can also motivate you to keep up your fitness game with your biceps and chest on display.