The 15 Best Winter Vests for Men to Layer Like a Pro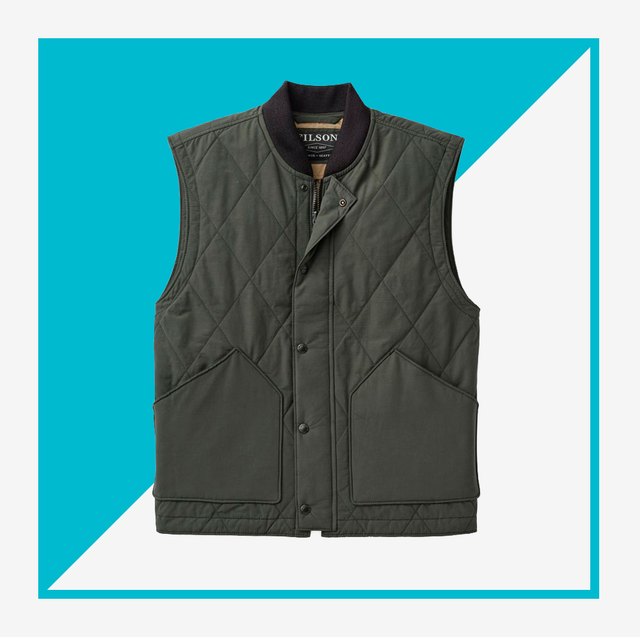 Assorted retailers
Your parents might have told you this when you were a kid, and, well, they were right: Layer up during the winter and you'll always be able to achieve the perfect temperature, no matter what's happening with the weather.
From winter hikes, to hitting the slopes, to simply strolling around town, the logic holds true—a few solid layers means you'll stay insulated against cold weather, or have the ability to peel off a layer or two so you don't overheat during strenuous activity.
In some climates, a lightweight vest might be all the winterizing your wardrobe requires, while in colder environments, a vest can be your go-to for transitional dressing when spring is upon you but it's still a little chilly.
There are different types of winter vests for men to fit different purposes in their life, from wool vests to hiking vests.
A down vest will be your best friend for cold weather hikes or truly freezing temperatures. A fleece vest is a closet essential for layering under other gear on the coldest days, but the versatile style might also be all you need to throw on over a long sleeve T-shirt when grabbing drinks with the guys from late fall to early spring.
Try a lightweight performance style with stretch if you're the type of guy who needs to get in his morning outdoor run even when it's frigid out, or opt for a classic wool version if you're hanging out around town, or going out for a date.
All of the winter vests on our list, whether worn for sports or pleasure, are extremely easy to style with the clothes you already own. Try them with a plain or flannel button-down shirt and jeans or corduroys to keep your look casual, or with slacks and a dress shirt for the office. For a hike, wear a men's outdoor vest over a long-sleeve, sweat-wicking tee, plus some shorts over tights. Then, add a jacket, hat, and gloves, taking off any layers you don't need along the way.
Just like your mom said, layering right really does allow you to enjoy the outdoors year-round. Check out the 15 best winter vests you'll turn to for years to come.
Arc'teryx Piedmont Vest
Perfect for looking stylish in this city, this vest from Arc'teryx is classic and fashionable, but also puts in work. It's filled with responsibly-sourced European grey-goose down to keep you warm on cold days and has a water-repellent finish.
The North Face Sierra Down Vest
From The North Face's "Heritage" collection, this recycled down winter vest has old-school charm that never goes out of style. Made of a recycled ripstop fabric, it features a drawstring for a snug fit, and a snap placket to cover the front zipper, keeping cold air at bay.
Patagonia Burly Man Vest
The key to finding the best fleece vest for men is to consider the conditions you'll be facing this winter and spring. If rain or snow is likely in the forecast, consider a winter vest with a water-repellent outer, like this one from Patagonia, and a warm fleece inner lining. That way, you get all the benefits of a soft fleece layer while keeping dry on outdoor adventures.
Carhartt Men's Arctic-Quilt Lined Duck Vest
Try a men's outdoor vest from Carhartt to see what all the fuss is about. Legions of duck-vest devotees aren't wrong when they say it's one of the hardiest items you'll ever own. Known to last for decades, the rugged warm style is perfect for heavy-duty winter yard work.
Rhythm Seafarer Vest
An attractive quilting pattern means this hiking vest can double as an outer layer to wear on nights out when it's still cold, but not enough for a full-on jacket. The streamlined design is minimal enough to pair with your loudest flannel.