The 15 Best Coffee Makers for Every Budget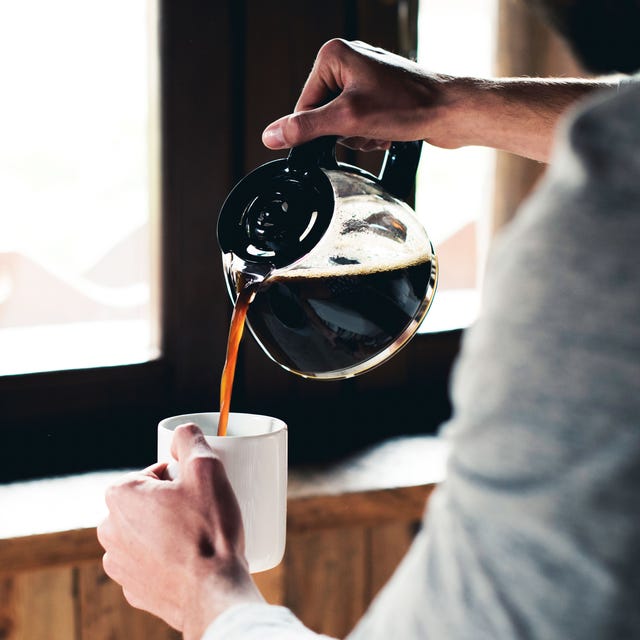 Getty
Coffee making is one beautiful marriage of both art and science. Find us a person who doesn't like coffee and we'll say they simply haven't found the right coffee maker or have had a truly proper cup. Coffee connoisseurs know that it's all about the aromatics of freshly fine beans, combined with the perfect ratio of water, temperature, and brewing time. We'll be the first to tell you that making the perfect cup of coffee is not easy.
Thankfully, there are a variety of machines to match all types of coffee drinkers' needs and wants when it comes to consuming this naturally caffeinated beverage. Still, that doesn't make it any easier. With a ton of coffee makers on the market, you can be faced with pretty rough decision fatigue and resort back to your average old Keurig. But before you do that, hear us out. Ahead, we round up the 15 best coffee makers for every type of coffee drinker.
How to Find the Right Coffee Maker
There are a few types of coffee makers you'll want to know about. From a trendy pour-over style, to an automatic barista brew, and the most popular option these days, a drip style coffee maker, you'll be sure to find something that satisfies your routine and fits in your kitchen. And in 2021, new smart coffee machines make a precise, flavorful brew easy as ever. We can't forget iced coffee and cold brew lovers, we have you covered too! For one man, a classic French press, although more work, will be just the dignified morning ritual he's been lacking, while for the next, a hands-free pour over coffee method will satisfy his palette without the effort. To find the best coffee maker for you, think about your morning routine, kitchen size, preferred style, and of course, budget.
While most people are still working from home, coffee makers are in high demand. We've sifted through all the delicious ways in which to consume your java at every price point, alighting on the best options for making coffee at home that's just as good, if not better, than the brew at your local spot. So whether you're trying to save a few bucks by imbibing your trusty caffeine en casa, or just looking to upgrade your current coffee go-to, consider stepping out of your comfort zone and trying a coffee brewing method on this list you haven't tried before.
Best Pour Over Coffee Maker
Chemex Classic Series, Pour-over Glass Coffee Maker
We can't tell you exactly why coffee from a Chemex tastes so darn good, but it's by far one of the best coffee makers under $100 available. It has something to do with the thickness of the glass, or maybe it's just plain magic, but this pour over style of coffee maker takes all the bitterness out of your favorite beverage, amplifying all its pleasant flavors. The wood and cord handle is also sleek on the style front. 

Best Budget Coffee Maker
Black + Decker 12-cup Programmable Coffee Maker
Some people don't like frills. It doesn't get anymore more basic than Black + Decker's Programmable coffee maker. It's a major bang-for-your-buck moment, bringing you a solid 12-cup brew for under $35. If you're not ready to commit to a better, fancier coffee machine, this one will be good enough to hold you over while you decide. It has over 5,000 perfect reviews on Amazon, so if you don't believe us, feel free to go down that rabbit hole. 
Best French Press Coffee Maker
Sterling Pro Double Walled Stainless Steel French Press
Keep it classic with this take on a French press that's worked out all the kinks typically associated with the old-school method of coffee making. For starters, a double screen prevents any little coffee grounds from making their way into your cup. Plus, the coffee machine is made from a double layer of surgical-grade steel. The inner layer heats up with the hot water, while the outer layer stays cool and keeps you from burning your hand in any tragic early-morning coffee accidents. 
Best Easy-to-Use Coffee Maker
Hamilton Beach 2-Way Brewer Coffee Maker
Get a coffee maker that can do both. This machine brings you single serve brewing without the annoying pods, along with the option to go for the full 12 cup carafe. It's fully programmable, so if you're a plan-ahead type of guy that likes a consistent and simple cup of coffee, this easy-to-use machine is for you. 
Best Smart Coffee Maker
Spinn Original Coffee Machine
Do you ever wake up and dread the process of making coffee, simply because you haven't had your coffee yet? The Spinn has smart technology to brew your caffeine without you having to get out of bed. 
With this smart system, you can choose between a glass carafe, an espresso, an Americano, a single cup, and more. The Spinn device heats the water, grinds fresh beans, and brews it all through a high-pressure spinning process that extracts all the flavor notes. Since the process always starts with whole beans, your coffee is cost-effective and more sustainable than single-use pods, and much more aromatic (calling all coffee snobs!)
When you're running low on beans, you'll get a notification through the coffee maker's app and have a local roast delivered to your door. Other ways to brew are through Alexa integration or by a simple tap of a button. Spinn might just be the best investment to get you to kick your coffee runs. Taste it, and you'll see.
Best On-The-Go Coffee Maker
AeroPress Coffee and Espresso Maker
This AeroPress is like a modern French press and has fast become a fan favorite among the best cheap coffee maker options. It's also on