The 15 Best Camping Hammocks for Any Wilderness Adventure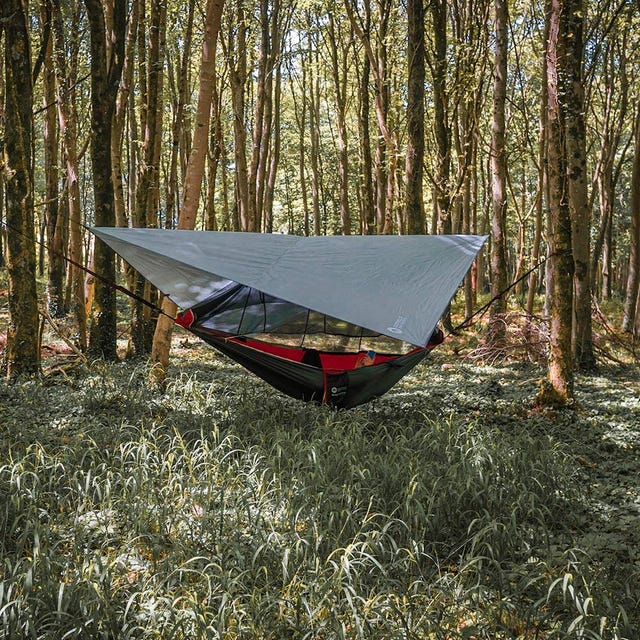 TK
Camping aficionados know that an outdoor escape is the perfect detox to office life and a great reset to your regular fitness routine, offering plenty of opportunity for physical activity that feels fun, instead of like a chore, from hiking to mountain biking to kayaking.

Gearing up for a DIY getaway can be easier than you think, especially with a camping hammock in tow. Way more compact than a tent, a hammock allows you to trek around without extra baggage, post up your sleeping quarters without any time consuming set-up, or just have a place to chill in your backyard.
There are a couple of things to consider when choosing the best camping hammock, like the size. A single will be the most compact, while a double camping hammock can yes, technically fit two people, though it also makes a slightly roomier option for one occupant.
Your specific needs for a hammock will also influence which one you buy. For lounging, a lighter camping hammock model will do, but for actual nighttime sleeping, invest in something more heavy-duty that comes equipped with a rain cover and mosquito net.
Read on to see our picks of some of the best camping hammocks and loungers to take along on your next adventure, from brands like ENO, Kammok and Hennessy.
There's no better time than now to soak up all the physical and mental benefits of getting lost in nature.
-Best Camping Hammock for Sleeping
Lawson Hammock Blue Ridge Camping Hammock and Tent
There's a difference between taking a nap in a hammock and sleeping a full eight hours. This lay-flat option is designed to come as close to a flat surface as possible for better shut-eye.
Equipped with suspension system
Water-proof and bug-proof
Kammok Roo Double Hammock
Set up this portable camping hammock in your backyard or on a mountainside. The fabric is formulated to be extra-soft and light, without sacrificing strength.
Breathable and fast-drying
Dense nylon is resistant to tearing and wear
Ultralight backpacking camping hammock
Hennessy Hammock Expedition Series
This cult-favorite Hennessy Hammock allows for easy entry through the bottom of the hammock. It snaps closed under your bodyweight and seals with velcro. Features an asymmetrical shape and comes with a rainfly, essential for wet climates.
Asymmetrical shape allows for comfortable diagonal sleeping
Single occupancy
Ultralight backpacking hammock with suspension system
Best Double Camping Hammock
Easthills Outdoors Jungle Explorer Double Bug Net Camping Hammock
One of the best two-person hammocks on the market, this version comes with every accessory you need to set up camp, from tree straps to carabiners. It also comes with a rainfly, a sturdy cover that acts as a separate roof.
Holds up to 700 lb.
Rain Fly
Best Budget Camping Hammock
Wise Owl Outfitters Hammock
This top-rated single camping hammock is made of a sturdy parachute nylon. The budget option is light and compact, so fold it up tightly in your bag, hightail it to the lake of your choice, and set it up For your own outdoor living room.
Select one-person or two-person version
Comes with attached stuff sack
Best Camping Hammock With Mosquito Net
Kammok Mantis Ultralight Hammock
This heavy duty nylon ripstop option is one of the best camping hammocks for sleeping. It can withstand a rugged camping trip, coming equipped with a raincover for protection from the elements.
Rain Fly
Comes with four stakes
Grand Trunk Skeeter Beeter XT Hammock
Camping hammocks may leave you a little more susceptible to the elements, great for feeling one with the environment, but that includes mosquitoes. This camping hammock eliminates that problem with a net. If you're feeling claustrophobic, flip it over to take a breather uncovered on the other side.