The 13 Best Natural Deodorants for Men to Stay Fresh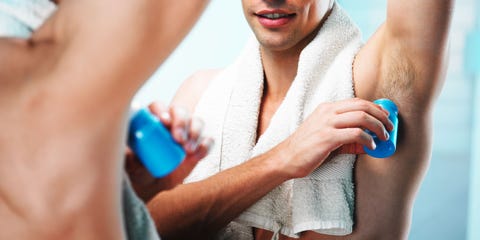 StudioThreeDotsGetty Images
It's highly likely that you rely on a very simple motto when buying deodorant: whatever works.
Seriously, what's the point of deodorant if it doesn't actually work? If it can't keep body odor at bay, it's not only kind of embarrassing (or at least smelly), it's not worth buying. And for a long time, natural deodorants have been notoriously said to be ineffective when it comes to masking odor.
The problem is that regular deodorants often contain chemicals like parabens, which can be harmful for the body's hormone levels. Not only that, but regular deodorants might also use aluminum, which can irritate the skin, or might not be vegan or cruelty-free. That's a lot to consider beyond whether a deodorant simply works.
If you're hoping to go a more natural route but without worrying about odor, these ten deodorants are perfect for you. They range in ingredients and principles, but each is guaranteed to do one thing: work.
Schmidt's Deodorant Here + Now Natural Deodorant by Justin Bieber
Sure, this new scent from Schmidt's smells incredible (a little like patchouli), but the real innovation is the new sensitive skin formula. It has all the good stuff (magnesium, activated charcoal), but is baking soda-free which means it doesn't irritate sensitive pits and it glides on more easily and quickly than previous Schmidt's formulas.
Native Deodorant Eucalyptus & Mint Natural Deodorant
Some natural deodorants ask you to change your routine—they don't apply as easily as the traditional ones you're used to. Native, however, goes on smooth and doesn't need to be warmed up or applied with your fingers. This fresh eucalyptus and mint scent is fresh without smelling fake.
By Humankind Refillable Natural Deodorant
Another refillable deodorant, this one allows you to choose the color of your case and your scent. Plus it actually works; it helps control odor as long as some of our favorite traditional deodorants while helping you feel like you're doing your part for sustainability.
Ursa Major Natural Hoppin' Fresh Natural Deodorant
By this point, Ursa Major's deodorant is a classic and there is a reason for that. It consistently out performs many of the other brands we've tried, both in scent and longevity. If you're just making the switch to naturals, start with this one—it's the most like the traditional deodorants you're used to.
Botanik Fresh Evergreen Natural Deodorant for Men
This vegan and cruelty-free formula is created in small batches right here in the USA. Botanik uses a blend of essential oils to lend its fresh evergreen scent and provide antibacterial properties.
Corpus Natural Deodorant
The packaging and scent of this natural deodorant brand is more like something you'd find in a high-end cologne, ensuring that you won't be embarrassed to leave it out on your bathroom sink. The natural formula leaves out all the things you would expect (sulfate, parabens), but doesn't compromise on efficacy.
Myro Refillable Deodorant