The 11 Best Travel Mugs to Keep Your Coffee Hot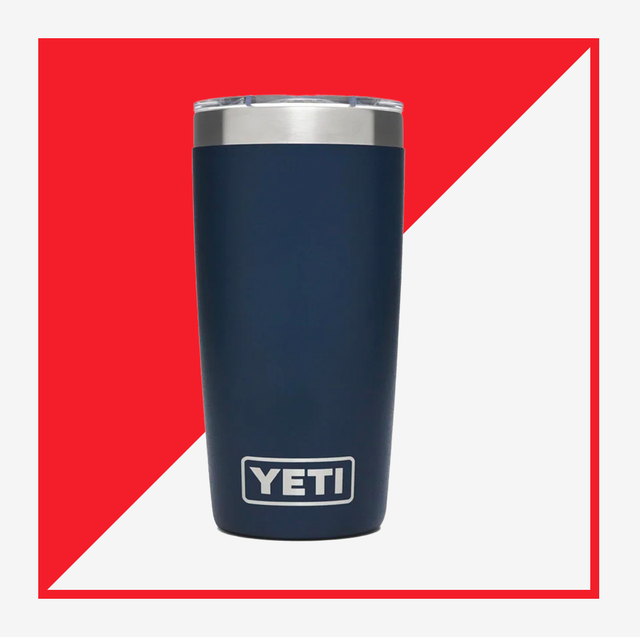 Photos Courtesy of Retailers
When we think of items everyone and anyone can benefit from, coffee travel mugs are at the top of the list. Whether you're rushing out the door on your morning commute, going for a road trip, taking a hike, heading to a sporting event, or just about anything else, a durable thermos to keep your hot beverages warm and cold beverages chilled will come in handy. Even if you're staying at home all day and want to continuously sip on hot tea, you will get joy and use out of an insulating mug.
While this item is so widely appreciated (and usually taken for granted), that doesn't mean all of the options on the market perform the same. Any hardcore coffee drinker knows the disappointment that comes from sipping your daily cup of Joe, only to find out it has turned lukewarm. To narrow down the overwhelming travel mug options available for you to shop, we have tested a ton of top brands, like Yeti and Contigo, to confidently present you with the best coffee thermoses out there.
From the best travel mugs to keep your coffee hot for hours, to other more modern thermos styles with a reusable straw, there's an option for everyone's budget and needs. Keeping in mind insulation levels, leak proof lids, thermos design details, and washability, we guarantee these travel mugs won't disappoint.
Best Overall Travel Mug
S'well Stainless Steel Tumbler
You've seen S'well blow up over the last decade. They have products in every major department store. We knew S'well "made it" when other brands have been knocking off their signature designs.  Suddenly carrying a travel bottle with that S'well logo turned into a status symbol in gyms, offices, classes, and more. While the brand offers travel mugs in a variety of colors and prints, we love this not-so-flashy, quality coffee thermos for daily use. 
It's ergonomically friendly to hold, fits in your cup holder, and is super lightweight for throwing in your bag once you are done sipping. It's simple, stylish, and easy to handle, checking off everything you want in the best coffee mug. Just make sure every S'well bottle your purchase has their authentic seal to ensure it's not a fake. But you'll quickly find out the hard way when your coffee turns cold after 8 hours.  
Keeps drinks cold for 36 hours
Triple vacuum insulation
Keeps Drinks hot for 18 hours
Wide mouth opening (to fit ice cubes)
Best Budget Travel Mug
Zojirushi Stainless Steel Mug
We deem the Zojirushi Stainless Steel mug the best value on this list. For under $20, you can get a top-rated coffee thermos that will keep beverages hot or cold hour hours. It has stainless steel vacuum insulation with a safety lock to prevent the lid  on this travel mug from opening on accident. (You can even tip this upside down without spills.) The wide mouth opening accommodates full-sized ice cubes that will keep them solid for the bulk of your day.  

Keeps drinks cold for 6 hours
Keeps drinks hot for 6 hours
Vacuum insulation
Most Durable Coffee Mug
Yeti Rambler 20 oz Tumbler
This wouldn't be a best travel mug roundup without the iconic Yeti Rambler. Outdoor enthusiasts and seasoned tailgaters know that this thermos lives up to all the hype. On even the coldest days, Yeti's rambler will help keep you warm by serving steamy liquid for hours on end. 
This product has well over 40,000 rave reviews, so if you don't believe us, there are plenty more that will stan this mug. It's shatter-resistant, cup-holder compatible, and dishwasher safe, making cleanup a breeze. The lids are interchangeable, but this once comes with a magnetic slide closure to avoid outside contact on the surface where your mouth lies. This also makes opening and closing a breeze so you can quickly sip on the go, without having to untwist a vacuum seal top.   
Keeps drinks hot for 5-6 hours
Keeps drinks cold for 9 hours
Vacuum insulation
Dishwasher safe
Best Travel Mug For Walking
Hydro Flask Stainless Steel Travel Mug
After thorough testing, there is no travel mug that keeps coffee hot quite like a Hydroflask. And we mean piping hot—even after leaving hot coffee in a freezing car for 8 hours. This thermos won't actually fit in your car cupholder, but the vacuum seal top and flex handle is comfortable to carry on hikes, walks, and errands. It's on the chunkier side, but if your top priority is uncompromising temperature regulation, look no further. 
Keeps drinks hot for 12 hours
Keeps drinks cold for 24 hours
Dishwasher safe
Lifetime warranty
Best Travel Mug For Camping
Stanley Stay-Hot Titanium Multi-Cup
We know, the price point is high on this top travel mug, but if you hav