The 10 Best Ski Pants for Men to Stay Dry and Comfortable on the Slopes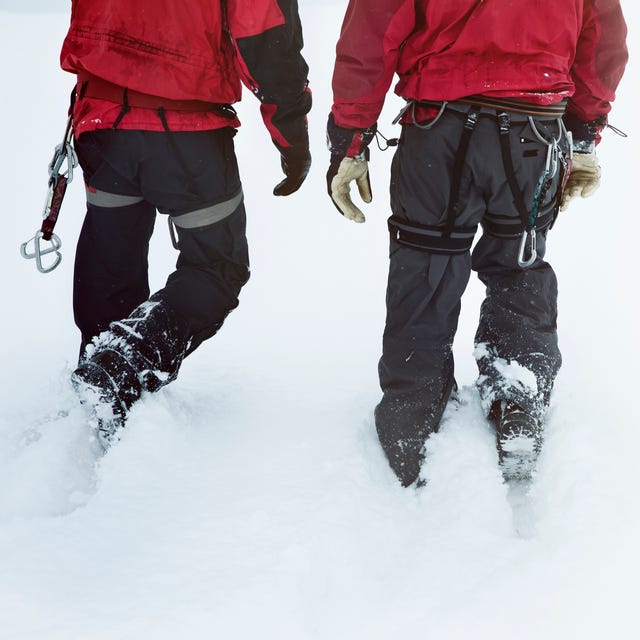 Henrik Sorensen
You may not think of slope season as a chance to re-up your wardrobe, but you'd be wrong. After all, skiing is a highly specialized escapade, requiring very specialized equipment. In this case, we're talking about your pants.
Don't be the sucker in jeans shivering up on the mountain. Whether it's cross-country or backcountry skiing, opt for a bona fide pair of ski pants—bottoms that are engineered specifically for harsh conditions and cold weather as you zoom down the slope.
There's a lot of variety out there when it comes to the best ski pants, but you'll want to look for a few basics.
First: insulation. Insulation is key when you're up on the mountain. Basically, an insulated layer on the pants will give you warmth, as well as protect you from the elements. Some pants have an outer shell for added protection—usually a polyester material—but you'll always want some insulation from the cold.
You'll also want to make sure they're your ideal fit. While we wouldn't recommend opting for something super skinny, you don't have to sacrifice some flattery for function. We're big fans of slim and regular fit ski pants, but willing to go into more relaxed fits when it comes to more hardcore outings.
And, of course, waterproofing. While the pants don't necessarily have to be able to be totally submerged to be effective, you'll want a pair of waterproof pants for your spills and slips. Moderate-to-high waterproofing should be more than adequate.
With all that in mind, we've rounded up the 10 best ski pants for men to wear this year. Skip the store and order ahead before you start skiing.

Patagonia Men's Snowshot Pants
This regular-fit pair has a warm, 2-layer polyester shell for even more protection than your everyday wear. An articulated fit and mesh liner give you extra freedom of movement.
Arc'teryx Sabre AR Snow Pants
These beefy boys could withstand anything with GORE-TEX protection and a zippered pocket for storage. In trouble? An embedded reflector enhances radio signals from search-and-rescue teams. Intense.
Spyder Dare Tailored Ski Pants
Water resistant and built for big adventures and stormy weather with Primaloft Silver Eco insulation, these a