Take Five: Policymakers under pressure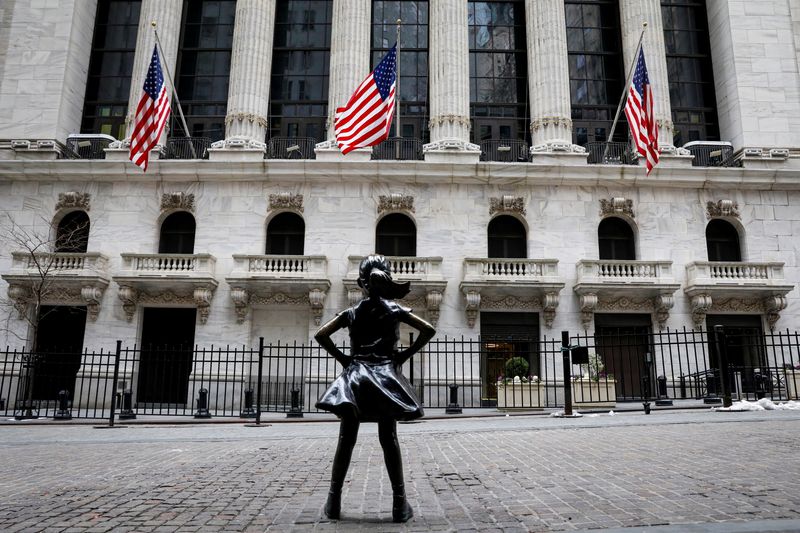 © Reuters. The Fearless Girl statue is seen outside the NYSE is seen in New York

1/TANTRUMS WITHOUT TAPER
What happened to keeping borrowing costs in check? All of a sudden, central banks are grappling with rising bond yields that could threaten recovery prospects.
February is ending with some of the biggest bond moves in years, even after soothing noises from Federal Reserve Chair Jerome Powell, European Central Bank boss Christine Lagarde and Reserve Bank of New Zealand Governor Adrian Orr.
Australian and New Zealand 10-year yields have soared 70 basis points each — Australia's biggest monthly yield jump since 2009. U.S. 10-year yields are set for the biggest monthly rise since late-2016.
Focus now turns to what central banks say or do next; the Reserve Bank of Australia meets Tuesday and officials from the Fed, ECB and the Bank of England officials are due to speak.
The RBA tried to defend its 0.1% target on three-year yields. If Tuesday's euro zone data shows inflation ticking higher, pressure will grow on the ECB, too.
Graphic: Bond yield surge and central banks – https://fingfx.thomsonreuters.com/gfx/mkt/rlgvdeekopo/themeTHISONE2602.png
2/RBA TAKES ON MARKETS
The bond rout poses a test for the RBA's yield-curve control policy when it