'Sex With My Fiancé Repulses Me, but It's Too Late to Call Off the Wedding'
To say I didn't enjoy dating in my twenties and early thirties in London is an understatement. I was a perpetual singleton, heartbroken too easily and hung up on men who I knew didn't treat me right. But, looking back I don't think I could have ever imagined that I would feel even more stressed when it came to lying next to my 'perfect man.'
I was a hopeless romantic in the seven years before I met K*. I'd cycled through every dating app you could imagine, hoping to find 'The One.' There was Jack, a 'nice guy' scientist who stroked my face. We had amazing sex for months and he always cooked me breakfast in the morning. I told him all my secrets because I thought he was my lobster. Then, one day he just completely ghosted me. When he eventually did get in touch it was with a picture of a dog, accompanied by a text saying, 'It's been fun getting to know you :)'.
Then there was Ed the 'sorry-my-ex-girlfriend's-back-on-the-scene' architect and Chris who took me on loads of elaborate dates. We went to supper clubs and cocktail bars and to his favorite botanical garden where he held my hand and told me all about his complicated relationship with his dad. He too disappeared from the scene without warning one day. I only knew it was over because I saw him back on Hinge with a new profile photo.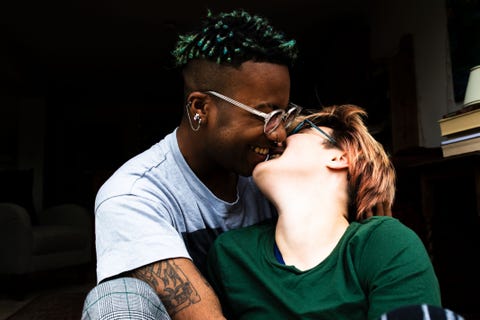 Posed by models
Sophie Mayanne
Maybe I'd watched too many romcoms growing up and got the wrong impression about finding love straightaway. But, by my early thirties, the detached and cutthroat ways of the London dating scene were totally soul destroying.
I'm from South Asian heritage and although my family are pretty progressive, I've always felt a pressure to get married. Even though I'm a successful, financially independent lawyer, I had subconsciously mapped out a future of 2.4 children in my head. Every romantic car crash I stumbled out of felt like a failure that took me further away from my 'plan.'
I am too much of a feminist to admit this openly, but last year, aged 34, I was starting to panic that my 'plan' was slipping further and further out of reach. My biggest fear was that I was going to end up alone, unable to have the family I'd always wanted; both the prospect of love and fertility dropping off the proverbial 35-year-old cliff.
"I liked the way his eyes crinkled when he smiled and I was drawn to his warmth"
That's when I met K. We were both attending a three-day networking conference and ended up on a very awkward team building exercise together where we giggled uncontrollably at the guy leading it who we agreed was exactly like David Brent. At first romantic feelings didn't really cross my mind, but we ended up spending more time together over the three days. On the second day we had a Continental breakfast together and I felt comfortable enough from the start to regale him with my dating stories and he recoiled in horror. 'Guys can be really awful,' he said. He told me a tragicomic story about having his heart broken on Hinge and how cruel his friends were to women and, as he talked, I felt something fundamental shift inside me, a kind of rush of relief and gratitude.
He wasn't my normal type. For a start he was a lot shorter than my height preferences on the apps and pretty much bald (previously a big 'no no' for me) but I liked the way his eyes crinkled when he smiled and I was drawn to his warmth. That night, after a day of pretending to be en