Riz Ahmed Isn't Trying to Escape Riz Ahmed Anymore
"Fucking up, fuck up, I'm fucking up, fucking up." Riz Ahmed slaps repeatedly his outstretched right palm, using left middle and index fingers, which he tucks on the rebound, extending thumb to ceiling. The recurrent gesture is part aggressive golf clap and part thumbs up, and, in American Sign Language, suggests a stream of obscenities, which Ahmed is also repeating out loud—some frenetic variation of "fucked up," as in "I fucked up," or "I fucked it up," or, just, "fuck up."
Ahmed often deployed the sign during prep for his latest film, Sound of Metal, where he plays a heavy metal drummer experiencing sudden onset hearing loss. He spent several months constructing the character. He dropped his London accent. He picked up drums. And he became conversationally proficient in ASL.
"I was overwhelmed and out of my depth," says Ahmed, remembering those first months learning the language. "I didn't know how to say, Umm—you know, if you lose the words. The sign for that is: oh, I'm thinking." He puts up his hand and wiggles his fingers. "I didn't know that at the time. So I kept signing fuck up." He used the sign so often, his Deaf costars made it his sign name—a special sign in place of spelling individual letters. Naming a hearing person signals acceptance and respect. Riz Ahmed was honored as "Fuck Up."

"That was a cool moment for me," he says, smiling. "I was like, Okay, I'll take it. That's more accurate than you know."
Ahmed's smile is preposterously large and wholesome. He's wearing semi-rimless glasses and a long sleeve shirt—with "RAASTA" ("Path") written in Urdu on the front—and speaking so thoughtfully it seems impossible the actor/producer/writer/rapper could have known the sign for "fuck up" before learning "I'm thinking." That recklessness feels less Riz than Ruben, Ahmed's drummer character—with bleach blond hair and "please kill me" tattooed across his chest. Though, Ahmed notes, something kind of magical has been happening recently with his art: the characters least like himself now strike closest to home.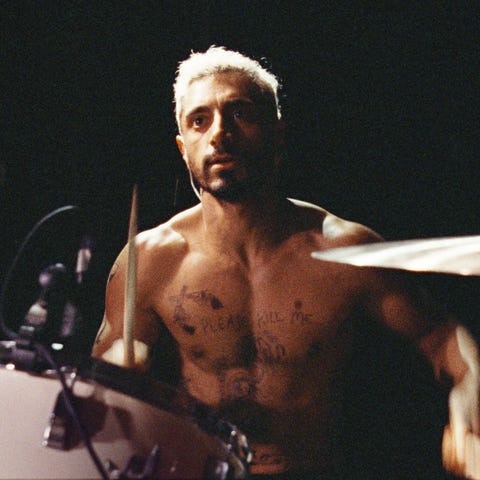 Ahmed as Ruben Stone in Sound of Metal.
Courtesy of Amazon Studios
Currently, Ahmed is very far from his London home. He's just wrapped a shoot in the San Francisco Bay Area and has been in California—a place "apocalyptic but also heavenly"—since September. Despite delays and tour cancelations, Ahmed had a prolific 2020, comprising two independent films (Sound of Metal and Mogul Mowgli), a studio album (The Long Goodbye), and an accompanying short film, which he wrote. All this after an ascendant decade—an American breakout in Nightcrawler, an Emmy win as a Rikers inmate and murder defendant in The Night Of, and, of course, Star Wars. Still, in many ways, he hasn't yet fully arrived.
Sound of Metal, however, is picking up award buzz. The film is notable for casting dozens of culturally Deaf actors and in a setting where deafness doesn't mean disability. Though Ahmed is perhaps a month and an Oscar nod away from really arriving, he says he's already received an award of sorts, the privilege of working within the Deaf community.
That experience has affected him more than any other project. It has changed Ahmed, from how he listens and emotes (now with his whole body), to his acting approach (now less technical and more visce