Nobby Stiles: Family says football 'must address scandal of dementia' affecting former players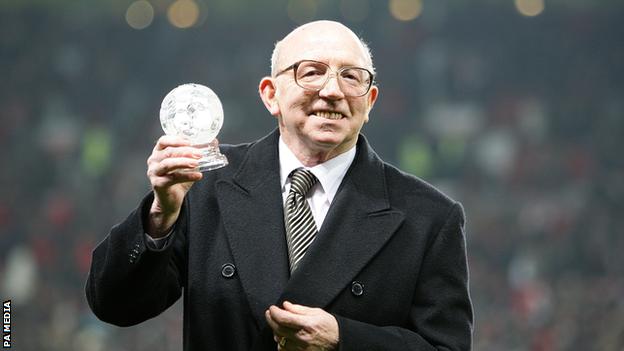 The family of 1966 World Cup winner Nobby Stiles says football needs to "address the scandal" of dementia in the game.
And they criticised the Professional Footballers' Association, saying there had been a lack of support for players.
The ex-Manchester United and England midfielder died in October, aged 78. He had dementia and prostate cancer.
Stiles is the fifth member of England's World Cup-winning squad to have been diagnosed with dementia.
Previous research has shown that ex-footballers are three and a half times more likely to die of dementia than the general population.
Stiles' family said they were proud of "what he achieved, but more importantly, the man he was".
But they added: "There is a need for urgent action.
"These older players have largely been forgotten and many are in ill health, like dad.
"How can it be that these players are left needing help when their own union has tens of millions of pounds available today?
"How can it be that these players are struggling when the Premier League receives £3bn a year?
"The modern player will never need the help required by the older lads. How can it be right that some of the heroes of 1966 had to sell their medals to provide for the families?
"These older players are dying like my dad – many don't have medals to sell.
"It is right, of course to seek to identify the cause of dementia in older players but in truth the cause is irrelevant to the older players – whatever the cause, they need help now.
"I hope dad's death is the catalyst for this scandal to be addressed."
Stiles made 397 appearances for Manchester United between 1960 and 1971, later going on to play for Middlesbrough and Preston North End.
He won 28 caps for England and is the seventh member of the England team that started the 1966 World Cup final against West Germany to die, after captain Bobby Moore, Alan Ball, Ray Wilson, Gordon Banks, Martin Peters and Jack Charlton.
Stiles had a minor stroke in 2010, and was then diagnosed with Alzheimer's disease and prostate cancer.
The PFA said: "Our thoughts are with Nobby Stiles' family at this very difficult time.
"The PFA Charity offers a range of support to former professional footballers and their families/carers. The support we provide is always confidential and as each family's circumstance will vary, we try to ensure that the support provided is suitable to their individual needs.
"The PFA is listening to member feedback and evaluating ways to improve the services and care provided. We are at the of beginning of a process of consultation with sections of our membership who have lived experience of neurodegenerative conditions.
"We will be liaising with these members and their families to determine how the services can be of greater help and more accessible for those that need it.
"The PFA will continue to fund research as part of a working group, comprised of stakeholders from across the game. Currently, we are funding three separate studies looking at neurodegenerative conditions and football."
In a statement, the Football Association said: "We continue to work closely with the Alzheimer's Society and, alongside other sport governing bodies, we are pleased to be a part of their Sport United Against Dementia campaign to help raise awareness and gain support for their valuable work.
"Collaboration across football's governing bodies is key in order to better understand this important issue collectively, and we firmly believe that all areas of football should come together for this meaningful cause."
Stiles 'convinced' dementia injuries from heading
Research from a study by neuropathologist Dr Willie Stewart – which was commissioned by the FA and PFA – found that former footballers were between two and five times more likely to die from degenerative brain diseases.
It has yet to be proven whether heading is a contributing factor.
But Stiles says he is "utterly convinced" heading had caused problems to the members of the 1966 World Cup team who have been diagnosed with dementia, including Sir Bobby Charlton.
Stewart's examination of former West Brom striker Jeff Astle concluded he died of a brain condition normally linked to boxers, and that it was caused by heading footballs.
Last month, a coroner ruled that former Welsh international Alan Jarvis died from dementia linked to repeatedly heading the ball.
Stiles said that football was "hiding behind the fact that it's very difficult to get conclusive evidence of a brain injury" as it cannot be diagnosed until after death.
He told BBC Sport: "It's blatantly obvious that heading the ball has given [the World Cup players] dementia.
"There's nothing else that they have done, although all I hear from football authorities is that they need more studies. But while they are doing that the players aren't getting the help they need and they need it now.
"Football hasn't reacted and in the meantime, there's been hundreds, maybe thousands of footballers who have suffered with it, and football has deliberately, in my opinion, not dealt with it because it will cost money and affect the brand.
"The research should continue, there is plenty of money to do it, to make sure that current players and youngsters coming through don't suffer the same fate as my father. But more importantly, players should be getting care and support now, substantial support and care.
"I don't think you could ever take heading out of football, but at least the players should be made aware that they make a decision to play the game knowing what the risks are."
The Premier League says it contributes £23m a year to the PFA, which goes to several charitable and development causes, including the recent study.
It also has its own head injury advisory group, and is awaiting more details on concussion substitutions from IFAB, which are set to be trialled across the game from January 2021 onwards.