Most popular Fortnite skins in Season 4 – Iron Man, Aura & more
The most popular skins in Fortnite Season 4 are largely comprised of the Marvel Battle Pass, but other popular skins have stood the test of time.
Fortnite players love their cosmetics – possibly more than any other community in gaming. Having an "OG" skin immediately gives you a position of authority in any Creative lobby, even if you haven't played the game since those skins were new.
We often wonder which skins and emotes the community uses the most but had no way of knowing for sure. Data miner Lucas7Yoshi had an idea of gathering this information: take a massive number of replay files, analyze them, and find out which cosmetics are the most commonly selected.
Most Popular Skins in Fortnite
What Lucas7Yoshi found was relatively predictable, which makes sense. We see these skins in almost every match, which is why they're the most common in the game right now. Of course, his method wasn't flawless, but it was as close as we could get without the raw numbers from Epic Games.
Unsurprisingly, the Marvel skins from the Season 4 Battle Pass top the charts, with Tony Stark, Jennifer Walters, Mystique, Doctor Doom, and Wolverine all making the top six. At the four spot is Aura – which might be the most popular skin in all of Fortnite, regardless of which season we're talking about. The same can be said of Crystal at number nine.
Venom and Mogul Master stand out as surprises, but these are probably a result of the recency of the study. The Nick Eh 30 pack included Mogul Master, and Venom is the most recent Marvel skin added to the game.
Most Popular Emotes in Fortnite
The most popular emotes in Fortnite was more interesting to us, as it showed a couple of emotes that continue to stand the test of time. Of course, you have the newer TikTok-style emotes that Epic have added, and you've likely seen or used them in several matches.
"Laugh it Up" – which might be the most triggering emote in the game – is securely at the number-one spot on the board. We expect that "Take The L" would be on here as well, but that emote was a part of an old Battle Pass, and newer players don't have it.
"Dance Moves" is a classic that everyone has access to, but "Have a Seat" comes as a surprise. We love this emote but didn't know that so many others felt the same.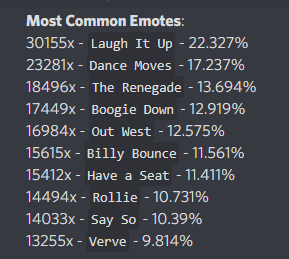 Hopefully, Lucas7Yoshi keeps up with this project, and it only becomes more accurate over time. We're excited to see which skins and emotes stand the test of time and which fall by the wayside after a season ends. If he completes the same process next season, we doubt that these Marvel skins will make the top ten.
PC Fortnite players should head over to Lucas7Yoshi's Discord server if you want to help out with the project. The more replay files he has, the more accurate his information will be. Let's see what happens in Season 5.
IMG/data credit: u/AeroTheManiac/Lucas7yoshi