many of oppo's x 2021 seamless scrollable display videos already released by nov17 2020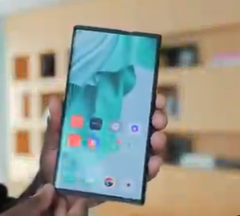 Oppo's upcoming 2021 Oppo X appears to have already made foldable phones passe with its seamless, scrollable display. Tech blogger @BrandonLKS highlighted how the Oppo X's display works in a brief, but fascinating video preview.
Blogger @BrandonLKS recently gave us a quick peek at OPPO's latest phone design: the spectacular, scrollable OPPO X 2021. The phone uses a flexible OLED panel that can scroll out, increasing screen space without having to contend with the ever-present center crease on foldable devices. 
Questions arose after our first glimpse of the OPPO X 2021, when tipster @UniverseIce shared a few GIFs and what looked like a presentation slide. Was the scrolling action as seamless as OPPO presented it to be? @BrandonLKS' video confirms that the display scrolls out without any apparent compromise. However, we'll only learn about possible issues once the phone actually lands in user hands some time this year.
Flexible OLED technology, in general, is still in its early stages, so we wouldn't be surprised if the OPPO X 2021 came with some Galaxy Fold-size compromises. Nevertheless, it is interesting to see the OPPO X 2021 in action: if scrollables are the future, we're interested to see what Apple and Samsung have planned in the years to come. 
Buy the OPPO Find X2 Pro here on Amazon
Arjun Krishna Lal, 2021-02-12 (Update: 2021-02-12)