I Lost 140 Pounds in Just 10 Months After I Started Running and Meal Prep
Conor Hegarty, a 24-year-old management consultant from Cork, Ireland weighed 301 pounds at his heaviest.
He shares with Men's Health the wake-up call that prompted him to start his weight loss journey.
Here's how making small changes helped him lose 140 pounds in just 10 months.

---
I'd always been heavy as a kid, and got heavier every year as I grew up. I wouldn't even look at the scales, as I would start to anticipate that I'd put on more weight. It crept up on me slowly; I just didn't have the knowledge of food or the motivation to do anything about it. If I did do something, I would crash diet for a couple of weeks, which would then end with a binge-eating day and after a while I would be even heavier than when I started my diet.
The real weight gain started when I went to university and started drinking alcohol. Nights out were always followed by a kebab or McDonald's, and the combined calories of the drinks and junk food often led to me being inactive the next day. When I entered the workplace, that level of inactivity increases. I stopped playing sports, and often found myself working long hours. With my poor diet (full Irish breakfasts, large meals, and regular high-calorie snacking), I put on something like 55 pounds in less than a year and a half.
There was one day last year, where my shirt was so tight that two buttons popped off while I was sitting at my desk. A friend helped me stitch the shirt together, and I wasn't even fazed by it. I went out for a drink that night, forgot about the incident, and just bought a bigger set of shirts the next day.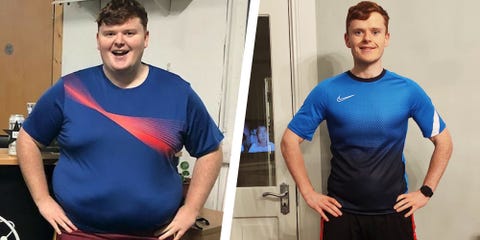 Conor Hegarty
The real lightbulb moment was when I went to America in November 2019. I have never felt more ashamed of myself than when I was in Miami; the men and women all look great and are able to enjoy themselves at the beach without having to feel self-conscious about their bodies. My friends all wanted to go to a pool party, but I couldn't go as I didn't want to take my shirt off in public.
Then we had a connecting flight, and had to run about half a mile through the airport; I couldn't catch my breath, and had sore shins. Walking onto the plane, I could see people staring at me: I was sweating profusely, struggling to catch my breath, and when I found my seat I sucked in my stomach to fasten my seatbelt (I was too ashamed to ask for an extender) and sat there uncomfortably for the whole flight. The tray in front of me didn't even fold down because my stomach was in the way.
At 23 years old, I weighed 301 pounds, and was technically morbidly obese. I knew I had to make a change. I calculated my BMR to understand how much I should be eating and began tracking my calories, starting with a 200 calorie deficit. This allowed me to get used to the restricted diet and reduce my binge-eating. If weight loss slowed down, I took an honest look at the effort I was putting in—if was getting lazy, I increased exercise a small bit, or if I felt I was putting in my max effort in the training, I reduced my calories again to create a deficit and beat weight loss plateaus.
I prepped meals twice a week, and wouldn't deviate from my meal plan for the whole week. Cheat days don't work for me, so I stopped them.
My friend and I both signed up for a 12-week transformation program at our local gym.