I Care A Lot Star Peter Dinklage Made A Ton of Money on Game of Thrones
Peter Dinklage plays a key role in Netflix's new film I Care A Lot.
In the movie he plays a mysterious figure who comes into a conflict with a con artist named Marla Grayson, played by Rosamund Pike.
Here's what we know about Dinklage's net worth, including how much money he made on Game of Thrones.
---
Peter Dinklage has always been a great actor, but the last decade in particular has given him the ability to show off his talent. His most recent starring role—in Netflix's I Care A Lot—finds him playing a heavy, an intimidating character meant to make audiences scared. And Dinklage's style—the way he perfectly enunciates every syllable of every line of every word—is a perfect fit for this type of character. Rosamund Pike is excellent as the movie's lead, but the movie benefits greatly from Dinklage's character going toe-to-toe with her for its entire duration.
The New Jersey-native actor is now almost two years removed from the airing of the Game of Thrones finale, and the roles he's getting are as memorable and substantial as ever. Dinklage won four Emmys for playing Tyrion Lannister over the course of the Thrones run, but its clear he's going to continue being a force in movies from here on out.
In fact, now that Thrones has elevated him to the point of become a household name (with quite a bit of hardware on the mantle at his own household), Dinklage's paychecks are probably getting quite a bit larger as well.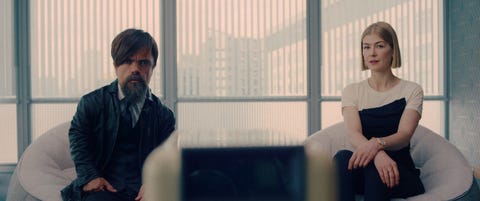 Netflix
Peter Dinklage's net worth is estimated to be around $25 million.
Celebrity Net Worth estimates that Dinklage's net worth is in the $25 million range. The actual number is probably even higher than this, as this number has been listed for a couple years—he's at least got I Care A Lot and the upcoming Cyrano (in which he plays the titular lead) to account for.
We know that he made $1.1 million per episode for the