How to get RPG and Mythic AK in Fortnite Season 5
Contrary to popular belief, there is another mythic weapon in Fortnite Season 5: the Mythic AK. Here's where you can find it along with an RPG.
Published
2 seconds ago
on
Fortnite Season 5 has another Mythic weapon hiding in the swamp. Here's how to get a Mythic AK and RPG in Fortnite Season 5.
When Fortnite Season 5 was first released, players assumed that The Mandalorian was the only NPC carrying a Mythic weapon. After all, he was the star of the Battle Pass and had the most distinct location on the map.
After a few days of playing, players discovered that there's another weapon hiding outside of Slurpy Swamp. Ruckus is wandering around Hydro 16 holding the Mythic AK from Season 3 along with one of the only RPGs in the game.
Naturally, this is a potent combination and a force to be reckoned with. The good news is that Ruckus doesn't seem to spawn right away. In our experience, he waits about a minute before spawning, giving players a chance to land, loot, and duke it out with one another
Ruckus is just another boss in Fortnite. He doesn't offer bounties, quests, or rewards. Don't overthink it; jump in and eliminate him.
You can find Ruckus patrolling anywhere in the Hydro 15 area – the factory just below the Dam to the east of Slurpy Swamp. Finding and killing him is a part of the weekly challenges, as well, so you can walk away with some free XP to go with your RPG and Mythic AK.
Kratos from God of War has made it to Fortnite. Find out how to unlock the Armored Kratos style for free in Season 5.
Published
5 hours ago
on
December 4, 2020
Kratos has landed on the Fortnite island, but his single style isn't his only form. Here's how to unlock his Armored outfit.
After a full season worth of crossovers, Epic slowed things down with Fortnite Season 5. The new season was released with only one crossover character in the roster: The Mandalorian.
It only took a couple of days for Epic to add to their Season 5 crossover roster. On December 3, Kratos from God of War came to the Item Shop. This preceeds the rumored addition of Master Chief from the Halo franchise.
Although God of War is a Playstation exclusive video game, players on all platforms could grab Kratos and his skin pack. You know that Sony had to do something for their console owners, however.
PlayStation players who play a single game with the Kratos skin will unlock the Armored Kratos style for their skin – it's as simple as that.
Unfortunately, Android, Xbox, PC, and Nintendo Switch players will need to stick to the standard Kratos outfit – unless you have a PS5 lying around.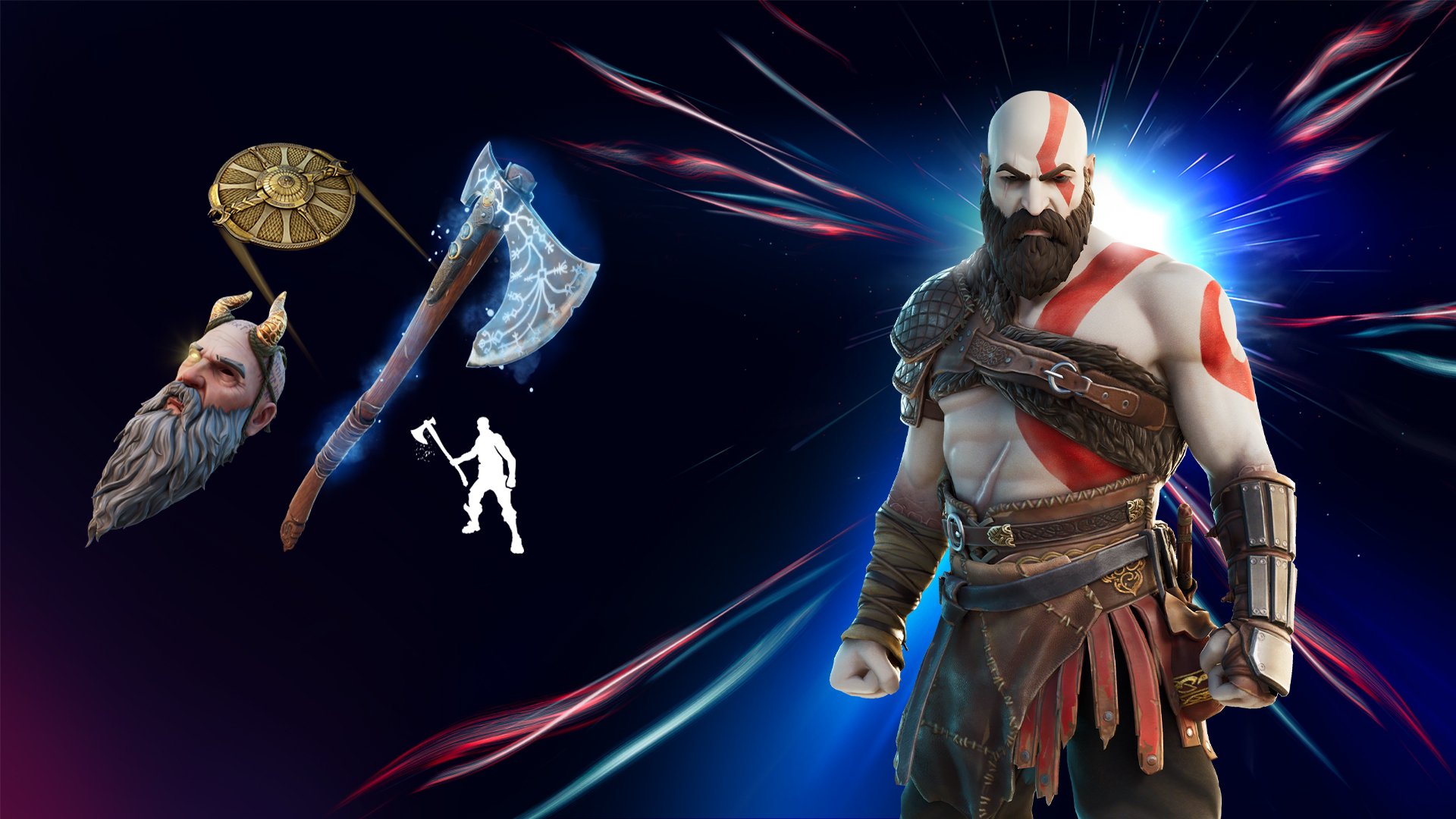 If you don't have a PlayStation on-hand, the only option you have is to ask a trustworthy friend to log onto your account and play a game for you. Giving out your account information is risky and usually a bad idea, so proceed with caution.
Hopefully for Xbox players, Microsoft will have the same deal with Epic Games when Master Chief comes to the Item Shop. He's one of the most iconic characters in all of gaming and will probably be a popular pick on all platforms.
Fortnite Season 5 brought Exotic weapons to the game to replace Mythics. Here's where to find all of them.
Published
1 day ago
on
December 3, 2020
Fortnite Season 5 introduced Exotic weapons to the game instead of Mythics, giving more players access to them. Here's where you can find them.
There's no shortage of new mechanics in Fortnite Season 5, with the addition of NPCs, quests, and a whole lot more.
Mythics have returned to the game in Season 5 but in a limited capacity. The only classic Mythic items in Fortnite Season 5 include The Mandalorian's Jetpack and sniper rifle, both available from the bounty hunter himself.
The other items in the game are classified as Exotics. There's only one of each Mythic item in each game, but can be multiple Exotic weapons.
You can purchase these Exotic weapons from specific NPCs across the map. Of course, this means you'll need to save up your Gold Bars to afford them.
Twitter user @MikeDulaimi created an easy-to-follow guide on how to locate all of the Exotic weapons in Fortnite. You can purchase them from NPCs in the areas surrounding Hunter's Haven, The Zero Point, Dirty Docks, Craggy Cliffs, and Stealthy Stronghold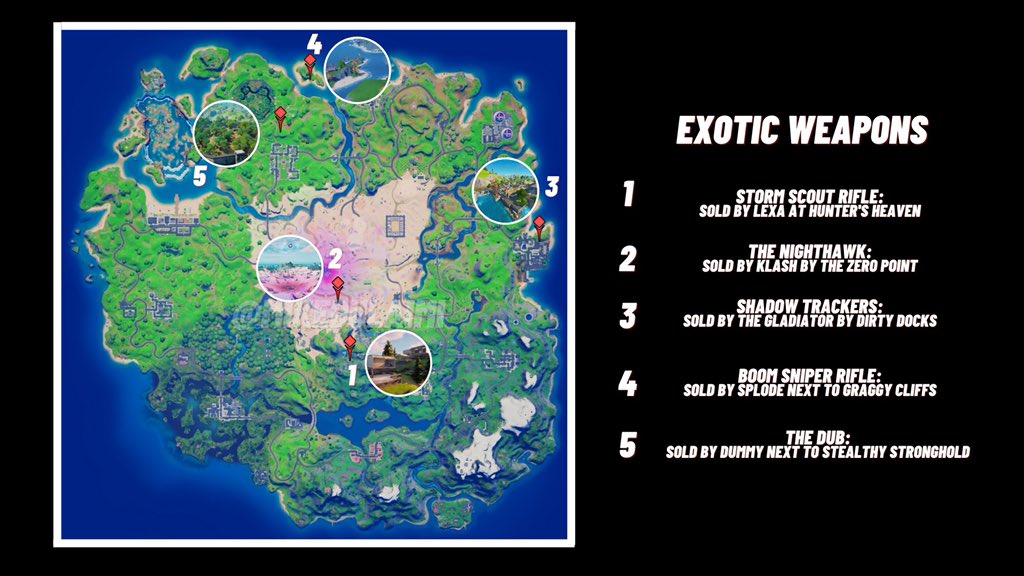 Mythic items were relatively controversial for the past few seasons of Fortnite – especially in competitive modes. Doom's Mystical Bomb and Kit's Shockwave Launcher dominated tournament play for the past two seasons, and the competitive community largely called for them to be removed.
We're curious to see how this community treats Exotic weapons. They're more widely available and aren't as powerful as Mythics, making them more balanced than the latter – that is, until a player eliminates the NPC selling them.
The addition of NPCs in Fortnite give players a new way to play the game. Here are all of the NPC locations so you can find them all.
Published
1 day ago
on
December 3, 2020
Fortnite Season 5 brought NPC quest-givers to the game. Here's where you can find all of them.
The most interesting part of Fortnite Season 5 has to be the currency system. It might not be fully realized upon release, but it offers a ton of potential to the game and truly makes it feel fresh.
After a few games, players will begin to stockpile gold bars after eliminating players, completing quests, and breaking furniture. The only place to spend these gold bars is at the NPC quest-giver locations.
There are NPCs all over the place – you've undoubtedly stumbled upon them in your travels. As you may have noticed, though, some NPCs are more useful than others.
Players are still working their way around the map, looking for all of these NPCs. So far, @meetlootllama has completed the most comprehensive map of where all of the quest-givers are located.
This map isn't 100% complete yet. We know that at least one NPC is missing at Holly Hedges, suggesting more are left off this list. Still, it's the most information we have and will serve as our map until we unlock all of these quest-givers in our collection.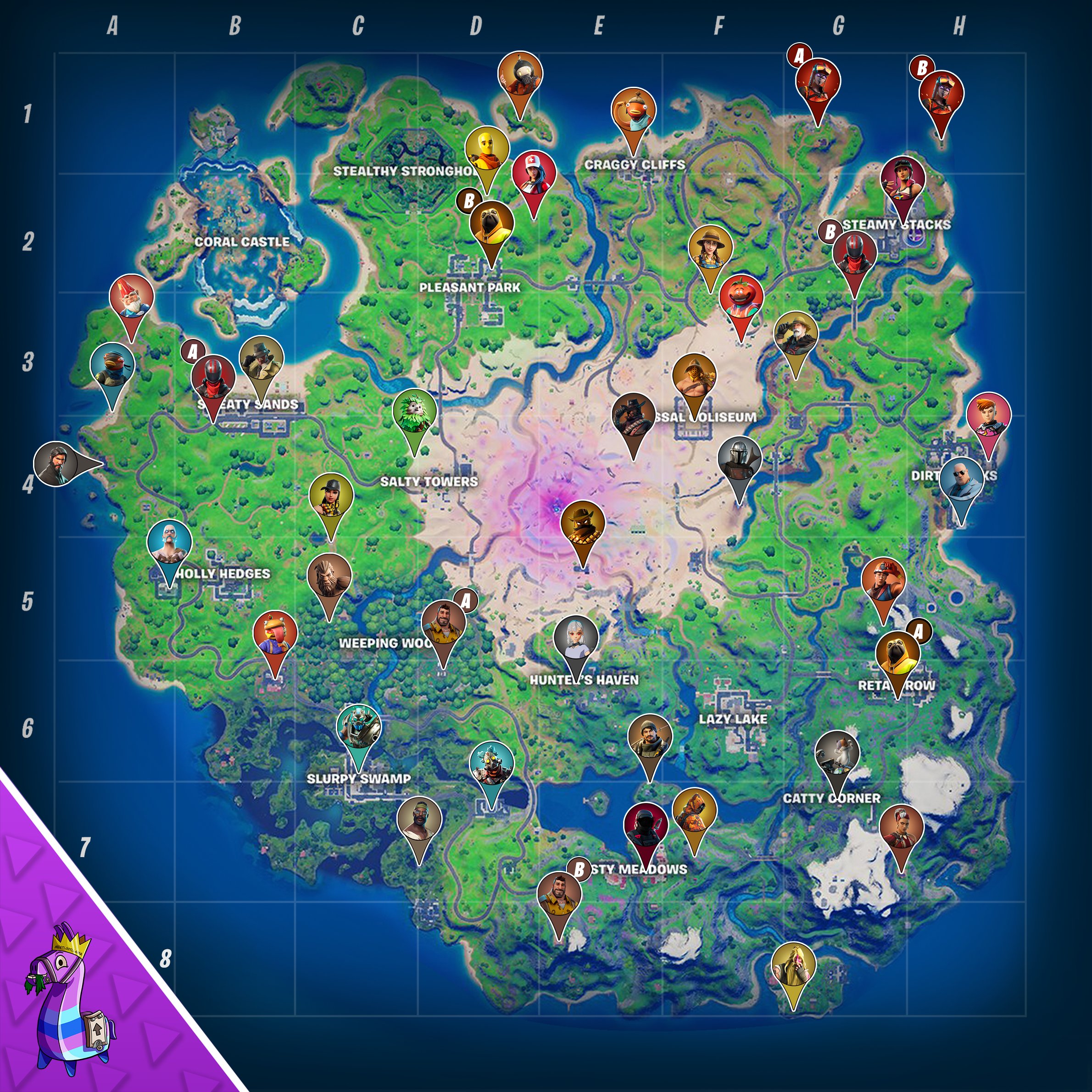 Again, some NPCs are more useful than others. Craggy Cliffs houses Remedy and Fishstick – neither of which offer too much to players. Ragnarok over in Holly Hedges, on the other hand, gives you a chance to earn a free P90 for defeating him.
There are also some cool interactions you can have with these characters. Bunker Jonesy answers questions about the loop, and Tomatohead talks trash to you if you wear the Beef Boss skin. We can't wait to find all of these Easter Eggs while exploring the new island. Season 5 might be our favorite season in Chapter 2.
Image Credit: @meetlootllama