How to destroy Nutcracker statues for Fortnite Operation Snowdown
The new Operation Snowdown challenge requires players to destroy five Nutcracker statues. Here's where you need to go.
Published
11 hours ago
on
Fortnite Operation Snowdown continues with a new challenge, requiring players to destroy five Nutcracker statues.
Another holiday season, another list of Fortnite challenges that offer players cosmetic rewards. Each day that passes, we unlock another way to earn a free item.
Today, we'll be breaking Nutcracker statues scattered around the map. You can find these located in most of the major POIs, along with all of the Snowmando Outposts that appeared when the event went live.
Places like Lazy Lake, Retail Row, Pleasant Park, Holly Hedges, and Catty Corner all contain Nutcrackers statues, as do the Outposts that you can see, below.
Each location has at least two or three, so you'll need to visit two of them to complete the challenge. The best route will likely be through the southeast Snowmando Outpost. You can land there, grab two, then move to Catty Corner and Lazy Lake.
As a reward, players will unlock a new Snowmando back bling that fits the Snowmando skin we'll unlock at the end of the Operation Snowdown event.
As is the case with most of these challenges, the best method will be jumping into a game or two of Team Rumble until you finish.
Keep in mind that the Snowmando Outposts don't have a 100% spawn rate in this mode, so you may want to stick to the major POIs to ensure you finish as fast as possible. Good luck!
Operation Snowdown is the upcoming challenge set for Fortnite Winterfest 2020. Here's what to expect, including free skins.
Published
3 days ago
on
December 18, 2020
Fortnite Winterfest 2020, AKA Operation Snowdown, is almost here. Take a look at all of the upcoming challenges and how to complete them.
In Fortnite v15.50, Epic added the first part of the upcoming Winterfest update. This included some challenges that should become available in the next few days.
Thanks to data miner iFireMonkey, we were able to take a look at what we'll need to do this holiday season.
Here are all of the challenges we need to complete for the Operation Snowdown missions.
Deal damage with Lever Action Rifle (100)
Complete Operation Snowdown Quests (9/12)
Place Top 10 with friends in Squads (3)
Travel 5,000 meters in X-4 Stormwings
Shoot down opponent structures with X-4 Stormwings (10)
Collect Gold Bars (100)
Catch a Snowy Flopper
Revive a player in different matches (3)
Hide inside a Sneaky Snowmando in different matches (3)
Play duos/squads with friends (5)
Stoke a campfire (2)
Use Chiller Launcher to apply icy feet to opponents (10)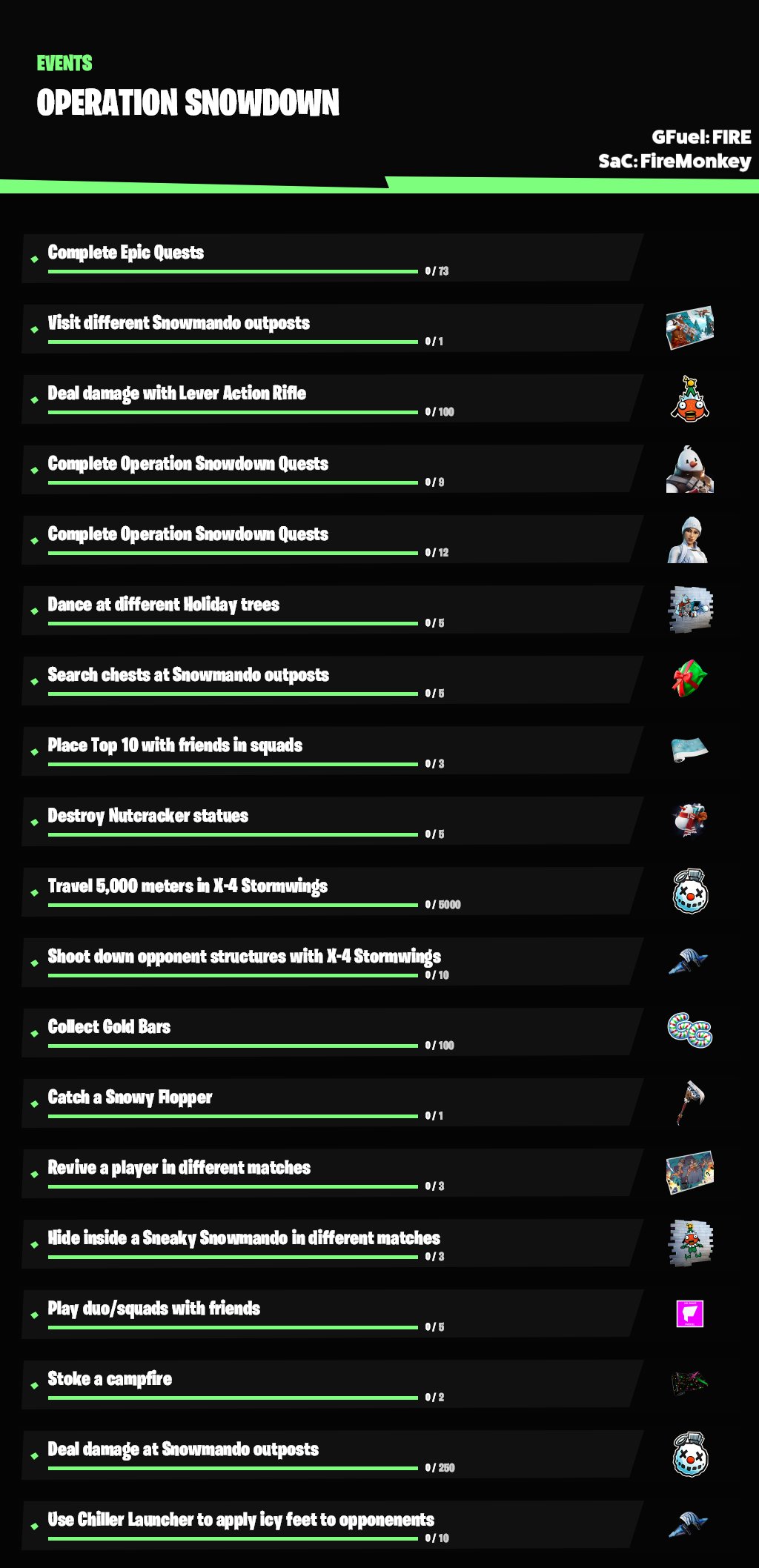 The challenges offer a variety of free rewards, from Back Bling, to sprays, to weapon wraps – all with the holiday theme attached. They offer a great way to grab some holiday cosmetics if you don't have some, already.
Another free skin will be available when players finish 12 quests as well. Unlike last year, the Frost Squad skin will probably be a popular one after the winter event ends.
If this list is accurate, then there are 16 Operation Snowdown challenges in total, meaning that you can pick and choose the easier ones to complete. We may not be getting no-strings-attached skins like last year, but a free skin is a free skin.
We're writing this before the challenges are released, so make sure to check back for a full guide then they come to the game. We'll keep you posted.
Day 2 of the Fortnite Operation Snowdown is upon us. Here's how to dance at all of the Holiday trees for the free reward.
Published
3 days ago
on
December 18, 2020
The Fortnite Operation Snowdown event is live. Here's where to find all of the Holiday Tree locations for the Day 2 challenge.
Day 2 of the Fortnite Operation Snowdown event requires players to dance at five different Holiday Trees. As a reward, players will receive the Snowmando spray.
The reward for this particular challenge might not be the best one of the event, but it's an easy challenge to complete if you're looking to get the two free skins from the event.
You can find Holiday Trees in the following locations:
Holly Hedges
Salty Towers
Pleasant Park
The Orchard
Craggy Cliffs
Dirty Docks
These trees are all relatively obvious when you visit each location, and you can easily complete this challenge in a game or two of Team Rumble.
The Salty Towers tree is a good place to start since it's a central point on the map and prone to destruction soon after other players land there.
You'll also see one to three chests spawn underneath each tree, making it a great place to land if you're playing Solos. Good luck!
Fortnite Operation Snowdown is here. Take a look at all of the Snowmando Outpost locations for the day-one challenges.
Published
3 days ago
on
December 18, 2020
Operation Snowdown – the 2020 Fortnite winter event – is here, bringing daily challenges for players to complete. Here are all of the Snowmando Outpost locations for the first day's challenges.
Day one of Operation Snowdown has players searching around the map for Snowmando Outposts, filled with chests and the return of the X-4 Stormwing.
Today, players will be visiting these locations and searching for chests. You'll need to visit five different outposts and search five chests while you're there. With so many players attempting this challenge, you'll probably have some competition when it comes to finding the chests.
Here are the five Snowmando Outposts you need to visit for the challenge. Since the planes spawn here, you can complete your "eliminations while in a vehicle" challenge if it's too contested.
As we suggested, finding chests is going to be the hard part of today's challenge. There only appears to be one or two in each location, with no guarantee that any will spawn where you land.
Your best bet for finding chests will likely be the Snowmado Outpost next to the Weather Station on the mountain. There's at least two chest spawns here, giving you the best chance of grabbing one of them.
Interestingly, the Snowmando Outposts don't spawn in Team Rumble. This will make the "Search Chests" stage of this challenge a lot more difficult, as we'll be competing for them with other players in Solos.
As a reward, we'll be receiving a new loading screen and a holiday-themed shield back bling – both worthy of our time. Good luck!