How to Build Explosiveness Like NFL Star Travis Kelce
Our product picks are editor-tested, expert-approved. We may earn a commission through links on our site.
HIS RIGHT OUTER hip wasn't firing. And Travis Kelce wasn't having it.
It was a hot June morning in KansasCity, and the Chiefs' tight end was mid-way through a workout. Minutes earlier, Kelce had dashed five yards upfield, planted his right foot, and cut across the field for a catch. Now he was running the exact same play, but this time he took two baby steps before his cut and followed with another catch.
The catch didn't matter; Kelce was thinking only about that sleepy right outer hip, which stabilizes your knee when you change direction, preventing injury and helping you explode. He walked up to his trainer, Alex Skacel, and pointed to his hip. He was done running routes. Kelce finished with 45-second side planks with his upper leg raised. "It's on now," he told Skacel. A day later, he was back to running routes. "I've really focused on the small stuff that keeps the big picture in mind," Kelce says. "The rehab, the prehab, and what you can do to stay on the field and at your peak athleticism."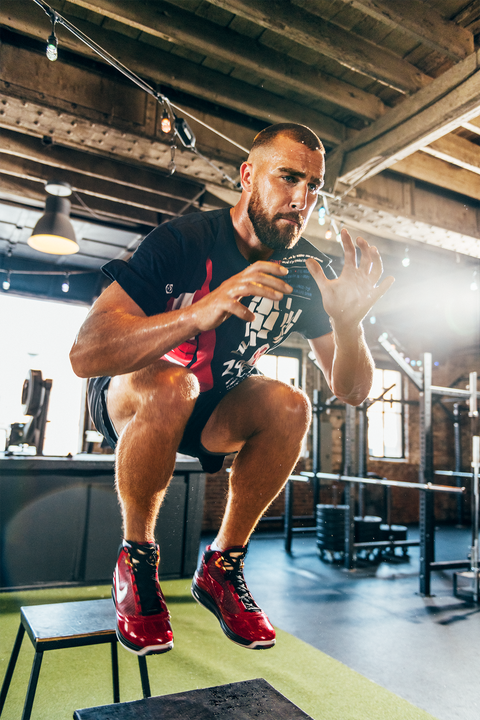 Arturo Olmos
It's all that small stuff (yes, really) that turned Travis Kelce into the six-five, 255-pound manimal he is now, a player who enters the 2021 season as the NFL's best tight end after three straight seasons of 90-plus catches and six Pro Bowl appearances. He's also one of the NFL's best real-world athletes at a position that's finally getting the credit it deserves. Sure, receivers have more pure speed, offensive linemen are bigger and stronger, and cornerbacks can instantly change direction. But from Kelce to Tampa Bay legend Rob Gronkowski to hyped Atlanta Falcons rookie Kyle Pitts, modern tight ends have all those traits—and more.
"I've really focused on the small stuff that keeps the big picture in mind."
Every Sunday, the 31-year-old Kelce needs enough speed to run past defensive backs and enough lateral quickness and raw power to block giant defensive line-men. He needs the core rigidity to shrug off would-be tacklers and the jumping ability to pluck passes out of the air. "Ask yourself, 'What is a tight end?'" says Kelce. "It's not just one position or one thing. We're like the utility guy. Whatever you need done, we have to be able to have that attribute or that ability to just have success."
It's the toolbox every guy can use. Think about it: You don't need Olympic-sprinter speed every day. But you do need a dose of explosive energy to catch that train you're about to miss, a burst of agility to keep up with your kids during a game of tag, and the strength to pick up that Amazon box at your door. And Kelce's cerebral, nuanced approach to fitness can help you build that while bulletproofing your body against injury, too.
---
KELCE BEGAN HONING his fitness approach long before he was catching passes from Patrick Mahomes and pushing the Chiefs to back-to-back Super Bowl appearances. In the fall of 2005, when he was a sophomore at Cleveland HeightsHigh in Ohio, his gym persona, "Trainer Trav," was born. Kelce failed French class the previous year, which automatically made him ineligible to play football.
Except Kelce's father convinced him to work with the team behind the scenes. So Trainer Trav taped ankles and gave out water on the sidelines of games. "That was the start of my appreciation for the anatomy of the body, understanding being healthy and at your peak athleticism at all times," he says.
It blossomed when Kelce started playing at the University of Cincinnati in 2009. Early on, he suffered a shoulder injury and was assigned to work with a physical therapist. Instead of going throug