From Model T to Model 3: How Driving Changed Over a Century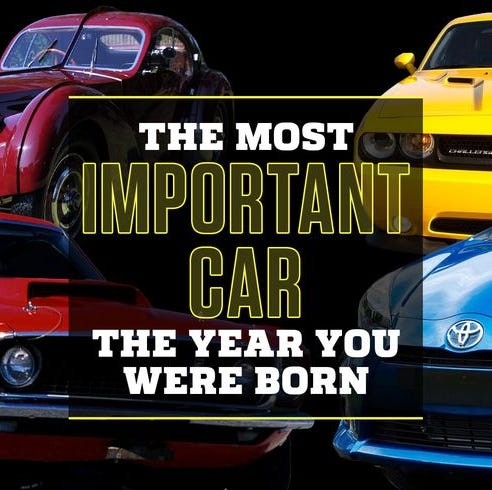 Michael Stillwell
The automotive landscape of any given year is truly a snapshot of the time period. Cars are excellent barometers of trends, styles and shifts in American culture. Curious about what cars were the big deal the year you were born? Read on.
1 of 100
1918: Ford Model T
The very first Ford Model T rolled off a very new automotive assembly line in 1908 and truly gave America its first affordable wheels. A decade later, only 1 and 13 families owned a car, but it's very likely that car was Ford's wildly successful Model T.
The 20 hp engine was modest with a top speed of around 45 mph. But speed mattered little to Model T buyers because the car was almost half of all cars sold in the U.S. The Model T got less expensive as it got older and continued to be a strong seller with 15 million finding homes until 1927 when the car was replaced by the Model A.
2 of 100
1919: Dodge Brothers Model 30
The Dodge Brothers, Horace and John, were a force in the early automotive industry, supplying engines for Oldsmobile and actually building complete cars for Ford. Their first car arrived in 1915 with a modest 35 hp four-cylinder engine. In 1919, the company introduced its first four-door enclosed steel roofed sedan. Sadly, both Dodge brothers died just one year later. And in 1928, the company was sold to the Chrysler Corporation.
3 of 100
1920: Detroit Electric
Detroit Electric produced some of the earliest EVs and could travel about 80 miles between charges. One modified Detroit set a record, traveling 241 miles on a charge. These EVs only had a top speed of around 20 mph, so they were mainly used as dependable inner city transportation. Sales of the Detroit Electric would slide throughout the 1920s thanks to improved internal combustion engines. By the time the company finally ceased operations in 1939, it had produced around 13,000 EVs.
4 of 100
1921: Lincoln L-Series
After spending its earliest years producing Lincoln aircraft engines for WWI, the company began automobile production. The very first Lincoln, the L Series, rode on a long 130-inch wheelbase and was powered by an 81 horsepower V8. Although this was a brand-new car company and a brand-new car, the design was dated as soon as it hit dealers and sales weren't strong. Just one year later, the company was in rough shape financially and was sold to Ford who turned it into a luxury car powerhouse, including this coupe designed by Brunn & Company in 1923.
5 of 100
1922: Doble Steam Car
In the 1920s, America was flirting with alternative fuels—and steam was one of them. The Doble Steam Motors Corporation began production of their cars in 1922, but just 36 were built through 1931. One of them is owned by Jay Leno.
There's no need for a transmission thanks to the steam engine's incredible torque. Leno once wrote in PM, "Open the hand throttle and acceleration from a dead stop is smooth and continuous. The Doble just continues to pull all the way. It only has about 150 hp, but the torque output is huge: 2200 lb-ft at the rear wheels."
6 of 100
1923: Lancia Lambda
The new Lambda was a technical masterpiece for Lancia. Most notably, the Italian sports tourer pioneered the use of monocoque construction instead of the heavier body-on-frame designs that were the norm at the time. The Lambda was the first with this weight-saving engineering and decades ahead of other carmakers. The Lambda also broke new ground with its independent front suspension system, and was the first automaker to use a V4 engine. Lancia would use V4 engines in cars through the 1960s.
7 of 100
1924: Oakland 6-54
Oakland, part of the GM empire at the time, was one notch up from Chevy and was a strong seller. Oakland received updated bodywork for 1924 as well as some technical innovations like a new quick-drying paint from Dupont and four-wheel brakes—very rare at the time. Oakland's new six-cylinder was less "advanced" than the one it replaced but offered greater reliability.
The first Pontiac was actually an Oakland model. And the strong sales of those earliest Pontiacs convinced GM it should become its own brand. That eventually led to Oakland ceasing production.
8 of 100
1925: Rolls-Royce Phantom I
The Phantom replaced the legendary Rolls Royce 40/50 (Silver Ghost) which had been in service for almost 20 years and had a well-deserved reputation for luxury as well as reliability. The new Phantom was elegant, modern and had an improved 7.7-liter six-cylinder engine as well as disc brakes. A Springfield, Massachusetts factory had been building Rolls Royce cars since 1921 and produced the new Phantom. However British built Phantoms had unique equipment and options compared to their American counterparts.
9 of 100
1926: Chrysler Imperial 80
Imperial models were the pinnacle of Chrysler's lineup and aimed to compete with luxury marques like Cadillac and Lincoln. The first Imperials were available as a roadster, sedan, a four-door convertible Phaeton and a limousine. They were powered by a 92 hp (very strong at the time) six-cylinder engine. Chrysler "guaranteed" these cars could cruise at a steady 80 mph—hence the car's name. The Imperial 80 was selected to be the pace car for the 14th running of the Indy 500 in 1926. Imperial officially became its own brand from 1955-1975.
10 of 100
1927: LaSalle
In the 1920s, General Motors attempted to woo price-sensitive car buyers with new marques that filled the space in-between the company's existing brands. LaSalle was born to attract customers looking for a more upscale car than Buick offered but one that was also less expensive than a Cadillac. LaSalles were downright gorgeous machines and the very first one was designed by Harley Earl who would go on to direct GM design for decades. LaSalles shared many parts and assemblies with Cadillac. So, in many ways these cars were more stylish Cadillacs at a less expensive price point. LaSalle lasted until 1940.
11 of 100
1928: Duesenberg Model J
The elegant Duesenberg Model J was an exotic sports car and fashion statement all wrapped up in one. The standard eight-cylinder engine produced an astonishing 265 hp. But with the supercharger, optional on later cars, that number rose to a staggering 320 hp. A supercharged Duesy was quick.
The car's bodywork came from a variety of custom coachbuilders around the world, so no two were exactly alike. The most expensive ones touched $25,000 at the time and were so exquisitely crafted they drew movie stars and industry moguls as owners.
12 of 100
1929: Chevrolet Series AC International
By the close of the decade, 4 out of 5 families now owned a car. And low-priced cars were the backbone of the auto industry. Chevy launched into this market the AC International with a new "Stovebolt" six-cylinder engine upstaging Ford's four-cylinder models. The Stovebolt nickname came from the bolts on the inline-six's cylinder head that resembled those on a wood-burning stove and offered smoother, quieter operation than its four-cylinder rivals.
Still, Ford dominated sales in 1929 pushing the new Chevy slightly behind to the number 2 spot.
13 of 100
1930: Bentley 8 Litre
The 8 Litre was the last car designed by company founder W.O. Bentley and it was the final car launched before Bentley was purchased by Rolls-Royce. The 8 litre's massive 7.9-liter straight-six engine was a beast, delivering approximately 230 hp and a top speed of just over 100 mph in this luxurious grand tourer. In fact, Bentley promised every 8-Litre would hit 100 mph no matter what bodywork the car wore. At the time Bentley himself claimed the car was "dead silent" at 100 mph.