Fortnite Season 5 Week 4 quest guide
The Fortnite Season 5 Week 4 quests are now live. Here's how to complete them.
Published
1 second ago
on
Fortnite Season 5 Week 4 is here, just in time for the holidays. Here's how to complete all of the quests as quickly as possible.
Another week, another list of challenges – or quests – to complete to earn Battle Pass tiers. This week's challenges are relatively easy, with only two forcing us to search specific areas.
Here's what we'll be doing, this week:
Eliminations within 5m (1)
Eliminations while below 50 health (1)
Eliminations at full health and shields (1)
Destroy enemy structures with a pickaxe (10)
Damage opponents with a pickaxe (100)
Most of these challenges are easy to complete while playing the game. The elimination challenges will come naturally, as will damaging player structures with a pickaxe.
Dealing 100 damage with a pickaxe will be a tad more difficult, but it's best to down an enemy and finish them off with a pickaxe, as we've done with similar challenges in the past.
We have guides for finding the tomato basket and Tomato Shrines in separate articles attached to the individual quests, above. The rest of the Epic challenges should be a breeze.
As for the Legendary challenge, we'll need to deal damage to players from above. This might be the easiest Legendary quest yet and will be possible with a few games of Team Rumble.
The Week 4 quests come just in time for Christmas, as players work their way through the Battle Pass on their holiday break. Merry Christmas!
Here's where to find the Beskar steel inside the belly of The Shark for your Fortnite Mandalorian challenges.
Published
1 day ago
on
December 22, 2020
The second challenge for The Mandalorian is live in Fortnite. Here's what you need to do.
This Fortnite season, we're upgrading the armor for The Mandalorian, just like the TV show from which the skin comes.
The second challenge requires you to find Beskar Steel in the belly of The Shark.
Of course, this refers to the remains of the old POI from Season 2. It still hasn't recovered from the Season 3 flood, but it's doing better than The Grotto.
You can find the Beskar Steel in the most-likely location in the destroyed POI: the old Vault.
Nothing spawns in here other than cobwebs and a single chest, but you can grab the Beskar Steel plate on a shelf to the left of the vault door.
As always, the easiest way to complete this stage of the challenge is to hop into a game of Team Rumble. You can land at The Shark, get the Beskar, and quit if you've had enough.
We'll keep you posted with more Beskar Steel challenges as Mando continues to level up. This is the way.
The new Operation Snowdown challenge requires players to destroy five Nutcracker statues. Here's where you need to go.
Published
2 days ago
on
December 21, 2020
Fortnite Operation Snowdown continues with a new challenge, requiring players to destroy five Nutcracker statues.
Another holiday season, another list of Fortnite challenges that offer players cosmetic rewards. Each day that passes, we unlock another way to earn a free item.
Today, we'll be breaking Nutcracker statues scattered around the map. You can find these located in most of the major POIs, along with all of the Snowmando Outposts that appeared when the event went live.
Places like Lazy Lake, Retail Row, Pleasant Park, Holly Hedges, and Catty Corner all contain Nutcrackers statues, as do the Outposts that you can see, below.
Each location has at least two or three, so you'll need to visit two of them to complete the challenge. The best route will likely be through the southeast Snowmando Outpost. You can land there, grab two, then move to Catty Corner and Lazy Lake.
As a reward, players will unlock a new Snowmando back bling that fits the Snowmando skin we'll unlock at the end of the Operation Snowdown event.
As is the case with most of these challenges, the best method will be jumping into a game or two of Team Rumble until you finish.
Keep in mind that the Snowmando Outposts don't have a 100% spawn rate in this mode, so you may want to stick to the major POIs to ensure you finish as fast as possible. Good luck!
Operation Snowdown is the upcoming challenge set for Fortnite Winterfest 2020. Here's what to expect, including free skins.
Published
5 days ago
on
December 18, 2020
Fortnite Winterfest 2020, AKA Operation Snowdown, is almost here. Take a look at all of the upcoming challenges and how to complete them.
In Fortnite v15.50, Epic added the first part of the upcoming Winterfest update. This included some challenges that should become available in the next few days.
Thanks to data miner iFireMonkey, we were able to take a look at what we'll need to do this holiday season.
Here are all of the challenges we need to complete for the Operation Snowdown missions.
Deal damage with Lever Action Rifle (100)
Complete Operation Snowdown Quests (9/12)
Place Top 10 with friends in Squads (3)
Travel 5,000 meters in X-4 Stormwings
Shoot down opponent structures with X-4 Stormwings (10)
Collect Gold Bars (100)
Catch a Snowy Flopper
Revive a player in different matches (3)
Hide inside a Sneaky Snowmando in different matches (3)
Play duos/squads with friends (5)
Stoke a campfire (2)
Use Chiller Launcher to apply icy feet to opponents (10)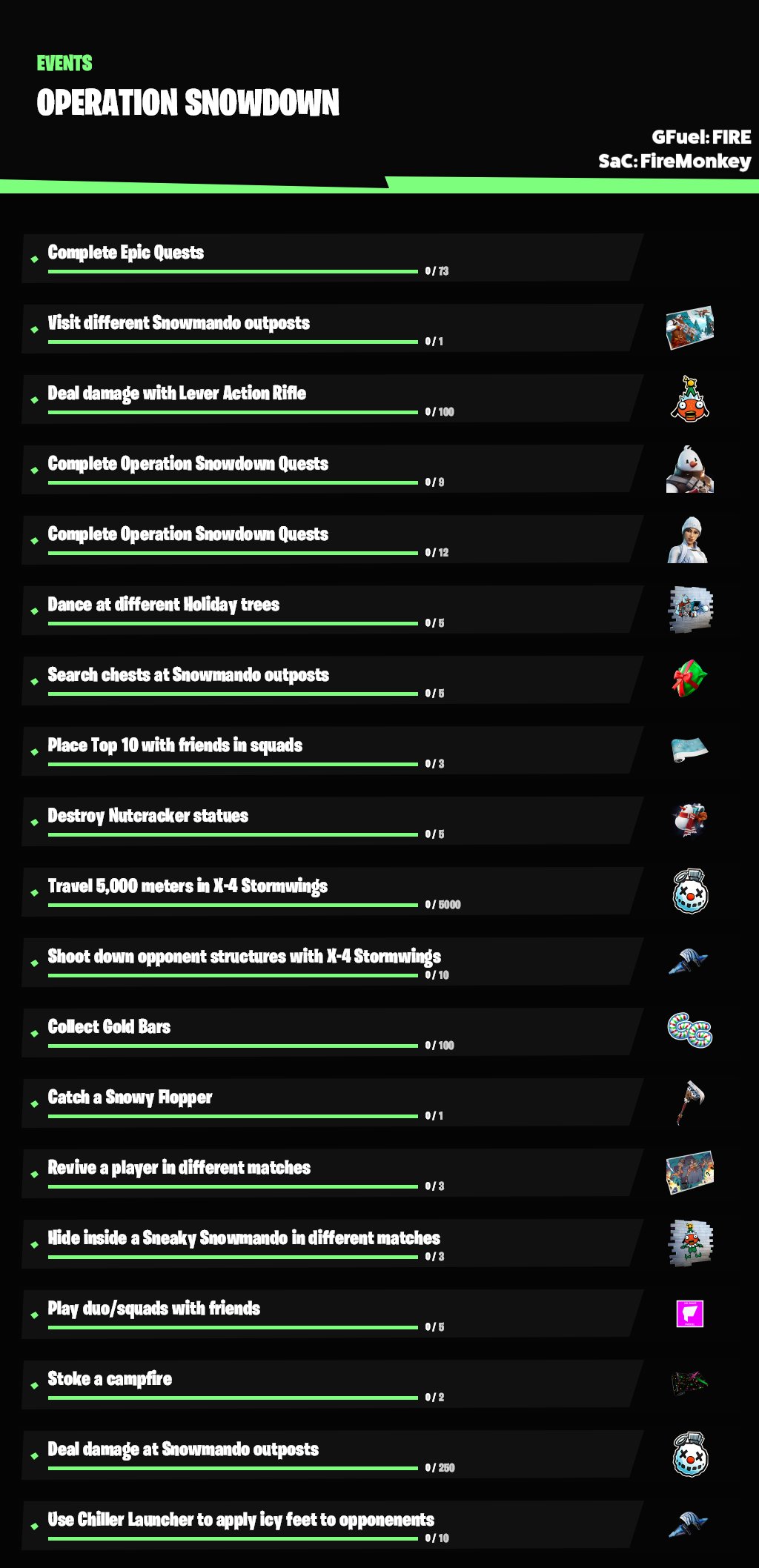 The challenges offer a variety of free rewards, from Back Bling, to sprays, to weapon wraps – all with the holiday theme attached. They offer a great way to grab some holiday cosmetics if you don't have some, already.
Another free skin will be available when players finish 12 quests as well. Unlike last year, the Frost Squad skin will probably be a popular one after the winter event ends.
If this list is accurate, then there are 16 Operation Snowdown challenges in total, meaning that you can pick and choose the easier ones to complete. We may not be getting no-strings-attached skins like last year, but a free skin is a free skin.
We're writing this before the challenges are released, so make sure to check back for a full guide then they come to the game. We'll keep you posted.