Cryptococcal Meningitis: Single-Dose Regimen Noninferior
A single high dose of the antifungal agent liposomal amphotericin B (L-AmB; AmBisome, Gilead Sciences), with a background regimen of flucytosine and fluconazole, is noninferior and significantly safer in preventing mortality in HIV-associated cryptococcal meningitis than a conventional 7-day regimen that is the current standard of care, according to a new study.
The much-anticipated results suggest an important alternative amid controversy over the drug's cost and availability.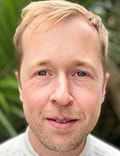 Dr David S. Lawrence
"The results of this phase 3 [AMBITION-cm] trial make it clear that this approach is just as good as the current World Health Organization-recommended first-line treatment in preventing death," first author David S. Lawrence, MD, AMBITION study lead clinician, of the London School of Hygiene and Tropical Medicine, United Kingdom, said in an interview.
"We believe that this should become the WHO-recommended first-line regimen," he emphasized.
In commenting on the study, Meg Doherty, MD, PhD, director of global HIV, hepatitis, and STI programs at WHO, agreed that a shorter regimen could be vital, particularly in settings with limited resources.
"The results from the AMBITION trial are important for low- and middle-income countries, where the cost and complexity of implementing the current standard seven-day course of L-ambisome or cryptococcal meningitis treatment can put this out of reach for many," she told this news organization.
"Simplification that maintains the highest quality of care is an important component of the public health approach for HIV treatment and care," she added.
Doherty could not comment on any possible changes to WHO recommendations, which are formulated by an independent guideline development group, but a spokesperson said that "WHO is preparing an updated review of the evidence for treating cryptococcal disease as a first step towards updating guidance."
Conventional Treatment Toxicities
Cryptococcal meningitis is a leading cause of death in HIV, and the conventional treatment of amphotericin B deoxycholate, though less expensive than L-AmB, is more toxic, causing anemia, renal impairment, and electrolyte abnormalities, Lawrence explained
Having previously shown a single 10 mg/kg dose of L-AmB to be as effective as the longer regimen of 14 daily doses in terms of clearing cryptococcus from the cerebrospinal fluid, Lawrence and his colleagues conducted the phase 3 AMBITION-Cm trial to evaluate the effect on mortality, enrolling 844 patients in Botswana, Malawi, South Africa, Uganda, and Zimbabwe who were HIV-positive and had a first episode of cryptococcal meningitis.
Participants in the study were randomized to treatment either with single, high-dose L-AmB (10 mg/kg), combined with 14 days of flucytosine 100 mg/kg/day and fluconazole 1200 mg/day or to a control group receiving 7 daily doses of AmB deoxycholate (1 mg/kg) plus 7 days of flucytosine 100 mg/kg/day, followed by 7 days of fluconazole 1200 mg/day.
All patients were also provided with consolidation therapy of fluconazole 800 mg/day for eight weeks. Of the patients, 60.2% were male, their median age was 37, and their median CD4 count was 27 cells/mm3.
For the primary endpoint in the intention-to-treat analysis of 814 patients, the 10-week mortality rate in the single-dose L-AmB group was 24.82% (101 of 407) and 28.75% (117 of 407) in the control arm, for a difference (-3.93%) that was well within the prespecified noninferiority margin of 10%.
As expected, the safety measures were significantly improved w