Care by Locum Tenens Hospitalists Compares Well
Care by locum tenens hospitalists, often thought to be an expensive solution to staffing shortages, may have advantages in patient outcomes and hospital costs, a new observational study suggests.
The results — which surprised the researchers — may help debunk common perceptions that care either by teaching services or by locum tenens is inferior, lead author Moaath K. Mustafa Ali, MD, MPH, told Medscape Medical News. Mustafa Ali, from the department of medicine at the University of Toledo College of Medicine/ProMedica in Ohio, and colleagues published the results January 25 in the Journal of General Internal Medicine.
An expert not involved with the research said that while this study has strengths prior ones have not, it is still observational data, and a randomized trial would be needed to truly find the best staffing model.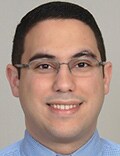 Dr Moaath K. Mustafa Ali
For the prospective cohort study, Mustafa Ali and colleagues compared length of stay (LOS), hospital costs, inpatient mortality, 30-day all-cause readmission, and 30-day mortality for hospitalized patients treated by teaching internal medicine hospitalists services vs nonteaching hospitalist services. Researchers also compared those outcomes between patients treated by locum hospitalists vs employed hospitalists.
Patients seen only by teaching internal medicine physicians had a shorter adjusted hospital stay by 0.6 days (95% confidence interval [CI], −1.07 to −0.22; P  = .003) compared with patients seen by nonteaching hospitalists. There were no differences in hospital cost, inpatient mortality, 30-day all-cause readmission, or mortality compared with nonteaching services.
Patients seen only by locum tenens were associated with an adjusted LOS of 1 day shorter compared with patients seen exclusively by employed physicians (95% CI, −1.6 to −0.43; P  < .001), with an adjusted average hospital cost saving of $1339 dollars per hospitalization (95% CI, −2037 to −642; P < .001). There was no statistically significant difference in other outcomes.
"On weighted-multivariable regression for log-transformed [hospital costs], locum physician care resulted in a 23% lower cost compared to employed hospitalists (95% CI −40% to −7%, p = .005)," the authors write.
Unexpected Findings
"I was really surprised by the results. I did not expect that," Mustafa Ali said. "I thought when I designed the study I would find the opposite."
Patients seen only by locum tenens had the same readmission, and mortality compared with those seen by employed hospitalists, the researchers found.
As to why locum tenens might compare so favorably in outcomes whi