Buff! Bang! Pow! Inside the World of Black Cosplay.
AS ANYONE FAMILIAR with the legend of the world's most jacked (and least clothed) cartoon character knows, He-Man's go-to move is thrusting his broadsword in the air and transforming from the mild-mannered Prince Adam into a ripped dude in a loincloth.
But when a fan-made He-Man tribute video hit the Internet in the summer of 2019, that moment looked a bit different. In the clip, our hero is still cutting through the sky with his sword, but his signature blond bowl cut is replaced by a massive Afro. As his bulging arm reaches upward, his hair and blade catching the morning light, he looks like he's raising a Black-power fist and harnessing the power of Grayskull in one swift motion.
This particular He-Man's alter ego is Demetrius Holt, a 37-year-old single dad and electrician from Maryland. In the video, Holt's joined by four friends playing other Masters of the Universe characters: Richard Sutton as Man-at-Arms, Eric "the Smoke" Moran as Skeletor, Lynne Finley as She-Ra, and Wendell Smith as Orko. Filmed at Blerdcon, a Washington, D. C.–area convention for Black nerds, or "blerds," the video is only 60 seconds but shows exactly who has the power. Thanks to quick-cut shots of each character and a techno mix featuring audio from the cartoon, it feels like a trailer for a new Masters of the Universe live-action movie with an all-Black cast.
Holt remembers being a touch cranky at the start of the shoot. He was on a strict diet to prepare for his portrayal of He-Man, and his mind was on his next meal. It's the sort of urge he used to endure for bodybuilding contests, before he realized he could use his physique to achieve a different kind of recognition. Once filming began and people were stopping their cars to gawk or yelling out affirmations as they walked by, he was no longer thinking about his stomach. "At one point, we all kinda looked at each other like, Wow, this is something special," he says.

Click here to join MH MVP and get the best in exclusive features and workout tips.
Men's Health
Since hitting the Internet, the montage has racked up more than a half million views, and most of the people commenting are excited. "That afro is a thing of glory," says one. "I'm soooo glad that MY PEOPLE are getting more recognized for their cosplay skills and creativity!!! LOVE IT!!!" adds another. A third simply drops a hashtag: #Blackexcellence.
While Holt's crew has ceased assembling during the pandemic, their impact is still reverberating. In late 2020, Holt and Sutton earned an invitation to discuss the empowering effects of cosplay (that's geek speak for the wide world of comics and/or pop-culture role-playing) at the AfroPunk festival, a national and, this year, virtual celebration of the music and culture of the African diaspora. That's exactly how Holt hopes his efforts will be noticed. "From my perspective, representation shows Black boys and girls that they can be more than what's expected of them [by society]," he says.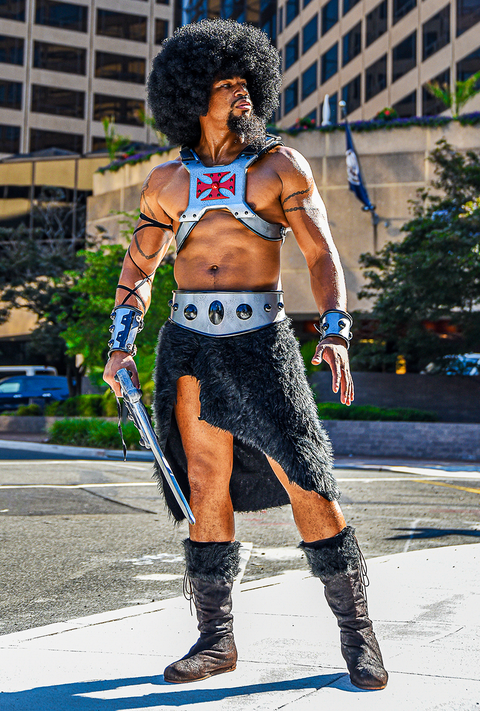 Holt in character at Blerdcon in mid-2019.
Courtesy Nagier Chambers/Big Gold Belt Media
Cosplay might sound fringy until you realize that the world's biggest movie stars play Avengers, that "Workout gear or Marvel costume?" could be its own meme, and that the "Wakanda forever" salute has become a symbol of Black empowerment. The adults who take it to the next level by donning full costumes say the act is an undeniably joyful pursuit. In fact, plenty of emerging research shows that there might be another payoff from the symbolic association of cosplay, because people who dress up to look more powerful may carry that feeling with them into the rest of their lives.
For Black cosplayers, however, it can also be a form of cultural expression and a reminder to toy manufacturers, movie studios, and especially people dealing with systemic racism in their own lives that heroes don't come in a single shade. "We've been underrepresented in media, in Hollywood, on TV, and certainly with our superheroes," says Avalaura Gaither, L.G.S.W., a Maryland-based life coach. "We love having somebody to root for that looks like us, somebody we can relate to, somebody whose story is our story. It makes sense that we would want to take characters we love and adore—characters that represent how we see ourselves or how we want to see ourselves—and make those characters look more like us."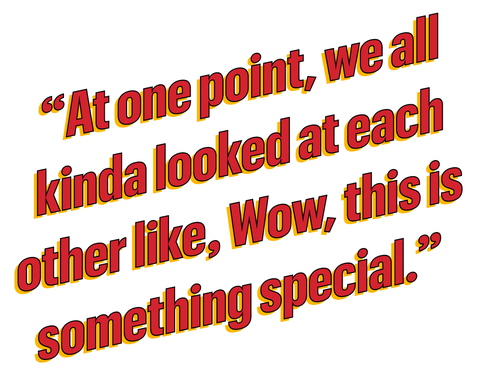 .
Blerdcon started in 2017 and now attracts about 10,000 people annually. And thousands more cosplayers are connecting and expanding the universe through Internet groups like POC Cosplayers, founded by Jessica Green in 2009, as well as hashtags and viral movements. (See #Blackcosplayerhere, started by Belema Boyle, and #28DaysofBlackCosplay, created by Chaka Cumberbatch, which is celebrated during Black History Month.) They've all found their own way to improve the world while feeling vital.
This vanguard includes Tyler Hoover, aka @Tstunningspidey, a Virginia Beach break-dancer who flips and thwips as Spider-Man (Peter Parker, not Miles Morales) for more than 70,000 followers on Instagram, and Charles Nelson, an actor and fitness model in Houston who cosplays as Captain America in support of the #BlackLivesMatter movement. In Las Vegas, Hardy Woods, a limestone miner and Army veteran, embodies his own version of Cap and is part of a Marvel-universe crew that visits extremely sick kids who are hospitalized. (See "More Heroes of Their Own Stories," slideshow below.)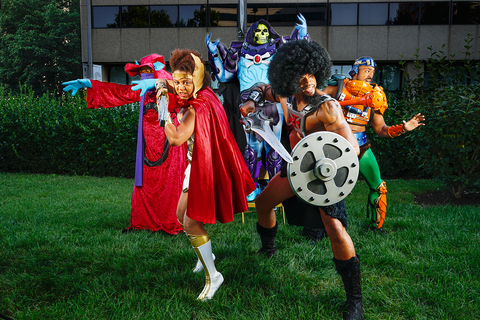 Holt poses with the rest of his cosplay crew at Blerdcon.
Courtesy Harry Crosland (Masters of the Universe)
Holt's own origin story begins in the 1980s in southern Maryland. "I've been into comics since I was four," he says. "My mom had a really big hand in that, and then my dad came in on the other side, with model kits and things like that—it's all part of my DNA." His older siblings pushed him even deeper into fandom. "My brother was into Transformers, G.I. Joe, He-Man, and he passed that down to me, while my sister was trying her best to get me to understand who LL Cool J was, and I was gravitating toward X-Men and Spider-Man. This is the stuff that's baked into my heart and min