Bringing Traditional Healing Under the Microscope in South Africa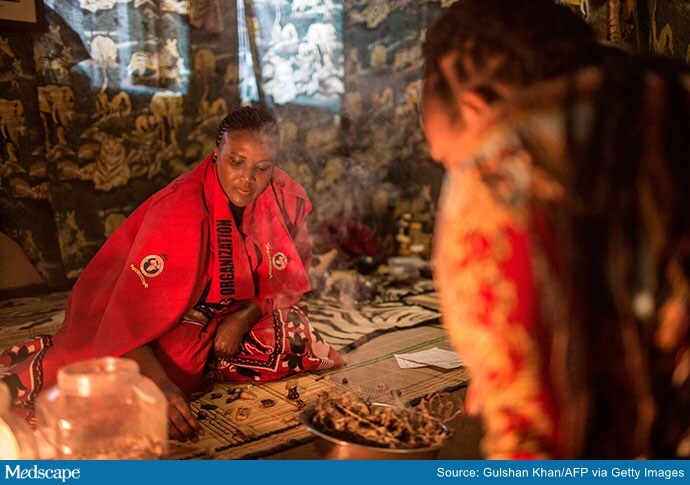 Traditional healer and national coordinator of the Traditional Healers Organisation (THO) of South Africa, Phephisile Maseko, treats patients with a mix of cannabis and other herbs.
In June, Artemisia afra was in high demand on the streets of Johannesburg in South Africa. To treat Covid-19 symptoms, the Indigenous herb's silvery leaves were for sale at roadside vendors and in the city's popular traditional markets. Some people even pulled the plant from private gardens. And on the sides of nearby highways, people held signs for "mhlonyane" (A. afraisi the Zulu name) and offered bushels to passing motorists like bouquets. Between February and July, the herb doubled in price.
People in the region have consumed the bitter plant for centuries to treat illnesses from colds to intestinal worms. With deaths rising as South Africa battled its first Covid-19 wave, people have turned to A. afra and other traditional medicines, including cannabis. (They were not the only ones. In April, Madagascar's president, Andry Rajoelina, had launched Covid-Organics, a herbal concoction containing another artemisia species, A. annua, which he claimed — without evidence — could cure Covid-19.)
As with most traditional medicine in South Africa — a broad category that relies on a variety of herbs, rather than the refined molecules of Western drugs — there is no robust, peer-reviewed evidence that A. afra has any utility against any ailment, including Covid-19. Local medical doctors and officials have cautioned the public against using the plant instead of seeking medical attention for Covid-19, and the World Health Organization (WHO) has similarly urged people to avoid using untested medicines to treat the disease. But that has not stopped demand for A. afra — and that demand now has some mainstream health advocates calling for greater scrutiny of traditional remedies — including submitting them to clinical trials.
Whether this will come to pass is far from clear. Despite South Africa having a large number of practicing traditional healers and millions of mostly Black South Africans who use their medicines, traditional health care practices stand well outside of mainstream health care in the country. Although there have been efforts to regulate traditional healers, their remedies, for the most part, have not been subjected to scientific scrutiny. This is in part due to South Africa's history. While people in the region have used traditional medicines for millennia, in 1957, the racist apartheid regime suppressed traditional healing through the Witchcraft Suppression Act, labeling many of its practices as criminal offenses and forcing it underground. There is also a long history elsewhere in the world of scientists and companies turning Indigenous knowledge into Western medicines, and many stakeholders fear that, once healers divulge their secrets and methods to expose their therapies to the rigor of clinical trials, this will happen again with South African traditional medicine.
Indeed, many herbal remedies are closely guarded secrets, intertwined with a philosophy in which health is inextricably linked with spiritual life. And unlike other ancient health care systems that rely on written texts, African healers share and preserve knowledge largely through oral tradition, so there is little record of how the medicines were made and used hundreds of years ago. This lack of ingredient information and recorded longitudinal safety data make African traditional medicines particularly difficult to test.
If you want to push biodiversity or African traditional medicine, you have to conduct a clinical trial," says Chibale.
Still, the WHO and the Africa Center for Disease Control and Prevention, in collaboration with the Developing Countries Clinical Trial Partnership (EDCTP), have developed guidelines to evaluate the medicines' safety and efficacy against Covid-19. And while some experts lobbying for more scrutiny of traditional medicine noted that South Africa's drug regulators have been historically antagonistic to the idea, the unprecedented Covid-19 pandemic may well be helping to change all that. Indeed, government overseers have established a special unit to evaluate these traditional products, and while answers may come too slowly to address Covid-19, the investigations may have long-lasting implications. "Covid has been a game changer for traditional medicine," said Nceba Gqaleni, a traditional medicines specialist at the Africa Health Research Institute in Durban, adding that the Covid-19 treatments haven't faced some of the same controversies as past traditional medicines — especially therapies for HIV/AIDS.
A. afra is one of a number of herbs that the government is investigating against Covid-19. In July, officials set up the African Medicines Covid-19 Research Team, which includes scientists and traditional healers, and diverted about R15-million (at the time equaling about $880,500) from existing Indigenous knowledge projects to fund the collaboration.
The project could lead to other research outside of Covid-19, since the country is home to 10 percent of the world's plant species and remains a largely untapped pharmaceutical resource. Nox Makunga, a medicinal botanist at Stellenbosch University, says that since the abolition of apartheid, the South African government has been expressed eagerness to investigate and develop effective herbal medicines. "They see it as 'green gold,'" she said. But that hasn't yet come to fruition. In 2008, the government published a draft policy for traditional medicines, which was subsequently shelved, and while South Africa's 2013 Bioeconomy Strategy laid out ambitious plans to investigate herbal cures, the country has not yet managed to formally evaluate traditional medicines or discover any new drugs based on their constituents.
The Covid-19 pandemic may be providing new impetus for such efforts, but experts say it won't happen without compromises.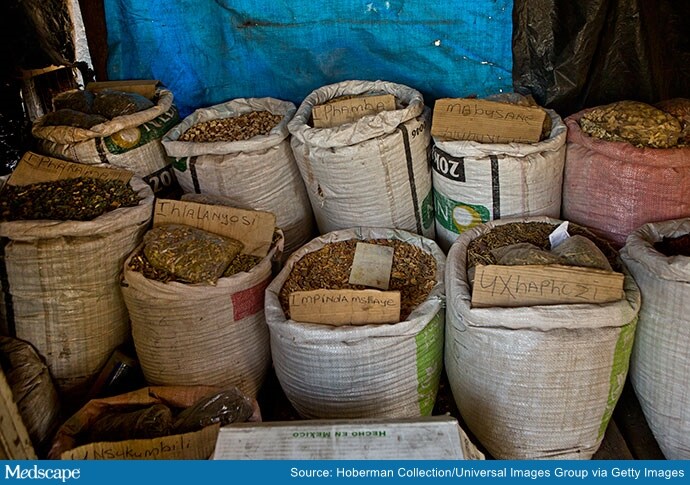 Plants used in traditional medicine are sold at popular markets, like the Faraday Muti Market in downtown Johannesburg.
Modern medicine, of course, hinges on the ability to show that any particular compound — be it from nature or synthetically-derived — is effective and safe at an established dose. Such demonstrations are generally obtained through clinical trials, and while the process is not without shortcomings, it has generally yielded tried, tested, and — importantly — reproducible results. "Clinical trials are the best and safest way" to evaluate medicines, said Francois Venter, deputy executive director of the Wits Reproductive Health and HIV Institute at the University of the Witwatersrand. The drugs are tested for safety in animals and humans, and this way of testing is widely accepted, he added. "But there are no shortcuts, they are expensive."
This standardized approach, however, is at odds with the opaque and complex belief system that underpins African traditional medicines. "We are responsible for the body, the mind, and the soul," said practicing healer Phephisile Maseko. "We are the only healing system that looks into all three, unlike Western medicine which just focuses on applying bandages."
"There is this idea that something natural is good for you, but heroin is natural," Venter said. "I'd rather take a highly synthetic compound than chew a leaf that is going to give me heart failure."
In this system, ancestral worship is intertwined with people's health, and is just as important as the plant formulations a healer dispenses. When a patient comes to Maseko, she says she asks questions about not only people's ailments, but also their histories: "'What happened to your mother? Why is there no connection between your mother and the family of your father? What happened when you were born?'"
Similarly, when Hlupheka Chabalala, head of Indigenous knowledge-based technology innovation in South Africa's Department of Science and Innovation, refers to traditional medicines, it is typically a mixture of various whole-plant extracts, rather than single, isolated compounds. The different plants in the medicine work together, he suggests: One may act as the primary medicine, while another promotes the body's absorption of the drug, or the bioavailability, and another might curb the side effects of the other plants.
The importance of family history and the benefits of complementary drug interactions are, of course, not foreign to Western medicine. The problem is that formulations and ingredients in traditional cures vary widely, making most assertions of efficacy exceedingly difficult to prove — and leaving many experts dubious. "Most things are not safe if you get them from nature," said Kelly Chibale, an organic chemist who heads a drug discovery group at the University of Cape Town. "They're actually very toxic."
But testing such custom-made, non-standard preparations can prove advantageous. "If you want to push biodiversity or African traditional medicine, you have to conduct a clinical trial, a clinical study, because that's the only way scientifically you can prove something works," said Chibale. He pointed to sweet wormwood (Artemisia annua), the cousin of A. afra used in Covid Organics and an important plant in Chinese traditional medicine: "For more than 2,000 years, the Chinese have been using that drug in a concoction, as part of traditional Chinese medicine." It wasn't until the 1970s, however, that Chinese scientists derived molecules from the feathery green A. annua, called artemisinins, that now form the cornerstone of malaria therapies around the world. Artemisinin-based combination therapies have more than halved annual malaria deaths globally.
That accomplishment required modern tactics. Scientists needed to understand the chemical structure of sweet wormwood in order to identify its active pharmaceutical ingredient, Chibale explained — and along the way they discovered it was poorly soluble and not absorbed well. Scientists