Billions of Years Old, Lithium Still Has a Promising Future
In a six-decade career spent researching and prescribing lithium ― a long-established therapy for bipolar disorder ― psychiatrist David Dunner, MD, has many stories about the treatment's fraught path to mainstream acceptance and the schism it caused between colleagues devoted to a classically psychoanalytic approach to treating mental illness and those pushing psychiatry toward a biologically focused future. The one that still makes him scratch his head in disbelief, however, played out on his TV.
In 1976, word began to spread that an upcoming episode of the sitcom Maude would feature the titular character being diagnosed with manic-depressive illness (the term by which bipolar disorder was then known). What was even more newsworthy was that Maude would be prescribed lithium for her condition. Dunner eagerly awaited the moment, but it never arrived. The show's producers, bowing to pressure from concerned psychiatrists, left any mention of lithium on the editing room floor.
"I found that kind of astounding that there was so much concern about emerging psychopharmacology as a treatment for mental disorders and the notion that this was going to be emphasized on a popular TV show that it caused somebody to literally edit it out," recalled Dunner, now director of the Center for Anxiety and Depression in Mercer Island, Washington.
In my opinion, this is the most effective drug in all of psychiatry…
Dr Nassir Ghaemi
Lithium's ultimate success eventually did away with its taboo reputation. In providing the first targeted therapeutic for a notoriously life-threatening disease, lithium has prevented millions of suicides. By the 1990s, its use was thought to have saved the US healthcare system nearly $150 billion in hospitalization costs. Lithium's status as a gold-standard therapy is evident in guidance from the UK's National Institute of Health and Clinical Excellence, which recommends it as a first-line, long-term pharmacologic treatment for bipolar disorder.
"In my opinion, this is the most effective drug in all of psychiatry," said Nassir Ghaemi, MD, MPH, professor of psychiatry and pharmacology at Tufts University, Boston, Massachusetts, and a lecturer on psychiatry at Harvard Medical School. "It's the only drug that affects the disease and [doesn't] just treat symptoms."
Bipolar disorder remains an enormous clinical challenge. It is listed by the World Health Organization as the sixth most common cause of disability globally. Yet the desire to treat it with lithium seems to be dwindling; usage rates have declined in both Europe and the United States. This has left some to wonder whether lithium is once again being edited out of the conversation.
An Elementary Treatment Finds an Unlikely Pioneer
Unlike laboratory-derived treatments, lithium has existed since the dawn of our universe. One of the three elements wrenched into existence by the Big Bang some 13.7 billion years ago — helium and hydrogen being the other two — lithium is variously distributed across the earth in rocks, bodies of water, plants, and animals. However, it was not identified until the early 1800s, when it was isolated in samples taken from a Swedish mine (the element is named for the Greek work lithos, meaning rock or stone).
The decades that followed saw lithium's first medical applications, after it was observed to break down excess uric acid, then thought to incite various ailments and now known to be the cause of gout. Concurrently, there was a boom in commercial formulations of lithium in the form of bottled water, tablets, or salt substitutes. The latter caused well-publicized cases of toxicity and death, leading the US Food and Drug Administration (FDA) to remove the products from the market in 1949.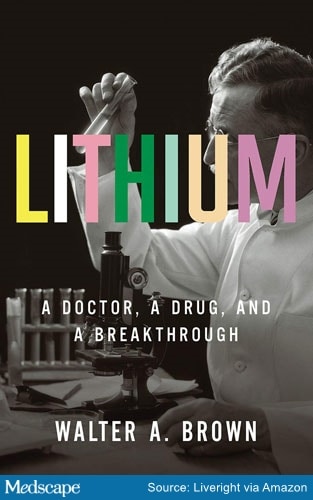 With enthusiasm for lithium sapped, its therapeutic future appeared nonexistent. The story of how it rose from these circumstances to forever change the treatment of mental illness is the subject of Walter A. Brown's Lithium: A Doctor, a Drug, and a Breakthrough . At its center is John Cade (1912–1980), an Australian psychiatrist with no established research background and therefore an unlikely candidate to ignite psychiatry's pharmacologic revolution.
"Cade is an iconic figure in the history of psychopharmacology, but your average practicing psychiatrist in this country doesn't know his story," said Brown, clinical professor emeritus of psychiatry at Brown University, Providence, Rhode Island.
With no research grants, no really formal research training, he nonetheless managed to come up with what is arguably one of the most important treatment discoveries in psychiatry…
Dr Walter Brown
Brown's book suggests that Cade's upbringing made him uniquely empathetic to the tolls of mental illness. Cade was the son of a physician who likely suffered with posttraumatic stress disorder from his combat experiences. His father's work as a medical superintendent at various mental institutions meant that he spent his youth living on the grounds of these facilities, often in close contact with patients. While serving in the Pacific during World War II, Cade was captured by the Japanese and was placed in charge of the Changi Prison's psychiatric ward. During his 3½ years of imprisonment, he began to reconsider accepted notions regarding the causes of mental illnesses.
"He firmly believed that serious mental illness, bipolar illness, and schizophrenia had a basis in a biological abnormality," said Brown.
After returning from the war, Cade found a position as the director of a small mental hospital, where he began investigating his theories about the biological origins of mental illness. There was little in his professional history to suggest he'd make a successful go at such endeavors, which he conducted by himself in an ad hoc laboratory on the grounds of the asylum.
"With no research grants, no really formal research training, he nonetheless managed to come up with what is arguably one of the most important treatment discoveries in psychiatry, and he did it on a shoestring," said Brown.
Cade began collecting and analyzing urine samples from patients with mania, depression, and schizophrenia. He then injected the urine into guinea pigs to determine various thresholds for lethality. As Brown writes in his book, Cade's experiments "did not follow an entirely logical or readily understood sequence," but they nonetheless brought him to his breakthrough discovery.
Cade noted that the urine of manic patients was particularly toxic. He hypothesized that uric acid might be the cause, which he began administering to the guinea pigs. To help dissolve the uric acid, Cade