Biden's immense economic challenge: Putting 10 million people back to work
2/2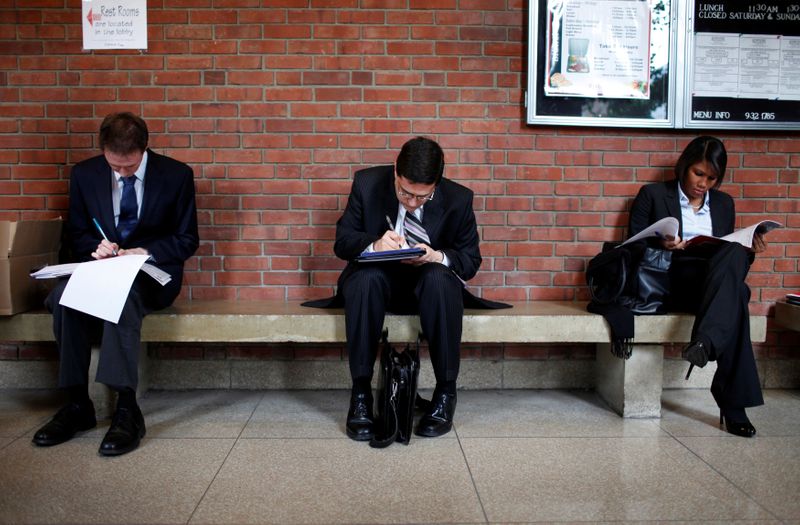 © Reuters. Job seekers prepare for career fair to open at Rutgers University in New Brunswick, New Jersey

By Jonnelle Marte
(Reuters) – President Joe Biden pushed for more fiscal support Friday to address one of the greatest challenges created by the COVID-19 pandemic – how to get millions of out-of-work Americans back on the job.
The labor market regained some minor ground in January when the economy added 49,000 jobs, according to a report released Friday by the Labor Department. But the report showed labor market growth is stalling, doing little to close the huge gap created by the pandemic.
"At that rate it's going to take 10 years before we get to full employment," Biden said Friday morning from the White House.
Roughly half of the 22 million jobs lost at the height of the pandemic have been recouped. But that still leaves a hole of about 10 million jobs, disproportionately ones held by women and minorities in low-wage roles.
Jared Bernstein, a member of the White House Council of Economic Advisers, pointed to a rise in long-term unemployment and the pandemic's disproportionate effects on women and workers of color, while stressing it is important to act soon.
"Today's (employment) report is yet another reminder that our economy is still climbing out of a hole deeper than that of the Great Recession and needs additional relief," Bernstein said during a news briefing at the White House on Frida