Analysis: Stagflation? Recession? Bond market messages puzzle investors
Economy2 hours ago (Aug 05, 2021 09:30AM ET)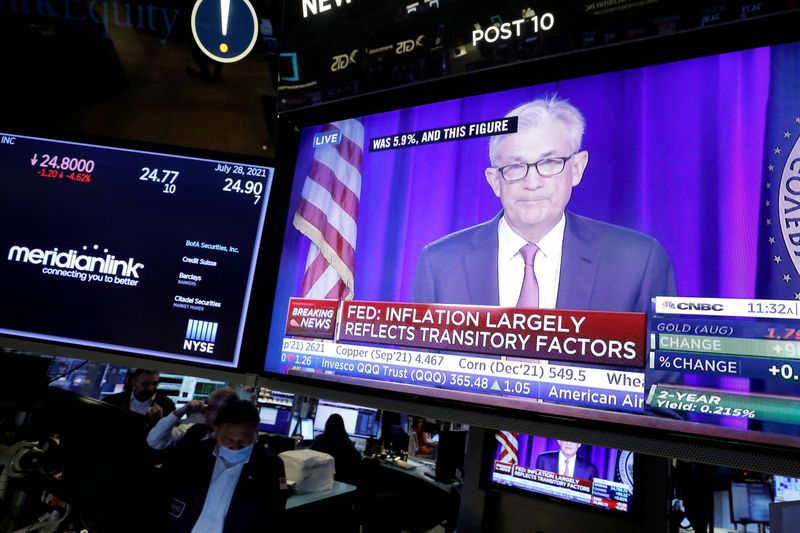 © Reuters. FILE PHOTO: A screen displays a statement by Federal Reserve Chair Jerome Powell following the U.S. Federal Reserve's announcement as traders work on the trading floor at New York Stock Exchange (NYSE) in New York City, New York U.S., July 28, 2021. REUTE

By Yoruk Bahceli
(Reuters) – If bond markets are taken at their word, the world post-pandemic will be defined by stagflation, a toxic scenario that appears at odds with the bounceback indicated by robust economic data and record-high equities.
The flagging of stagflation – high-inflation coupled with low growth – is puzzling, and according to many investors, not trustworthy. Instead, they say, it is a reflection of how central banks' grip over bond markets has distorted markets' signalling power.
Bond yields, nominal as well as "real" ones, which strip out expected inflation, have plunged in the United States and the euro area. Their message: weak growth, requiring years of ultra-loose monetary policy.
Yet, while real 10-year yields on U.S. inflation-protected securities (TIPS) have halved since late March to a record low below -1.20%, a measure of future inflation, known as the breakeven rate, hasn't fallen far from this year's highs.
The 10-year U.S. breakeven rate, the inflation level where returns on nominal bonds and TIPS would be equal, is now at 2.35%.
"It's almost implying that markets are pricing in some form of stagflation," said Craig Inches, head of rates and cash at Royal London Asset Management (RLAM).
He said markets appeared to expect "inflation rates stay high and nominal yields continue to come lower."
(GRAPHIC: Breakeven inflation vs real yield – https://fingfx.thomsonreuters.com/gfx/mkt/byprjodoepe/real%20yield%20vs%20breakeven%20aug%204.png)
Indeed, with inflation data surprising to the upside, the risk is that inflation could be less transitory than central banks believe. U.S. consumers too see inflation at 2.8% in five years time, the University of Michigan's late