AMD schedules Radeon RX 6700 will launch on March 3, over two weeks earlier than expected; reference card design and Navi 22 GPUs confirmed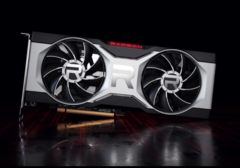 AMD has confirmed that the Radeon RX 6700 series will arrive in just a week, contrary to previous reports. The March 3-bound cards will have a dual fan design and will be based on Navi 22 GPUs, AMD has also confirmed.
AMD has announced when it will release its next RDNA 2-based graphics cards, and they look an awful lot like the Radeon RX 6700 series that has already leaked. According to the official announcement, AMD will unveil its new RDNA 2 graphics cards on March 3 at 11:00 ET (-05:00 UTC) in episode 3 of its 'Where Gaming Begins' series.
Currently, AMD has only revealed that the card pictured is part of its Radeon RX 6000 series, but the dual fan design matches the RX 6700 series render that JayzTwoCents published last year. Unsurprisingly, the reference card resembles a smaller RX 6800 or RX 6900 series card.
The render itself shows that the RX 6700 series has three DisplayPorts and a single HDMI connection. There is no USB Type-C port, though. Additionally, the GIF shown on AMD's launch page confirms that the Radeon RX 6700 series will be based on AMD's Navi 22 GPUs. While this was already known, AMD is yet to confirm it publicly. We have included a screenshot of the filename confirming the inclusion of Navi 22 GPUs though, which you can view below. There is no word on pricing yet, though.
Alex Alderson, 2021-02-24 (Update: 2021-02-25)