5800H has no av1 decode crap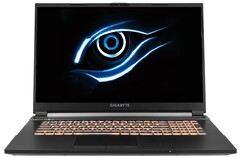 Gigabyte is planning on releasing a Ryzen 5000 laptop in the form of the upcoming Gigabyte A7 that features an AMD Ryzen 5800H and an Nvidia GeForce RTX 3060. On top of that, the Taiwanese manufacturer will also be offering Comet Lake-H G5 and G7 laptops with the 15.6-inch model sporting a 240 Hz-capable display.
According to VideoCardz, Gigabyte has some very interesting laptops in the works. Not only is there apparently a potent Cezanne/Ampere combination in the cards but customers will also be able to select from gaming-capable machines with Intel's Comet Lake-H chips too. Three laptop series have been detailed: the Gigabyte G5, Gigabyte G7, and Gigabyte A7. The former two feature the Intel parts, while the latter device is the Ryzen 5000 laptop.
The Gigabyte G5 is a 15.6-inch model that can be fitted with either the Intel Core i5-10500H or the more-powerful i7-10870H. An Nvidia GeForce RTX 3060 GPU is also onboard, although this appears to be the Max-Q variant. The icing on the cake for this particular laptop is the presence of a Full HD panel with a 240 Hz refresh rate. The 17.3-inch Gigabyte G7 also comes with the same Ampere GPU but has a 144 Hz display and just the i7-10870H as a CPU option. However, VideoCardz opines that further processor choices might be offered down the line.
Arguably the most attractive choice here is the Gigabyte A7 notebook that combines the aforementioned RTX 3060 but in its more-powerful "Max P" version with a Zen 3 Cezanne APU in the form of the 8-core, 16-thread AMD Ryzen 5800H. This 17.3-inch laptop also comes with a 144 Hz display and should tempt shoppers with the expected high performance of the Ryzen 5000 chip working alongside the non-power-restricted variant of the Ampere GeForce 30 series GPU.
Daniel R Deakin, 2020-12-20 (Update: 2020-12-20)