50 Non-Cheesy Valentine's Day Gifts for Men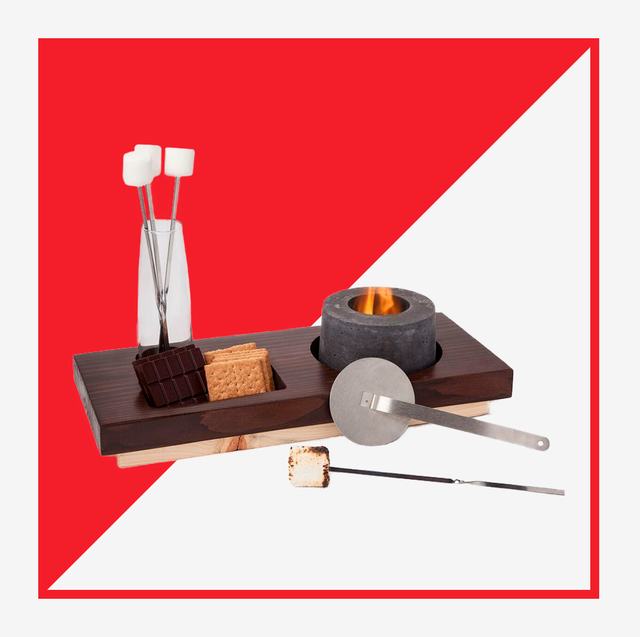 Assorted retailers
Think your dude has everything? Bet he doesn't. This Valentine's Day, shopping IRL might be a little trickier, but luckily you can score a unique gift for your husband or boyfriend from one of our favorite online retailers.
When it comes to ideating Valentine's Day gifts for men, there needs to be a little strategy involved to get the right present for your guy in particular. If his love language is gifts, he might expect something a little more traditional and personalized. If he could care less about Valentine's Day, you could opt for something more lighthearted and creative (and cheap).
Whatever his gifting vibe is, we found the best non-cheesy Valentine's Day gifts for men. Click through to find the best presents for him, from romantic Valentine's Day gifts and practical houseware items, to sweet treats and funny trinkets he'll appreciate long after Valentine's Day is over.
1 of 50
Pool Ball Candle Holder Set
If your husband has everything including a man cave, you can get him this colorful pool ball tealight candle set. His friends will complement his creative decor and it'll improve the smell of the space. It's a win-win for everyone.
2 of 50
Man Crates Jerky Heart
Skip the chocolates this Valentine's Day and give your boyfriend something a bit more unique that he'll love even more: beef jerky. This Jerky Heart from Man Crates is sure to put a smile on his face.
3 of 50
Thoughtfully Gifts Smokehouse Ultimate Grilling Spice Set
If your boyfriend is a grilling man, you can't go wrong with a gift set of spices for Valentine's Day. He tries out new recipes, you try new food, and everyone lives happily ever after.
4 of 50
Brookstone Sleep Sound Mixer
This is no run-of-the-mill sound machine. If your husband has trouble sleeping, this could be the perfect Valentine's Day gift for him. It allows him to tailor the sounds and create a custom blend that will help him fall asleep faster. 
5 of 50
Beard Straightener with Beard Balm & Beard Growth Oil
If your bearded partner has expressed interest in dabbling in your hair tools, get him some of his own this Valentine's Day. This gift set will help him tame an unruly beard with a straightener, beard balm, and beard oil.
6 of 50
Allbirds Men's Tree Dashers
7 of 50
Baby Yoda The Mandalorian Valentine's Gift Mug
8 of 50
Molcajete with Tortilla Basket
Who doesn't love homemade guac? This traditional molcajete (or mortar and pestle) will be a welcome addition to your kitchen on Valentine's Day and beyond.
9 of 50
SimpsonizedStore Custom Personalized Simpsons Portrait
Looking for a customized gift for your boyfriend this Valentine's Day? If he likes The Simpsons, he'll live for this personalized portrait. Trust us.
10 of 50
Bliss Collections Love Coupons for Valentine's Day
If you are looking for an easy and cheap Valentine's gift for him that still offers a ton of value to your man, grab some of these love coupons. They feature a combination of sexy and sweet acts of service that you can give him later.
11 of 50
Musical Serving Board
If you want a non-cheesy Valentine's Day gift for him, consider this rockin' cheese board. It looks more expensive than it is and allows you both an excuse to eat more cheese.
12 of 50
Clarkson Potter Do One Thing Every Day Together: A Journal for Two
This journal features prompts to strengthen your relationship and motivate you to spend more quality time together. It's actually something you can both incorporate into your daily routine, so it's really a gift for you, too.
13 of 50
UGG Ascot Leather Slipper
14 of 50
Plum Island Soap Company The Man Can All Natural Bath and Body Gift Set for Men
Some men secretly (or-not-so-secretly) love skincare and bath products. If your husband or boyfriend is one of them, get him the Man Can for Valentine's Day that features everything from spicy shave gel to soothing hand butter.
15 of 50
"Thanks for all of the Amazing Orgasms" Funny Valentine's Day Card for Him
Some people like the traditional romantic gift for Valentine's Day. This isn't it. If you have a jokester that you're buying for, we recommend a cheeky card like this one to get the party going. 
16 of 50
Kollea Old Fashioned Whiskey Glass with Cigar Holder
Want to pair this epic whiskey glass with more awesome gifts for whiskey lovers? Consider leveling this Valentine' Day gift up by making him a whiskey gift basket and add some of these gifts for whiskey lovers.
17 of 50
PopArtYou Custom Royal Couple's Portrait
Want to make a romantic (and hilarious) gesture for him this Valentine's Day? Get him a custom historical couple's portrait you can hang in your home and embrace your inner royal.
18 of 50
Calvin Klein Men's Ultra Soft Modal Boxer-Briefs
When in doubt, he can always use more boxers. These Calvin Klein briefs are some of the softest we've tried.
19 of 50
Old Fashioned Whiskey Infusion Kit
If he loves whiskey and classic cocktails, look no further for the best Valentine's Day gift for him. This whiskey infusion kit is classic and affordable, so we know he (and your wallet) will lov