40 Rules Celebrities Have to Follow When Meeting the Royals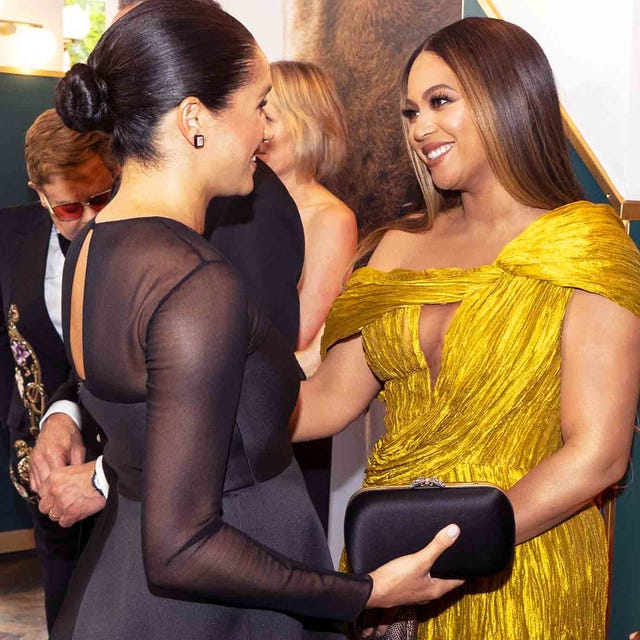 NIKLAS HALLE'NGetty Images
When celebrities meet members of the royal family, they have to follow royal protocol just like the rest of us mortals. From how to respond to an invitation from the Queen to what to wear when they meet her, we're breaking down everything celebrities have to navigate when they find themselves in the royals' orbit. Take it all in, ahead.
You have to be briefed beforehand.
According to The Lion King actor Billy Eichner, he received an email before the premiere with a list of all of the dos and don'ts about meeting the royals, including how to address them.
Following protocol is not optional.
Every royal household has their own team of personal aides to help organize their appearances and packed schedules. This is not an easy job, which is why following instructions to a T is a must.
Don't mess with security.
Most of the protocol is in place for safety purposes. Since the royal family's security detail has a big job to do, it's best to keep jokes to yourself when you're in the vicinity of the royal protective unit.
Arrive early—just in case.
Don't ever touch a royal.
No matter how friendly the conversation gets, it's a breach of protocol to touch a royal without permission. J.Lo must have missed this memo when she met Prince William and Kate Middleton on their California tour in 2011.
If royals initiate the contact, it's okay.
Royal protocol really boils down to everything being up to the royal to initiate, especially physical contact. It's only after they extend the gesture that a celebrity may reciprocate.
When in doubt, go for a handshake.
A handshake is the standard greeting between a celebrity and a royal. According to the royal family's website, "there are no obligatory codes of behaviour when meeting The Queen or a member of the Royal Family," but many people prefer to simply shake hands "in the usual way."
Follow the royal's lead on formality.
If a celebrity and a royal have crossed paths numerous times, there's a good chance the formality of protocol will give way and they'll go in for a cheek kiss or hug. Still, the royal should initiate.
Don't speak until you're spoken to.
Never address a royal by their first name.
At first, they should be referred to as Your Majesty or Your Royal Highness at first, then subsequently called ma'am or sir.
Nicknames are off-limits, too.
Yes, we all know that the royal family has nicknames for one another (i.e. Prince Philip calls the Queen "Cabbage"), but for a celebrity to use one of these names is a huge breach in protocol. Beyoncé caused a flurry when she referred to Meghan Markle as "my princess" at The Lion King premiere, while Allison Janney has spoken about her slip-up of referring to Kate Middleton as "honey" at a BAFTA after-party.
You don't have to curtsy…
Although many attempt the traditional greeting, royal protocol does not require women to curtsy when meeting a member of the royal family.
Plus-ones must stand behind guests.
The receiving lines for royals are very carefully planned and sometimes there's no time for plus-ones to say hello. That's why additional guests must stand behind the celebrity who was invited to the event.
Plus-ones should only speak when spoken to.
Yet again, plus-ones are not on the top of the priority list during a royal event or visit. They should only speak if the royal initiates the conversation.
Royal aides handle the introductions.
A trusted aide typically briefs the royals on who you are, what roles you've been in, and anything else notable beforehand. Let's just hope you haven't been cast to play a royal, which is what happened to The Crown's Matt Smith when he met Prince William.
It's okay to feel nervous.
Eichner described the rules around meeting Prince Harry and Meghan Markle as "very intense" and admitted that he had a hard time keeping up with all of the protocol. "I completely freaked out, although they were very, very nice and totally chill and down to earth, and lovely," the comedian said on Jimmy Kimmel Live.
In fact, it's almost a rule that you should feel nervous.
Even Beyoncé was reportedly nervous to meet Meghan Markle. Royals deal with people trying to balance protocol and nerves all the time, so they're used to it.
Try to maintain your composure.
According to CNN royal correspondent Victoria Arbiter, royals don't mind when a mistake is made. "It adds a bit of humor and it gives them something to enjoy and talk about," she told Insider. But there's a fine line between a case of nerves and being a goof. It's best to try to remain demure, as you wouldn't want the royals to think you were making fun of them.