31 Celebrities Who Have Acted Alongside Their Kids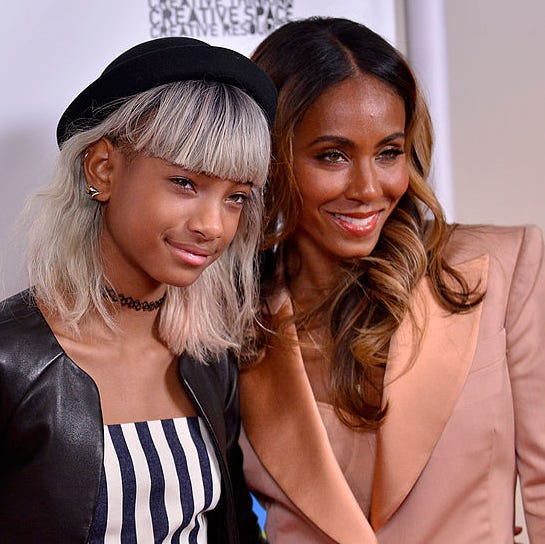 Jerod HarrisGetty Images
For some of us, going to work with our parents sounds like the worst idea. But what if you come from a famous acting family? Throughout the years, many actors have brought on their children to star in their films—and a lot of times they play their on-screen children, too. Art imitates life, right? From the likes of Meryl Streep and Mamie Gummer to Will and Jaden Smith and Jon Voight and Angelina Jolie, these actors shared the screen with their children.
1 of 31
Meryl Streep and Mamie Gummer
Mamie Gummer has appeared in three movies alongside her mother, Meryl Streep. Two were small roles—Heartburn and Evening—but the 2015 film Ricki and the Flash put the mother-daughter duo at the center of the story. They had a mother-daughter relationship on screen, too, but Mamie didn't feel the pressure of working with the three-time Oscar winner. "Oh no, she's not intimidating to me," Mamie told Variety in 2015. "Maybe I'm one of five people on the planet that wouldn't be struck in that way, the rest being the other members of my family."
2 of 31
Will Smith and Jaden Smith
Jaden Smith's first feature film credit was playing the son of his real-life dad in The Pursuit of Happyness. From there, Jaden and Will went on to make another film together, After Earth, an apocalyptic story about, you guessed it, a father and son.
3 of 31
Jada Pinkett-Smith and Willow Smith
Jaden is not the only Smith to act alongside their parents. Red Table Talk co-hosts Jada Pinkett-Smith and Willow Smith did voice acting together for Madagascar: Escape 2 Africa. Jada voices Gloria the hippo, and in the sequel, Willow lent her voice to a young Gloria. That was a 10/10 casting choice.
4 of 31
Tina Fey and Alice Richmond
In the same vein as Jada and Willow, Tina Fey enlisted the help of her daughter Alice to play a young Liz Lemon on 30 Rock. Let's just say, she totally nailed it.
5 of 31
Johnny Depp and Lily-Rose Depp
In her two biggest films to date, Lily-Rose Depp starred alongside her father Johnny. Tusk and Yoga Hosers—both Kevin Smith films—take place in the same universe.
6 of 31
Tom Hanks and Colin Hanks
Colin Hanks' first role was as a page in his father Tom Hanks' directorial debut in That Thing You Do! A decade later, the two reunited on screen for The Great Buck Howard. Colin plays the leading man, and Tom plays Colin's father in a secondary role.
7 of 31
Tom Hanks and Chet Hanks
Tom also acted alongside his other son, Chet, in the film Greyhound. On The Late Show With Stephen Colbert, Tom talked about having "dad face" while his son delivered his lines in the AppleTV+ movie. Chet also had a cameo in Larry Crowne as a pizza delivery person who calls Julia Roberts' character a "babe." Truly iconic.
8 of 31
Blythe Danner and Gwyneth Paltrow
Blythe Danner and Gwyneth Paltrow took their mother-daughter relationship to the screen in the 2003 film Sylvia. Their first time acting together, though, was for the stage play The Seagull. On the Goop podcast, Blythe talked to Gwyneth about that experience and the tough love Blythe provided. "It came so damn easily to you and I thought you had to sweat blood and tears to give a great performance and you never did," Bltyhe said. "I wish I had recognized that. I wish I had recognized your otherness and embraced it. You know, I could cry about the fact that I didn't."
9 of 31
Kurt Russell and Kate Hudson
Kurt Russell has been in Kate Hudson's life since she was 4, but the pair didn't act together until 2016's Deepwater Horizon. Though Kurt is not her biological father, Kate looks to him as her father figure. As for the acting experience, it was as emotional as you'd expect. "That was probably the thing I will remember most about this movie—we got to work together," Kurt said. "I will very much hold on to that moment." Someone grab some tissues!
10 of 31
Dakota Johnson and Melanie Griffith
At 10 years old, Dakota Johnson starred with her mom Melanie Griffith in the 1999 film Crazy in Alabama. Two decades later, Melanie had a small role in Dakota's film, The High Note.
11 of 31
Billy Ray Cyrus and Miley Cyrus
You might remember a little Disney Channel show called Hannah Montana. Miley and Billy Ray Cyrus gave us a glimpse into their relationship on the hit show by playing father and daughter. Though the series caused many familial strains, the two have moved on and repaired their relationship.
12 of 31
Robin Williams and Zelda Williams
Prior to his death, Robin Williams starred in House of D with his daughter, Zelda. The pair portrayed an on-screen father-daughter relationship in the 2004 film.
13 of 31
Jerry Stiller and Ben Stiller
As the son of two comedic icons, Anne Meara and Jerry Stiller, it only made sense that Ben Stiller would work with his parents. In his directorial debut, Zoolander, Ben tapped his father to play Maury Ballstein. "I can't really pull out what influence my parents have had on my work, because I think they've had so much," Ben told The New Yorker. "Like, it's impossible to think of doing what I do if they hadn't done what they do."
14 of 31
Martin Sheen and Charlie Sheen
Martin Sheen worked with his son Charlie on three projects: No Code of Conduct, Spin City and perhaps the most popular Wall Street. In the 1987 film, Martin plays the father to Charlie's lead role.
15 of 31
Martin Sheen and Emilio Estevez
Along with his brother Charlie, Emilio Estevez had the opportunity to work with Martin on multiple projects. Emilio even cast his father in some of the films he directed, including The War At Home, Bobby and the father-son drama The Way.
16 of 31
Donald Sutherland and Kiefer Sutherland
Donald and Kiefer Sutherland's first film together was the 1996 A Time To Kill, but the duo did not share any screen time. It took 30 years for them to appear alongside one another in the 2015 western Forsaken, in which they play father and son. "We were just actors working together, and our DNA must have informed it somehow," Donald told Collider. "Certainly, we came out of it purified a little bit."
17 of 31
Kirk Douglas, Michael Douglas and Cameron Douglas
It Runs in the Family brought together three generations of the Douglas dynasty. The 2003 film was one of the late Kirk Douglas' last roles. His son Michael starred, and Michael's son Cameron also had a role. It truly was a family affair and a relic of Kirk's long acting career.
18 of 31
Leslie Mann and Maude Apatow
Maude Apatow is making a career of her own on shows like Euphoria and Hollywood. Prior to that, though, she starred alongside her mother, Leslie Mann, in her father Judd Apatow's films. She appeared in