30 Surprising Things You Didn't Know About 'The Mentalist'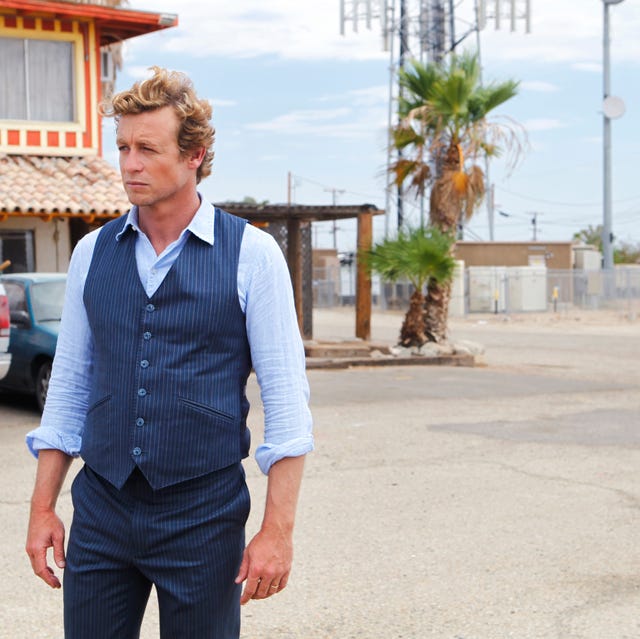 Getty Images
Though the show officially wrapped in 2018, fans of The Mentalist are still raving about the unique crime drama. You may be a super-fan of Patrick Jane, played by Simon Baker and his "psychic" abilities, but we don't have to read your minds to guess that you didn't know these surprising facts about The Mentalist and its amazing cast.
1 of 30
Simon Baker isn't actually American.
The actor and show's star was born and raised in Australia.
2 of 30
Baker's acting career started on Australian soap operas.
His earliest gigs include roles on Heartbreak High and Home and Away. Baker later relocated to L.A. and found success on the CBS drama The Guardian before getting the gig that would propel him into stardom.
3 of 30
'The Mentalist' won several major awards.
During its 7-season run on television, the show took home well-deserved trophies, including a People's Choice Award for "Favorite New TV Drama" in its first season. Baker himself was nominated for several Golden Globes, SAG, and Emmy Awards for his acting.
4 of 30
Every episode from season 1 to season 5 involves the color red.
Every use of the color leads up to the capture and death of notorious serial killer Red John.
5 of 30
What was in Patrick Jane's special cup? Black tea.
Specifically lapsang souchong, a black tea from China, which is also called "hong cha." That literally translates to "red tea" in Chinese.
6 of 30
Agent Teresa Lisbon is said to be from Chicago…
…which also happens to be the hometown of Robin Tunney, the actress who plays her! The Irish-American Actress was born and raised there and attended the Chicago Academy for the Arts.
7 of 30
When Bruno Heller wrote the pilot for the show…
…Lisbon and Jane weren't supposed to end up together.
The idea of the leads becoming a couple "never crossed his mind" in 2008 when 'The Mentalist' was green lit, the creator told Deadline.
8 of 30
Rockmond Dunbar was named one of TV Guide's 50 Sexiest Stars of All Time.
The 45-year-old actor played FBI Agent Dennis Abbott in the series, which he joined in 2013. He's also known for his work on Soul Food, Prison Break, and The Game.
9 of 30
The CBI headquarters are housed in a historic Los Angeles building.
The Pico House serves as the fictional CBI headquarters on the show. The building was erected in the late 1800s by the last governor of California under Mexican rule. It was the first grand hotel in L.A.
10 of 30
Owain Yeoman (Wayne Rigsby) hails from Wales.
Because Yeoman stayed in character even when the cameras weren't rolling, his castmates had no idea he wasn't American. Talk about good acting! He's also had roles in Troy and Kitchen Confidential.
11 of 30
Yeowan's then-wife Lucy Davis had a small role on the second season of the show.
Lucy is best known for her role in the British version of The Office. But in season 2 of The Mentalist, she played the widow of a murder victim—who was actually arrested by her husband's character! The couple divorced a year later in 2011.
12 of 30
Red John was a mystery for so long…
…because the creators of the show could't decide who he was.
Apparently, there were "three of four possibilities" for the identity of the notorious serial killer, creator Bruce Heller told EW. Eventually it was revealed that (spoiler alert!) Sheriff Thomas McAllister (Xander Berkeley) was the source of the evil.
13 of 30
The death of Red John had been planned since the start of the show.
Though the writers weren't sure who Red John would turn out to be, they'd always planned for Jane to get his revenge. "Certainly I never considered any other ending," creator Bruno Heller shared with The Hollywood Reporter. "It would've been almost dishonest not to take that as the conclusion of that particular chapter."
14 of 30
Though Lisbon and Jane get their happily-ever-after…
…Simon Baker had different hopes for the ending.
"[Jane] was a tragic character from the beginning," Baker admitted to an Irish paper. "And to me, it only ever felt right that there was sort of a tragic ending to it." Thank God he didn't get his way!
15 of 30
'The Mentalist' dropped a few clues about real identity of Red John was.
In season 1, murder victim Jared Renfrew writes out "He is Mac" on the wall before dying. Mac = Thomas McAllister.
16 of 30
Simon Baker personally picked out his character's famous car.
Jane was often seen driving around town in the unique-looking Citroën DS, a French car made from the '50s to the '70s. Jane has said he wanted his alter-ego to drive something out of the ordinary.
17 of 30
Aunjanue Ellis had a short run on Broadway before joining 'The Mentalist.'
Ellis made her professional acting debut in 1995 in a Broadway revival of William Shakespeare's The Tempest and starred in several other plays. You might also recognize her from Men of Honor, Ray, and The Taking of Pelham 123.
18 of 30
Simon Baker's real-life wife Rebecca Rigg made a cameo in the show.
In season 1, Rigg appears as Felicia Scott in the episode 'A Dozen Roses.' Two of their children Stella and Claude were also extras in The Mentalist.
19 of 30
Amanda Righetti was pregnant during the shooting of the show's 5th season.
But her character Grace Van Pelt wasn't seeing anyone at the time, so the crew filmed her sitting at her desk for most of the sea