21 Group Costumes for Your Hot Vaxx Halloween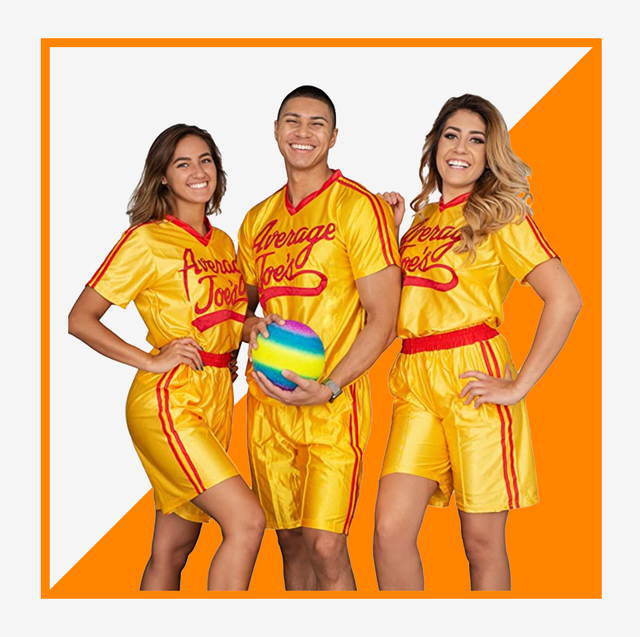 While our beloved Halloween parties had to sit out last year—costumes replaced by masks and trick-or-treating unsafe—2021 is looking hopeful. If all goes well, we'll be back at our October gatherings celebrating our favorite spooky night of the year. And although we can't make any promises, we can get you and your friends ready for the festivities with some cool group costume ideas.
People always appreciate a group effort on Halloween costumes—especially when there are so many ways to go. From superheroes to TV criminals to your favorite meals, we've compiled a list of options that'll be perfect for you and your crew to make a grand entrance. Reactions to these costumes can range anywhere from blank stares to laughs at their absurdity. That said, if there's any night where your outfit sparks jokes or ridicule, Halloween is the one.
Gather your group and send them these options. A few of them will require a bit of creativity, but that's what groups are for, right? With the right coordination from everyone participating, the crowd is sure to go home with a new set of #SquadGoals.
1 of 21
Rock, Paper, Scissors
Fun World Rock, Paper, Scissors Adult Costume
For this you'll need to grab two more friends to get the full effect. Decide who gets to be what with a game of rock, paper, scissors. 
2 of 21
'Dodgeball' Average Joe's
Ripple Junction Dodgeball Average Joe's Adult Jersey Costume Set
If you're looking to stay comfortable this Halloween, these uniforms come with two-piece shorts and shirts sets. Just be sure to choose your team wisely.
3 of 21
The Flintstones
FutureMemories Flintstones Group Costume Set
If you're sporting this costume for any reason, let it be for the nostalgia. Gather your team and see if you all can pull off Fred and Wilma Flintstone and Barney and Betty Rubble. 
4 of 21
Superhero-Capes and Masks
D.Q.Z Superhero-Capes and Masks for Adults 10 Pack
This one's for the super last-minute groups (no pun intended). Rock some monotone outfits underneath and suddenly you're a team of crime-fighting superheroes. 
5 of 21
Snow White and The Seven Dwarfs
Goo Design 7 Dwarfs Adult T-Shirts
These simple graphic tees are also a good idea for last-minute groups—not to mention easy on your wallet. All you need to finish the look are matching khakis (or a skirt, if someone's Snow White). 
6 of 21
Inflatable Pigs
RhythmArts Inflatable Pig Costume
We doubt you and your friends will lose each other if you show up to the party wearing these. Just make sure to pick up some AA batteries for this one. 
7 of 21
The Sanderson Sisters from 'Hocus Pocus'
Sanderson Sanderson Sisters Group Costumes for Adults
If you want to pull off a classic trio, it doesn't get more classic than the Sanderson Sisters (especially if you're a big-time fan of Hocus Pocus). This idea is for the dedicated party-goers, so prepare to go all-out.
8 of 21
'Money Heist'
Adult Money Heist Couples Costumes
Become your favorite criminal masterminds from TV thriller hit Money Heist with the help of this costume. It's a great option for someone who wants a one-and-done look for the night.
9 of 21
Harlequin Honey & Sinister Jester
Adult Harlequin Honey & Sinister Jester Couples Costumes
Without a doubt, this will put you in the running for best costume. I mean, talk about eye-catching. 
10 of 21
Three Blind Mice
Three Blind Mice Group Costume Set
We anticipate a lot of laughs for this one. It might also be a cozier alternative to some other (and potentially more complex) group costumes. 
11 of 21
Inflatable Tube Men
LookOurWay Air Dancers Inflatable Tube Man Costume
This will definitely capture a few sta