18 Things You Never Knew About the Royal Family's Unusual Eating Habits
Unlike most of us, the British royal family don't spend their evenings foraging around the fridge until they find an old slice of pizza. They have personal chefs who wine and dine their every culinary whim—and considering the family is huge, there are many whims to take into account.
Former royal chef Darren McGrady (who cooked for the Queen, Prince Philip, Princess Diana, and William and Harry) shared details on the family's intense dining habits—and we learned so much. Including the fact that William and Harry love McDonald's. (Same.)
Prince Philip Dresses Down So Much He Gets Mistaken for a Gardener
"He came into the kitchen and I thought he was the gardener. He was this old man in tatty old clothes, he had a jumper on with the arms hanging out at the elbows—all tattered and worn. I looked and thought, 'Oh, it's the gardener.' It was only after I looked closely that I saw it was Prince Philip."
The Royal Family Are Totally Different at Balmoral Castle, Their Scottish Holiday Home
"Balmoral is where the royal family really let their hair down. They relax and have fun. You see them all the time. At Buckingham Palace, the Queen was too busy and the kitchens too far from her apartment—so we never saw her. At Balmoral, we'd see her all the time. They were much more relaxed and had more free time. Philip would cook out on the grill. He'd come down to the kitchens and discuss what food we'd have: 'Do we have any salmon that any of the family have caught? The queen's been picking strawberries with Princess Margaret, let's have those for dinner.'"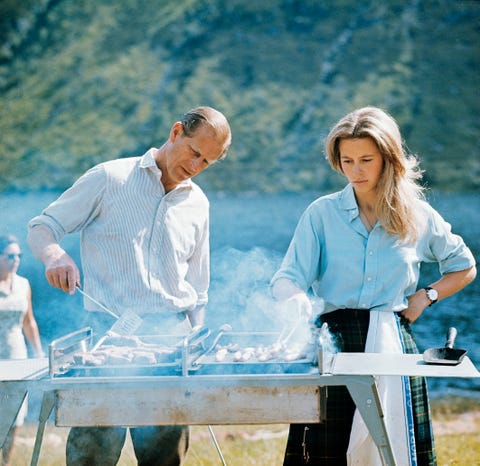 The Duke of Edinburgh and Princess Anne barbecue at Balmoral.
Getty Images
That Said, Dinner Is Downton Abbey-Levels of Formal
"They would come in for afternoon tea by the log fire in outdoor clothes, and then they'd all change for dinner. They'd come down in dressy ball gowns, and sit at the table—like a Downton Abbey dinner. All the fine china was brought out. At the end of the meal, a bagpipe player would walk around the table."
They Lied to the Queen Mother About Dinner Time
"Dinner was at 8:30 in Balmoral when Her Majesty the Queen Mother was in attendance. They used to tell her that dinner was at 8:15, and she'd be the last one down. They told everyone else 8:30 because they knew she'd be late."
Princess Diana Was on a Very Strict Diet Post-Bulimia
"One day she said to me, 'Darren I want you to take care of all the fats, and I'll take care of the carbs at the gym.' We changed everything, I threw out my Buckingham Palace recipe book and got into healthy eating. When she was at Buckingham Palace, her bulimia was definitely a hidden thing. We didn't know about it. It wasn't until she confronted it, and everyone put two and two together, that she started really healthy eating…she liked dishes like stuffed bell peppers and stuffed eggplant—she loved fish."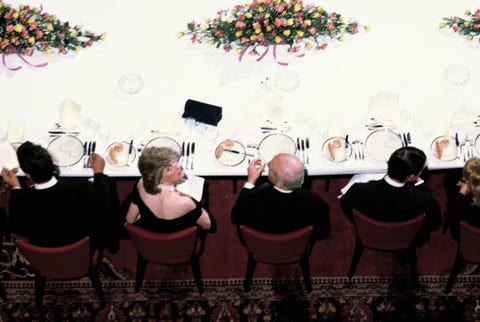 Princess Diana noticing the camera at a state reception.
Getty Images
She Refused to Eat Red Meat
"The only red meat she would eat was lamb. And that was when she was entertaining. She'd never eat beef."
Diana's Guests Never Knew She Was Eating the Low Fat Version of Their Food
"She used to trick people: She'd say, 'Make me a mousse for President Reagan.' She couldn't have it because there was mayonnaise and sour cream. So she'd say 'Make me a fat-free version.' So I did. Often, when guests would come, she'd have the fat-free version and the guests were on the full-fat version and no one would know the difference."
One Time Fergie Canceled Plans and an Entire Meal Was Wasted
"Sarah Ferguson had gone to the theater and she wanted dinner at 10:30. So we'd start preparing dinner, and she'd call and say, 'We're going to a restaurant instead.' The food just got wasted."
Harry and William Loved Fast Food
"I remember the Princess came into the kitchen one day and said, 'Cancel lunch for the boys I'm taking them out, we're going to McDonald's. And I said, 'Oh my god your royal highness, I can do that, I can do burgers.'